'Flesh And Bone' Is Realistic, Gritty, & Addictive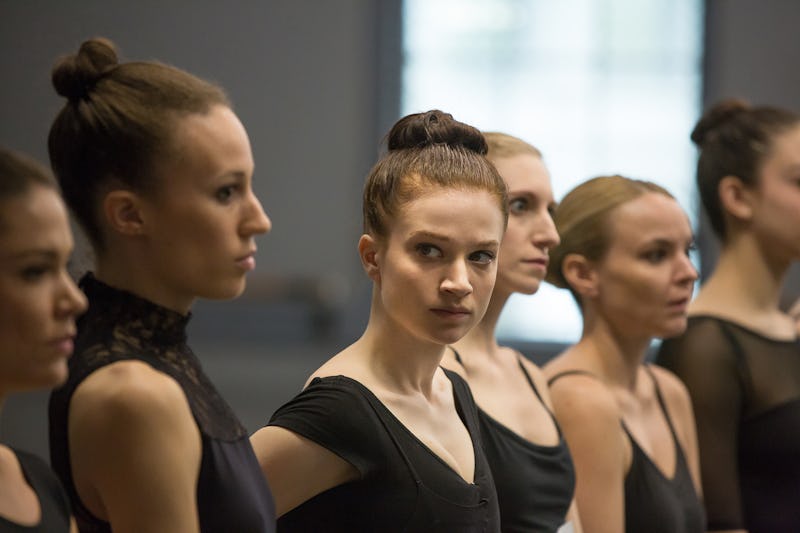 As the series premiere of Flesh and Bone begins, the show's protagonist Claire (Sarah Hay) escapes through her bedroom window in Pittsburgh and boards a bus to New York City. Even as she's in her bus seat, Claire practices her arm movements — a habit that will undoubtedly look familiar to anyone who's spent time in intensive ballet training. It's immediately established that she has a troubled past and family problems, a plotline which will unfold as the season continues. However, the ballet was absolutely the highlight of the first episode, and it left me dying for more dance sequences. Showrunners wisely chose to cast professional ballet dancers rather than actors with body doubles, and it's one of the many reasons that Flesh and Bone is realistic.
The show's creator and executive producer Moira Walley-Beckett is best known for her Emmy-winning work on Breaking Bad, but she's also worked as professional dancer — and her background in the art is a huge asset to the show. It's no secret that the world of professional ballet is brutal, competitive, and incredibly taxing — both physically and mentally. One of the reasons the art form is so fascinating is because there's often such a dark world behind the beautiful costumes and the images of women smiling as they balance their entire body weight on one pointe shoe. As Paul Grayson, the Artistic Director of the fictional American Ballet Company tells his dancers: "Ballet is the ultimate optical illusion. We make effort appear effortless. We make difficult divine."
Since this is a cable drama, there's a whole lot of darkness and cruelty concentrated in one small dance company — among both the dancers and company's hierarchy. In the first episode alone we see eating disorders, emotional abuse, sexual harassment, a drug-addicted prima ballerina, and a toenail torn completely off. Aside from the toenail part, not all those things would necessarily be present within one company. Sascha Radetsky, a retired soloist from the American Ballet Theater who portrays Ross on the show, told TimeOut New York that the depiction is accurate overall — but there's a caveat:
I think my buddy and colleague Ethan Stiefel (the show's choreographer and fellow Center Stage alum) put it well when he said that most of the characters we see in Flesh and Bone exist somewhere in the ballet world, just not in the same studio all at once.
After a brutal audition and first day at the company, Claire is immediately advised that "everyone is going to hate you" and she needs to "get a thick skin or go home." Hay, a soloist at Semperoper Ballet in Dresden, felt totally in touch with her character because that type of treatment is common. She told USA Today that she had the "exact same first day" as Claire and added that: "I've seen people chased out of studios, I've seen people fistfighting and screaming at each other. There's definitely a lot of crazy stuff that goes on in the dance world."
However, in Radetsky's TimeOut interview, he also noted that things like "the bonds between dancers, the mutual support, the joy and the excitement and adventure" simply aren't as exciting to watch on TV. That's certainly true, but I hope those aspects get depicted at least a little bit this season. Although ballet is undeniably an incredibly competitive career, it is possible to love, support, and be friends with your competitors. Sure, they're complicated relationships — but plenty of friendships are complex.
And, Claire really needs and deserves at least one true friend. She's haunted by her traumatic past — and despite her new start in New York City, she can't quite escape it. It's unclear exactly what happened to Claire, but she's consistently skittish and ritualistically covers herself with books before going to sleep. In the episode's final scene, she answers a phone call from her brother Bryan. He demands to know where he is, and fondles himself as he holds the ballerina figurine she left behind in Pittsburgh. Claire hangs up on him, but something tells me he'll find her.
She's definitely a protagonist to root for — both as a dancer and a woman — and I can't wait to see what the rest of the season has in store for Claire. After only one episode, I'm already addicted to this new drama.
Image: Starz