The Studio On 'Flesh And Bone' Looks Tough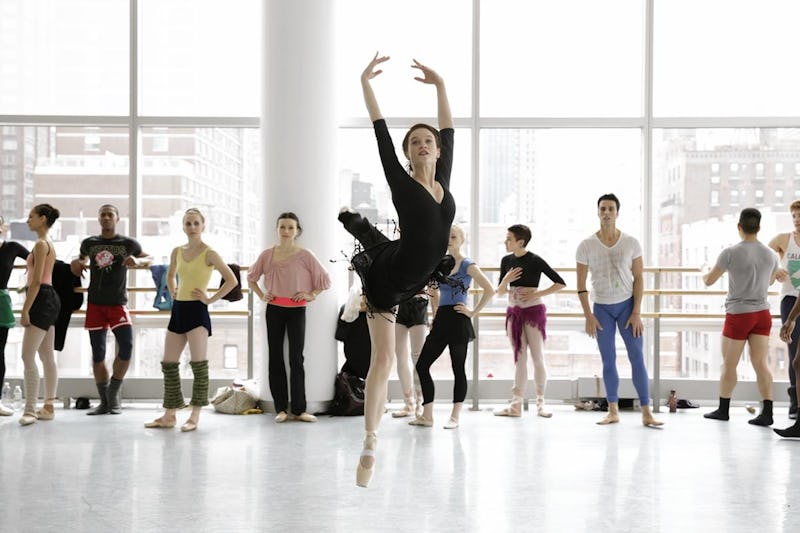 After months of waiting, it's finally time for Flesh and Bone to premiere on Starz. I love any show about ballet — I've binge watched Bunheads, Breaking Pointe, and Dance Academy in embarrassingly short periods of time and I'll never get tired of re-watching Black Swan. But, I'm particularly excited about Flesh and Bone because the company members are all played by professional ballet dancers — so we're guaranteed to see some genuinely amazing dance sequences. Body doubles need not apply for this show, because creator Moira Walley-Beckett assembled a cast of incredibly talented, accomplished dancers. Sarah Hay, the show's star, is a soloist at Semperoper Ballet and the other cast members have danced with esteemed companies such as the American Ballet Theater and the Dutch National Ballet. Since the show is full of actual ballet dancers, is the studio on Flesh and Bone real?
The American Ballet Company doesn't exist in real life, but in the world of Flesh and Bone it's the underdog company that's fighting to achieve the status of New York City Ballet and the American Ballet Theater. And, they better hurry up and deliver — Flesh and Bone has been turned into an eight episode miniseries rather than a multi-season show, so the American Ballet Company doesn't have much time to put its name on the map.
Here's what we know about the company:
They're Counting On Claire To Be Their New Star
Claire, who runs away from home to New York City, is the newest addition to the company and she could be the key to their success. She's an incredibly talented dancer, but she's battling emotional problems and the other company members don't exactly welcome her with open arms.
The Artistic Director Is Brutal
As Paul says in a clip from Starz Inside Look: "I can make [Claire]. She can make us." He's shown to be volatile and ruthless, so Claire has a whole lot at stake and she'll be put under immense pressure the moment she joins the company.
The Prima Ballerina Won't Allow Herself To Be Upstaged
Claire should definitely watch out for this one, because Kiira totally looks like she'd put thumb tacks in her pointe shoes if she turns around for a second.
It's One Stressful Work Environment
Ballet is not for the faint of heart — especially on a cable drama.
Will the American Ballet Company have a successful season? Will Claire be able to handle the pressure? The only thing I know for certain is that I'll be binge watching Flesh and Bone as soon as 8 p.m. on Nov. 8 rolls around.
Image: Starz