Spray Paint Nail Polish Is Coming Soon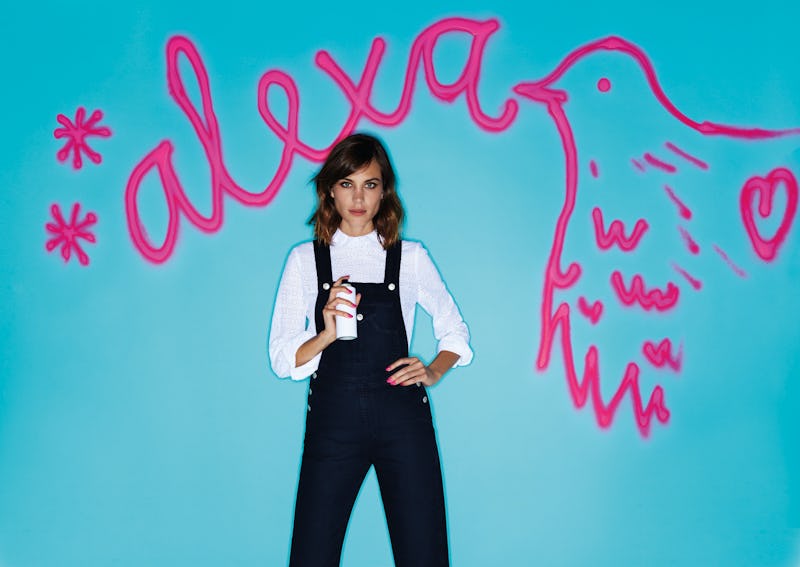 If, like me, you love a fresh manicure, but kind of hate taking the time out to actually do your nails, then you're going to love this. Nails Inc. is releasing spray paint nail polish, according to Vogue UK. You're probably thinking that this sounds amazing, but at the same time, messy? And you're right on both accounts. This is amazing, and it will make a mess. Luckily, however, clean-up is super easy. Easier than with your current nail polish situation, that's for sure. Plus, Alexa Chung is a fan of it, so obviously, that means I am, too.
So, how exactly does this miracle product work? Well, you first apply a base coat to your nails and then simply spray the color over top. The excess color that's on your skin can then easily be washed away with soap and water or with a facial wipe, after allowing it the proper time to dry, of course. In my experience, spray paint dries much faster than paint, and I'm sure that applies to nail lacquer, too, making this the fastest manicure. Ever.
A pink shade will be the first to be released, but I'm hoping that soon there will be an entire line of these Paint Can polishes, because I want one in virtually every color. This is going to change my nail painting game for good.
Paint Can Nail Polish , Nails Inc.
This tiny spray paint bottle is about to be my new best friend, I can feel it.
Here are six reasons why this is sure to be the best nail product ever made, as if you weren't already convinced of its greatness.
1. Easy Application
Simply spray, swipe and go. Besides, who doesn't love playing around with spray paint, anyways?
2. Less Dry Time
No more waiting.
3. I Already Paint My Whole Finger Anyways
My method isn't exactly precise, so this is not different from what I already do. Except...
4. Clean-Up Is Easy
Because all you really have to do is wash your hands.
5. Save Money On Manicures
Having money while having amazing nails is really the best of both worlds.
6. No More Chipped Nails
This is a cause for celebration because when touching up your nails is this easy, they'll never have to go all chipped and half-painted again!
It becomes available in the UK on November 12, but will not be available in the U.S. until March or April. This spray paint polish will have you (with your impeccably manicured nails) like:
Want more beauty tips? Check out the video below, and be sure to subscribe to Bustle's YouTube page for more hacks and tricks!
Images: Courtesy Nails Inc (2); Giphy(6)