Dracula Loves Yogurt & Organized Spoons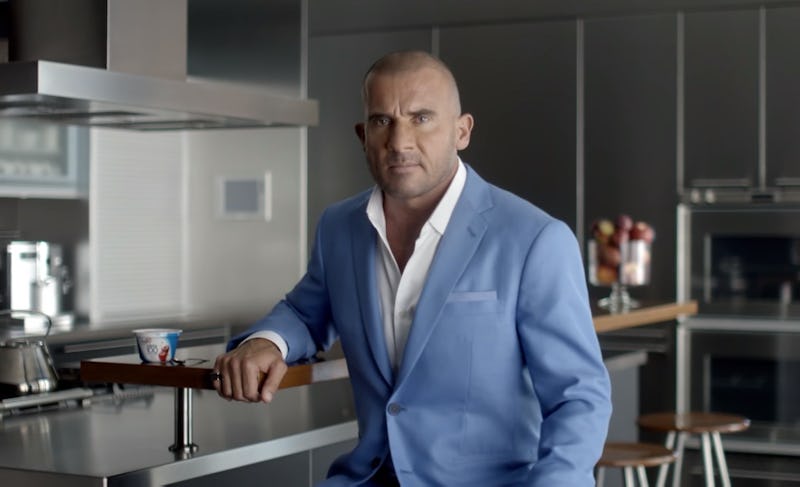 When it comes to TV spots, I do my best to not fall in love. I try to keep the TV spots at arm's length. I am reluctant to let myself pick favorites. But every now and again, something happens on a TV spot that I cannot ignore. Every now and again, a brawny, light blue suit-wearing, Greek yogurt-loving gentleman pulls open a kitchen drawer only to reveal a well-organized silverware tray packed to the brim with spoons. I would be a filthy liar if I told you I did not yelp out loud the first time I saw that stunning spoon drawer. It is just so beautiful and tidy and aesthetically pleasing. Between the organized drawer of spoons, the organized yogurt refrigerator, and Dominic Purcell's no-nonsense delivery of the ad copy, this Yoplait Greek 100 yogurt commercial totally ~gets me~. And yes, that is actor Dominic Purcell in Yoplait's Greek 100 ad campaign.
Purcell's extensive film and TV credits include Prison Break, John Doe, Mission: Impossible II, The Flash, upcoming CW series Legends of Tomorrow, and Blade: Trinity. Now, who would've thought Drake/Dracula from Blade: Trinity took the art of eating yogurt so seriously? The more you know!
We should all be so lucky to have a silverware drawer that looks this beautiful:
Image: yoplait/YouTube