Lucy Lane Isn't The Villain On 'Supergirl'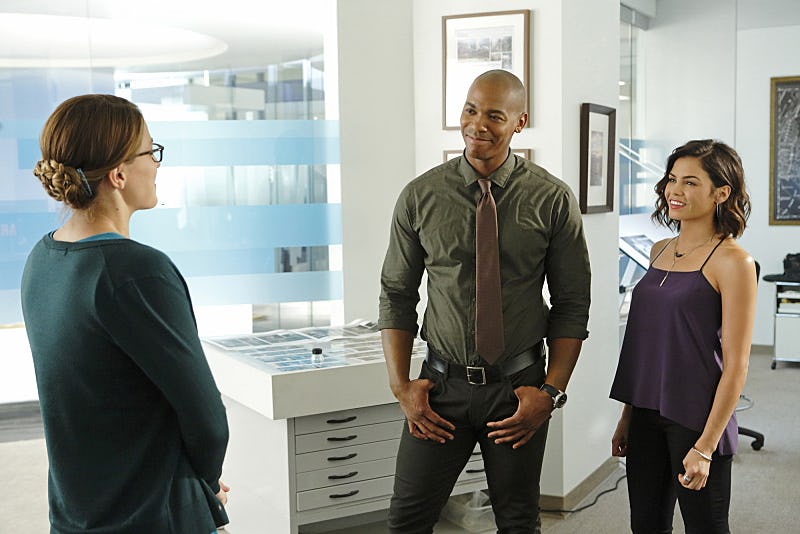 As Kara Danvers learns about what it is like to juggle two pretty demanding jobs (you know, being a personal assistant and a superhero), her squad will continue to be there for her as she figures it out. In coming episodes, Kara's squad will grow when Lucy Lane shows up on Supergirl , played by Jenna Dewan Tatum. Lucy Lane isn't a new character to the DC Comics world, but she is to Kara's world. If you've followed the Superman world in past TV shows, you might be familiar with Lucy. But for those that aren't familiar with the Lucy, she's way more than her older sister Lois.
Dewan Tatum joins the show in the third episode as Lucy via her connection to James Olsen (she calls him Jimmy). Expect her arrival to put a bit of a speed bump in whatever was developing between James and Kara, because James and Lucy have a long history together. Lucy isn't just a character to create a love triangle, though. She's got a history in the superhero universe, and whether or not it's shown on Supergirl, she's going to one day be wearing her own cape.
Here's what you need to know about Lucy Lane's arrival to National City.
She Is The Younger Sister To Lois Lane
Unlike past versions of Lucy, who has been a bit more straight-laced than her older sister Lois, Dewan Tatum's version of Lucy will be "strong, smart and successful in her own right," according to Entertainment Weekly. Sounds like another great continuation of women kicking ass on Supergirl.
She Has A History With James
Executive producer Ali Adler teases to Entertainment Weekly that Lucy's history with James will act as a "romantic foil" to the relationship between James and Kara. Lucy comes to town to right a wrong from the past, presumably with James.
She Isn't The Villain, Though
This is probably the most refreshing thing to read. Instead of bringing in an ex from James' past and solely making her a competitor against Kara, Adler says that "people will also be surprised that she's really a woman's woman. She and Kara develop their own friendship, too." While I'm sure there will be a love triangle, it's nice to hear that the relationship between Kara and Lucy will be deeper than just "fighting for the same guy."
She Does Become A Superhero
While this might not happen on the series Supergirl, Lucy Lane does become Superwoman at some point in her life. Lucy acquires powers while working on a project with her father — who will also be brought into the Supergirl series — and becomes Superwoman. It's then, in the superhero universe, that the real battle between Supergirl and Superwoman begins.
Images: Trae Patton/CBS; CBSSupergirlGifs/Tumblr (4)