Here's Your Ultimate Secret Santa Gift Guide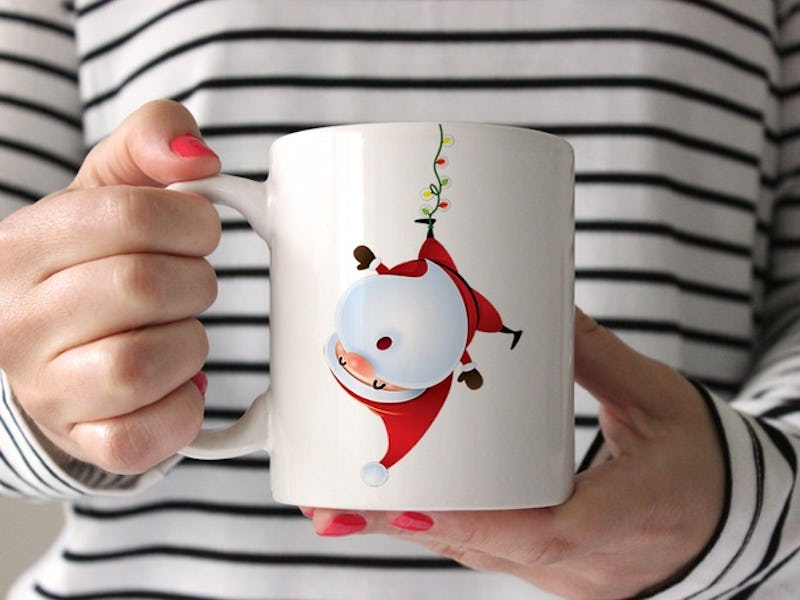 The holidays will be here before you know it, which means your office holiday party is just around the corner, too. It's time to start brainstorming secret Santa gift ideas so you can pick something out without waiting until the last minute, wrap it in your prettiest holiday paper, and sneak it into your coworker's office unnoticed. I know it might sound stressful, but don't dread it. Secret Santa gift exchanges actually can be a ton of fun.
Picking out secret Santa gifts, however, is a little tricky, especially if you overthink them... so don't. Follow my lead below, and when you see something that speaks to you, go for it. If you and your gift receiver are close, that obviously makes this process a whole lot easier, but even if you don't know each other that well, there are items on this list that just about anyone would be beyond happy to receive.
Whether your price range is five bucks or 50, I've got you covered below. From planet-shaped lollipops (they're way cooler than they sound) to monogramed arrowhead necklaces, these gifts are going to impress whoever receives them. It's time to start spreading some holiday cheer, and trust me when I say that nothing really does feel as good as giving. So check out the list below, and get to work early on your secret Santa shopping. You can never really be too prepared.
Sleigh Bell Bottle Opener, $16, Anthropologie
These sleigh bell bottle openers are pretty perfect for the holidays. They're also quite affordable if you're running low on gift giving funds this season.
Personalized Custom Journal Notebook, $29, Amazon
You can never go wrong with personalized anything. This beautiful and subtle journal is sure proof of that.
Doughnut Mug, $10, Amazon
Nothing goes better with coffee than doughnuts, right? Gift your secret Santa this mug, and prepare to see them smile.
LED Light Up Holidays Reindeer iPhone 5/5s Case, $18, Amazon
If you know what kind of phone your gift receiver has, take advantage of that knowledge. The easiest way to get anyone into the holiday spirit is with one extra festive phone case.
Retro Camera Business Card Case, $11, Amazon
If your secret Santa game is taking place at the office, this awesome retro camera business card case is sure to be a hit.
Crayola Adult Coloring Book, $11, Amazon
With 80 pages to fill, these adult coloring books are the best way to liven up a boring day. Your secret Santa gift receiver probably has this at the top of their list.
Santa's Flask, $15, Amazon
As this product's slogan makes clear, "Santa doesn't want milk and cookies." And guess what? Neither do your coworkers. Super playful, super affordable, super perfect for a secret Santa gift.
Like A Boss Pencils, $2, HarvestPaperCo/Etsy
These pencils will make anyone feel like a boss.
Magical Thinking Pyramid Mirror Box, $18, Urban Outfitters
This pyramid box can have a million and one uses, from the office to the home.
10. Tasseled Monogram Coin Pouch
Tasseled Monogram Coin Pouch, $32, Anthropologie
Absolutely adorable, right? Right.
Air Wick Scented Candles, $9, Amazon
Want to feel extra good about what you're giving? Air Wick is donating $250,000 of its profits this season to help families find adequate housing. Oh, and did I mention every scent smells heavenly? It's a win-win.
The Power Trip Florabunda, $32, Amazon
Make sure your coworker is never without charge again thanks to this insanely handy (and cute!) trio.
Sample Soaps, $20, Amazon
These artisan soups are an absolute luxury. From cinnamon spice to rosemary mint, every bar is a treat.
Santa Christmas Mug, $13, Amazon
You can't help but smile at this little Santa. Really though, you can't.
Aquarian Soul Herbal Floral Bath Soak Set, $50, Urban Outfitters
All the other people playing secret Santa will be totally jealous when they see this. Relaxation at its finest.
Bronx Monogram Necklace, $70, Swell Caroline
Your secret Santa gift receiver may not know who you are, but you definitely know who they are. Swell Caroline's absolutely breathtaking monogrammed jewelry is an excellent way to go if you want to look like you put a little more thought into your gift. (So lovely, you'll probably want to order one for yourself while you're at it.)
I Can And I Will Mug, $18, The Love Bomb Company
The best part about this mug? It can contain up to 15 ounces of coffee — perfect for the caffeine enthusiast.
Champagne Stars Lollipop, $5, Catbird
Flavored like champagne and filled with little gold stars? This is basically the best lollipop ever.
Hello Kitty Ice Cube Tray, $14, Amazon
Everybody needs some Hello Kitty ice cubes in their life. Everybody.
Mission Grove Rollerball Oil, $24, Anthropologie
Stimulate your senses, and moisturize your skin in one, quick roll.
Rudolph Reindeer Earrings, $16, Amazon
Christmas earrings are the best, and you'll be the best secret Santa if you give them as a gift.
Wine Lives Drinks Markers Set, $10, Amazon
I don't even think I need to explain why these are so awesome.
Dark Chocolate Peppermint Bark Bars, $13, Amazon
Is there anything better than dark chocolate peppermint bark? I really don't think so.
Shake: A New Perspective on Cocktails, $19, Amazon
This gift makes for some great light reading/heavy bartending.
Tocca Beauty The Nice List Gift Set, $26, Amazon
A fragrance sampler entitled "The Nice List" is always exciting to pull out of a stocking.
Bracelet Flask, $35, Areaware
Need a pick-me-up on the go? These funky bracelets will help you out.
Christmas Tea Gift Set, $11, Etsy
Have yourself a merry little Christmas, filled with lots of tea and lots of love.
Ferm Living Hexagon Vase, $104, Amazon
If you thought vases were boring, you can think again. If you really want to go above and beyond, fill it with some flowers. Now that's the ideal secret Santa!
Holiday Teeny bkr, $28, bkr
These bkr bottles are the coolest containers to come out since the Nalgene. Believe.
Women's Multi Strap Watch , $22, Amazon
Super snazzy. Do it.
Glass Milk Carton Creamer, $9, Amazon
A little out there for a secret Santa gift, but sometimes being a little out there is way more fun than being generic.
Bike Multitool Keychain, $17, Uncommon Goods
A keychain and a bottle opener? Done and done.
Kikkerland Tea Tube Infuser, $11, Amazon
If you know your person is more a tea drinker than a coffee drinker, this test tube-inspired infuser makes for a real treat.
Planet Lollipops, $14, Amazon
Have you ever seen anything cooler than these bad boys? Didn't think so.
Wall Calendar, $10, Amazon
Your coworker is already looking ahead to 2016. Help her stay organized with this elegant wall calendar.