8 Fashion Coloring Books To Get Your Zen On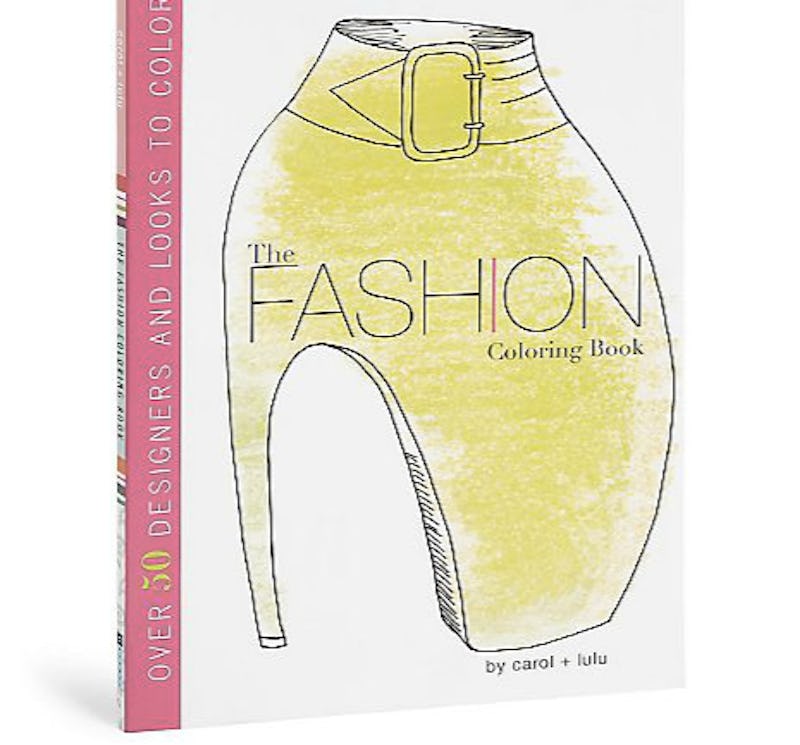 Whenever the stress of work, school, life, or relationships hits, there's one cure-all that can take us back to our childhoods: Coloring. And while you may not want to pull one out with Dora The Explorer plastered all over it, fear not. There are fashion coloring books out there that'll help any fashion lover get their zen on. But, of course, make sure you get the 64 Crayola box with the sharpener in the back.
IMO, there's a reason kids stay quiet when they're coloring: They're focusing. And thank god for that. The same effect still takes place past childhood and adolescence, though. According to The Huffington Post, coloring can help combat stress for adults. Again, this has to do with focus. Rather than thinking about the particular incident or situation causing the stress, adults actually focus on the act of coloring itself. Pretty simple and snazzy, huh?
Publishers have caught onto this little tidbit as well, coming out with chic, playful, and generally gorgeous coloring books you definitely won't be afraid to bring into the office. Soon, you may be getting coworkers stopping by your desk asking you for a page. Whether you're a lover of beautiful scenes, pieces of fashion, or just generally enjoy patterns, there's a fashion-based coloring book out there for you.
Check out these eight options that you'll want multiple copies of — for you, your coworker, and maybe even your boss (because really, a boss with a better mood equals a happier workplace).
1. For Pattern Lovers
Pattern And Design Coloring Book, $11, Amazon
I mean, just the cover of this book makes me want to buy it. Talk about focus.
2. The Classic
The Fashion Coloring Book, $7, Amazon
This has got to be the coolest coloring book out there, featuring designers like Coco Chanel, Marc Jacobs, Karl Lagerfeld, and Alexander McQueen.
3. For All Ages
My Even More Wonderful World Of Fashion, $6, Barnes and Noble
Artist Nina Chakrabarti creates gorgeous illustrations in this book that's made for fashion lovers of all ages. But along with coloring pages, you'll find activities and how-to's. Plus, some interesting fashion facts you may have never heard of.
4. For Catwalk Lovers
The Usborne Book Of Drawing, Doodling, And Coloring Fashion, $12, Blick
Flats, hairstyles, and dresses: This book truly has it all.
5. For Out Of The Box Lovers
Fashion Coloring Book, $16, Etsy
Korean illustrator Minjee Kang created pages and pages of nail polish bottles, Chanel purses, and eyeshadow palettes. If you're a true fashion lover that also likes to think out of the box, this one's for you.
6. For The Timeless
Advanced Style The Coloring Book, $9, Amazon
The coloring book version of the fashion book Advanced Style has 30 original drawings that you'll not only love filling in, but looking at as well.
7. If You're Feeling Presidential
Fashion Of The First Ladies, $4, Amazon
This may be my favorite of all, and includes Michelle Obama's gorgeous picks. Jacqueline Kennedy, Nancy Reagan, and Grace Coolidge all make appearances, too.
8. For Male Celeb Lovers
This one's a nice break from coloring in dresses, shoes, and makeup all the time.
Next time you're feeling the stress creeping on, cut it off at the source, pull out your crayons and favorite coloring books, and get to working. You'll be surprised by how great you feel after.
Images: Courtesy Brands