There Are Many 'Shades Of Blue' Trailer Questions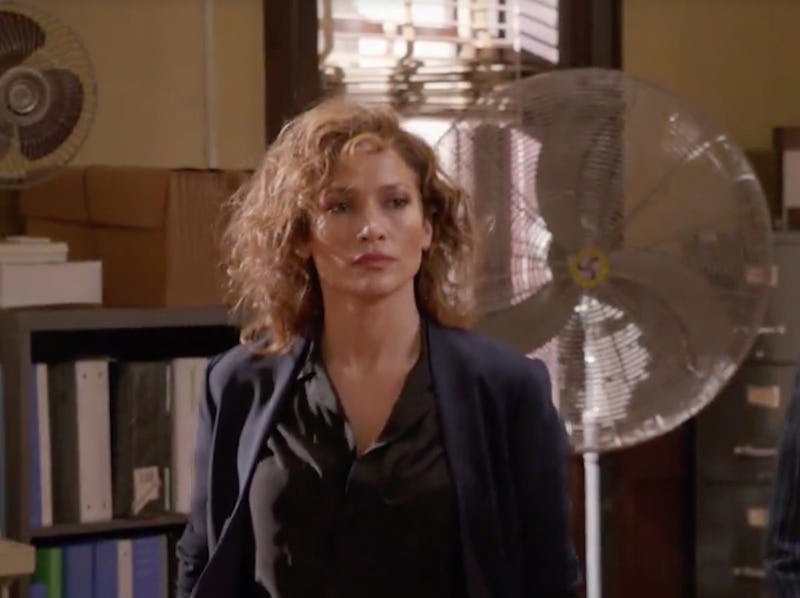 With her music career so successful at the moment, it's almost easy to forget that Jennifer Lopez is an established actress as well. Lest that slipped anyone's minds, the first Shades of Blue trailer for her new TV show is here. We've been waiting for this since we first learned about the project in June, but the preview still leaves a lot of our questions unanswered.
In case you haven't already heard about the NBC's Shades of Blue , Lopez plays "sexy New York detective (and single mother) Harlee Santos, who fell in with a tight-knit group of dirty cops, taking bribes and protection money that she uses to provide the best life for her honest and talented daughter. When she's trapped by the FBI, however, and forced to inform on her own 'brothers,' she'll have to walk the fine line between love, loyalty, honor and betrayal, and try to keep it together for her daughter's future." Sounds intriguing, right?
The trailer continues the suspense, as we see Lopez essentially stage a crime scene. (Or, as she describes it, she improvised.) Either way, right from the start we see this detective show isn't a clear case of good versus evil. In fact, that's the biggest question I have — is Lopez's character good or bad?
If we learned anything from the creators of Breaking Bad, it's that the anti-hero is often the most fascinating protagonist. Lopez certainly makes a case for this in the Shades of Blue trailer, as we see her go from cop to attentive parent to showing loyalty to some bad cops. She's definitely captivating, but will we ultimately be rooting for her? That remains to be seen as well.
While Shades of Blue appears to skew heavily toward the "drama" genre of TV, similar crime show (think How to Get Away with Murder), flirt between intense action interspersed with bits of humor. It'll be interesting to see if Shades of Blue follows suit, or if it will be the kind of show where we're holding our breaths the entire time each episode.
In any case, hopefully some of our questions will be answered when Shades of Blue premieres January 7 on NBC.
Image: NBC (screenshot)