Here's How To Customize Your Own Oreo Package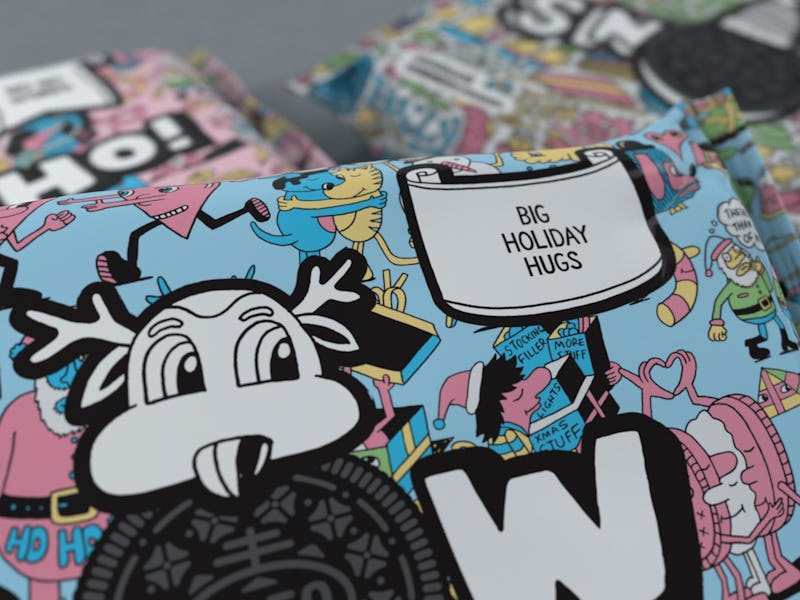 What's better than a delicious pack of Oreos? Well, not much — except for a package of Oreos that you can completely personalize. Customizable Oreo Colorfilled packs let you combine the sweet, chocolatey taste of Oreo with a little bit of coloring and creativity, and honestly, I can't imagine anything much better.
For the very first time ever, Oreo is giving fans the chance to put their own spin on their beloved Oreo package with their new Colorfilled packs, launching in the middle of November. These unique packages transform the traditional Oreo package you're used to seeing into a canvas just waiting for your artistic expression.
Featuring exclusive, illustrated designs from artists Jeremyville and Timothy Goodman, these fun, one-of-a-kind packs are the perfect way to exercise your creativity — and they also make a unique and fitting gift for everyone on your holiday shopping list. I'm a big fan of anything that makes gift-giving at least a little bit easier.
For the more tech-savvy, you can decorate the Colorfilled packs digitally before placing your order. The online tool allows you to zoom in, zoom out, and even add some holiday flair and other seasonal touches to your package — so you don't need to worry about your creative genius being limited.
Of course, for the more traditional artists, Oreo is also offering blank packs with markers for purchase, so that you can color your package the old fashioned way. And, if you want to match your custom Oreo package, you'll also be able to purchase a t-shirt featuring the artist designs, along with fabric markers for coloring in.
These fun Colorfilled packs cost $15 including shipping, which is a pretty worthy investment, if you ask me. But, if I'm being perfectly honest, I'd probably be willing to pay millions for the deliciousness of Oreos.
They'll be available mid-November at a brand new Oreo site, www.shop.oreo.com. But, these packs are only here for the holidays, so you'll want to snatch yours up while you can! Because there's really nothing like the combination of Oreos and coloring to bring you right back to your childhood.
Images: OREO (2)