How To Divide A Small Space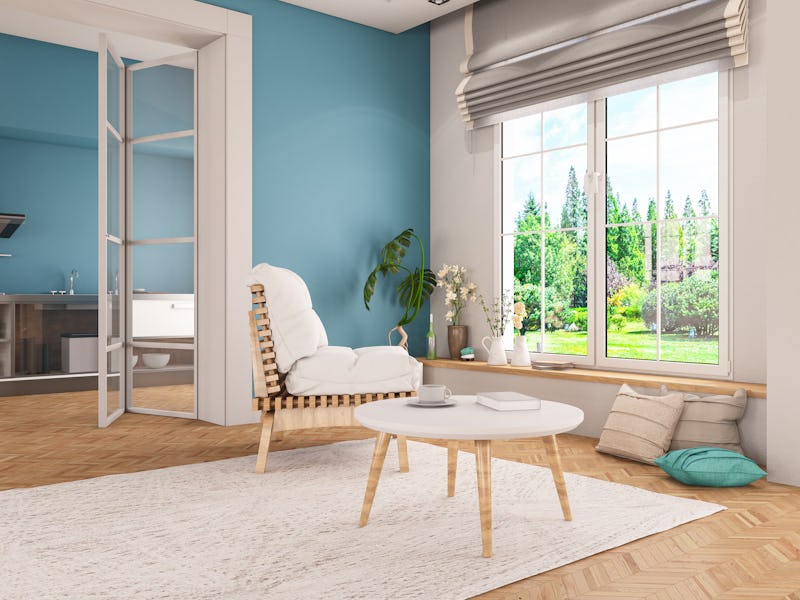 asbe/E+/Getty Images
Studio apartments are often an unfortunate necessity of urban-living. While a lot of us grew up with grandiose dreams of living in the apartment on Friends, the affordable reality is often a single room and a lot of hacks for small apartments life.
In an article for Apartment Therapy, design writer Dabney Frake said, "Small homes afford few ways to configure space, and it's up to you to carve out designated areas that function differently, based on your needs. The goal is to find solutions that are flexible, and don't take up too much valuable space." In another Apartment Therapy piece on studio living, interior designer Eleanor Busing noted that while she's "not always a fan of chopping up a small space," there are various subtle ways to separate areas of an open-floor plan while still keeping things feeling open.
I've lived in NYC for over half-a-decade, and my current bedroom measures about 10 x 12 feet and functions as both my bedroom and work station — so I'm no stranger to creative hacks for small spaces. If you currently live in a studio or are about to make a transition into one, here are seven creative partition ideas that will help you feel like you're making the most of your space.
1. Portable Screens
Frake recommend folding screens as a super portable solution to partitioning your space, as well as creating bedroom area privacy for when you have guests. Frake especially recommended screens on rolling casters for maximum portability.
Diamond Weave 6 Panel Room Divider, $189, Wayfair.com
2. Curtains
Frake also suggested hanging a curtain between two areas of your studio if you want the option of keeping certain areas separate. The other nice thing I've personally noticed about curtains is that they can change the lighting, and therefor the mood of two different sections of your apartment, as well as help create a super cozy sleeping nook.
Room Dividers, $79.95, Roomdividersnow.com
3. A Statement Rug
Busing recommended a statement rug as a subtle yet effective way to create the illusion of separate areas. A bold carpet in the living-room space doesn't block any light or create awkward partitions, but still can make you feel like it is a distinct area from the bed.
nuLoom Alexa Chevron Vibe Zebra, $110.07, Overstock.com
4. A Bookshelf Divider
Busing also recommended bookshelves that double as dividers as an effective way to partition a space that also offers extra storage. Additionally, a shelf generally won't block light as severely as a wall or more solid barrier if your goal is to maximize natural light.
Modern Cube Shelving Unit, $119.99, Walmart.com
5. A Double-Duty Headboard
A statement piece headboard is another subtle way to divide your space without using any huge light-blocking partitions. And bonus, it also serves as another way to create a cozy bedroom space for sleeping.
4040 Locust Angled Wood Headboard, $349, Urbanoutfitters.com
6. Loft Bed
Loft beds are an awesome way to economize square footage in a small space — you just have to make sure you buy a model that feels sturdy and secure when you crawl up there each night. I used a loft bed in my small bedroom for about a year before ultimately deciding I enjoy carelessly plopping down on my bed way too much for it to be worth it for me, but I know other people who swear by theirs.
Dorel Home Products Abode Full Size Bed, $293, amazon.com
7. Plants
Tall plants are another great way to create the feeling of distinct areas while also still making the space feel open and bright. Urban Gardens has a great piece on how to make a DIY plant room divider using basic plant stands from IKEA if this is an option that seems right for you.
Artificial Bamboo Room Divider, $189.99, Demco.com
Just because you live in a studio doesn't mean your space has to feel one-dimensional. With a little creative inspiration you can feel as though you have separate and distinct spaces in no time. Seriously — it's possible!
Images: Courtesy Brands