We Need A 'Supergirl' Crossover ASAP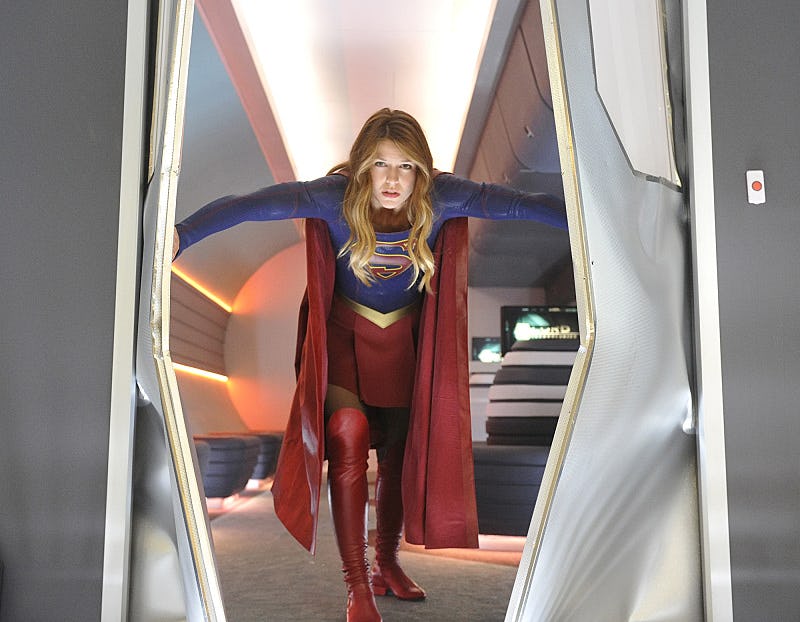 While I know that some people are under the impression that there can be too much of a good thing, when it comes to the world of superhero television shows, I think excess and success basically go hand-in-hand. Which is why there's no doubt in my mind that a Supergirl crossover with The Flash and Arrow should definitely happen. After all, there really is nothing better than witnessing a good, old-fashioned superhero team up. The only question is — do the writers and producers feel the same way? Well, as it turns out I have both good and bad news on that front. The good news is that Supergirl executive producer Greg Berlanti has shared with Entertainment Weekly in the past that these crime-fighting vigilantes do exist in the same universe, which means a potential Supergirl / The Flash / Arrow crossover is totally possible at some point in the future. The bad news is, though, that CBS is more than likely going to make us wait a while before any such event will actually occur.
During this year's Television Critics Association press tour, CBS Chairman Nina Tassler revealed that the biggest crossover plans that were set in stone for these shows were strictly of a promotional nature. "We have not had conversations about the crossovers, but we are doing crossover promotions, so we will see that with the promotion crossovers, but not in terms of the characters." At least, not for the time being. But that's not to say that such plans won't eventually come to fruition at some point down the line. After all, both Barry Allen and Oliver Queen could use another badass female partner to keep them in line.
However, in many ways, I can somewhat understand the show's hesitation to immediately jump into a crossover story so soon. I mean, the show did just debut only a few weeks ago and needs some time to establish itself as its own unique entity. It'd be kind of hard to accomplish that if we immediately start associating National City with the likes of Star and Central City. The point of these crossovers is to help heighten each perspective show's popularity, but if Supergirl did it too soon, I fear it could end up hindering the series instead.
Then there's the fact that there's a major Flash and Arrow crossover already in the works for later this season as a way to help jumpstart yet another superhero spin-off series, DC's Legends of Tomorrow. So if they were to throw Supergirl into the mix as well, she'd probably get lost in the shuffle, given how many other characters are preparing to take center stage throughout the hour. But that doesn't mean that a Supergirl crossover will never come to pass. We might just have to wait until the show's second season for it to occur — red cape and all.
Perhaps Cisco will help Kara find a way to banish the Kryptonian prisonsers of Fort Rozz back to the Phantom Zone from whence they came. That seems like the type of challenge he'd be more than willing to except. (Dabbling in supernatural realms is kind of this show's specialty.) And just think of what Kara's super strength and Felicity's techy skills could accomplish together. (Plus, they've both got that whole chic glasses look thing down.) But regardless of how it exactly comes about, I have no doubt that this alliance will defy even my high expectations by leaps and bounds.
Images: Darren Michaels/Warner Bros.; jbuffyangel/Tumblr (2)