How To Celebrate A New Job, Hollywood-Style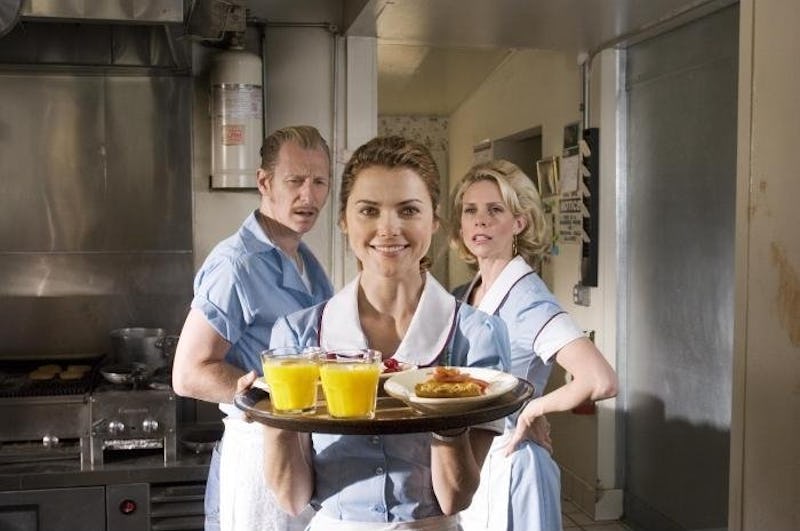 It's a story I tell quite often — after proclaiming myself destined for a career in writing, I landed in the service industry the summer after my junior year of college. I was well acquainted with the unpaid, for-credit magazine internship, but I'd never held down a paying job. So I made the most of my limited skill-set and wrote a personal essay and application for a job with a cafe. No cover letter, no resume, no references — just 800 words about why I love cheese. Improbably, I got the job. (For the record, I wasn't even the least-qualified person working at this particular shop.) After working an eight or nine hour shift elbow-deep in cold brew coffee, I'd get home from an evening shift and simply want to vegetate by watching something — namely, one of these seven movies perfect for celebrating your first job. These films offer other obscure aspirational positions that might be dreamlike alternatives to your actual first job, or simply affirmation that you've picked the right thing.
First jobs are an inevitable rite of passage; mine was something to be survived rather than particularly beloved. But it always helps to know that there's a boss worse than yours (Miranda Priestly, of The Devil Wears Prada, is one example), a stranger client base (Sunshine Cleaning), more difficult partners (The Social Network) or simply a brighter work environment (The Intern). Now that you've actually landed the gig, you should celebrate with a movie, rather than actually getting down to work. And you can dream of your future at a magazine, a diner, or a successful startup before you actually get there. These movies are just a selection of all the lives you might want to (eventually) live.
1. The Devil Wears Prada
No matter how dark it gets on the job, you probably can't have it any worse than Anne Hathaway's fraught personal assistant Andy in The Devil Wears Prada. She's under the thumb of the tyrannical Miranda Priestly (Meryl Streep), editor-in-chief of the fictional Runway magazine. It's based on the fictionalized memoir from Lauren Weisberger based on her own experience and that of several friends. Somehow, this did not — and has not yet been able to — discourage me from venturing into the publishing world. Instead, it's made me want the job even more. We probably all think we can stand up to the Miranda Priestlys of the world, till we're actually confronted with them.
2. The Intern
Sometimes, your workplace has got it all. That's certainly the case when Anne Hathaway takes on the boss-lady position, running her fashion startup from a bicycle perch with energy and verve and a little help from her aging intern (Robert De Niro).
3. The Social Network
If you're Mark Zuckerberg, the Facebook workplace has got it all. If you're any of his notoriously shafted partners in the nascent website, that couldn't be further from the truth. The Social Network examines the website's rise to fame from its inner workings, looking closely and critically at Zuckerberg's (Jesse Eisenberg) relationships with his coworkers and romantic partners.
4. Sunshine Cleaning
Lest any among us forget, Amy Adams and Emily Blunt (also of The Devil Wears Prada!) co-starred in this movie about two women who start a crime-scene cleanup business. It's a dramatic comedy, or comedic drama, or some intersection of funny and serious, and it's perfect for anyone diving head-first into the uncertain waters of a first job.
5. Waitress
With her brain for endless inventions of different pie recipes, Keri Russell's Waitress character is anything but unprepared for her job. It's everything besides her job that comes as quite the shock. This movie is just as delectable as the desserts it churns out, and it's been adapted into a Sara Bareilles-penned musical with good reason.
6. Good Night, And Good Luck
Robert Downey, Jr., Jeff Daniels (pre-Newsroom, in a role that will make you realize why Aaron Sorkin thought him such an appropriate lead for that show), George Clooney, and David Strathairn all star in this broadcast-set biopic about a moment in the career of Edward R. Murrow, who sought to expose fearmongering Senator Joseph McCarthy at the height of the Red Scare. It's named for Murrow's classic sign-off, "goodnight, and good luck." (Much like Dan Rather in Truth, whose sign-off "courage" is often cited, much is made of this affectation.)
7. Julie And Julia
Blogger Julie documents her efforts to cook her way through Julia Child's magnum opus Mastering the Art of French Cooking. It intertwines Julie's and Julia's personal narratives, as well as their cooking exploits — both successes and failures. It'll make you want to be a blogger or a chef or both, so be prepared to experiment with coq au vin.
With the exception of The Social Network, I came away from each of these movies dead-set on a career switch. It could be a testament to the portrait they offer of each work place, or it could be an indicator of my lack of conviction. But they're also fun, exciting, and at times quite offbeat depictions of what it is to hold down a job, whether it's your first out of college or you're well past retirement.
Images: Fox Searchlight