'Home Alone' Turns 25: Where Are They Now?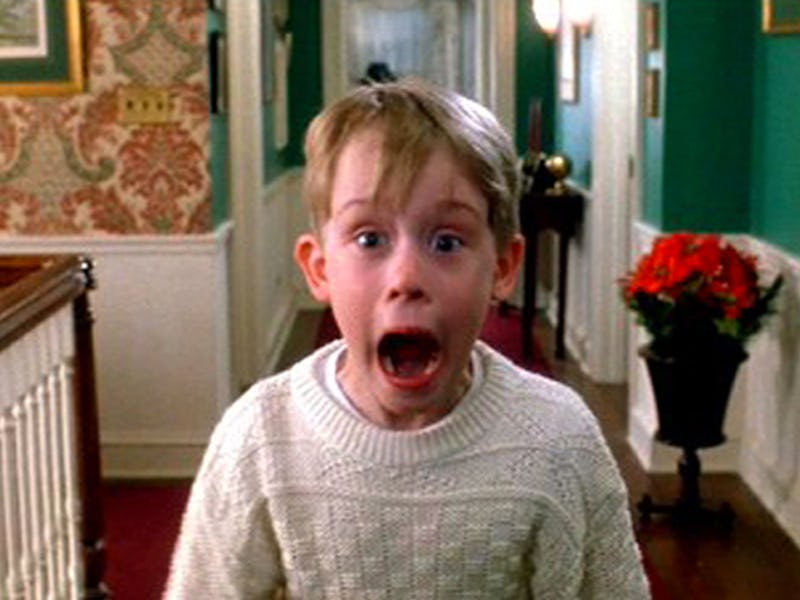 The holiday season is here, and soon those wintry movies are gonna start their runs on televisions everywhere. Of course, one of the most classic is the hijinx-heavy Home Alone, which turns 25 this year, on November 16. Can you believe it? The quintessential New York Christmas movie is even coming back to theaters this year, for all you nostalgic, filthy animals! The John Hughes classic is still a favorite for those who grew up with the movie, and the McCallister family seems frozen in time.
But time marches on, holiday season to holiday season, and the McCallister might exist in the Christmas of 1990 forever, but the Home Alone cast has grown. They aren't all the adorable and naive child stars they once were. Some of them have seen their share of hard times, some of them have moved on from acting to other careers, and some of them are still on our screens. So where are each of the actors now?
Macaulay Culkin Aka Kevin McCallister
Culkin is now 35 years old. Now that is something to scream about! He continued his career starring in the sequel Home Alone 2, My Girl and later as an adult in more subversive indie films like Party Monster. He has dealt with some difficult times over the past 25 years, battling addiction and the end of a long relationship with Mila Kunis, but in 2015, he seems like he's doing just fine. Last year he set the world on fire again with his band The Pizza Underground, his pizza-themed Velvet Underground cover band. Ryan Gosling wore his face on a T-shirt.
Devin Ratray AKA Buzz McCallister
Buzz the Bully was played by Devin Ratray who was 13 at the time, and Ratray has had several roles as bullies in the 25 years since the film, like his role as Mickey in Dennis The Menace in 1993. But his career has been diverse, and he's scored roles in some big projects both on TV and in film. Most recently, you've probably seen him as Mike on Louie, or perhaps in the movie RIPD. Ratray has been on tons of TV shows in the past 25 years, including Law & Order (both SVU and Criminal Intent--aka my dream, to guest star on more than one iteration of L&O), Supernatural, and, oddly, Cash Cab.
He also fronts the band Little Bill And The Beckleys.
Angela Goethels Aka Linnie McCallister
Linnie had one of the best lines in the whole movie: "You're what the French would call 'les incompetants.'" Goethals didn't return for the sequel, but she did appear in another huge blockbuster of the 90s: she had a role in Jerry McGuire in 1996. She took a break from her screen career and got her French degree at Vassar College before returning to Hollywood and starred in the black-comedy horror movie Behind The Mask: The Rise Of Leslie Vernon and has also made appearances on 24.
Mike Maronna Aka Jeff McCallister
After his stints in Home Alone and as Big Pete in Nickelodeon's The Adventures Of Pete & Pete, Mike Maronna went behind the scenes and has become quite the prolific electrician for several high-profile projects. He's a whiz kid apparently because he's worked on everything from indie movies like New York, I Love You to Sex & The City to HBO's The Normal Heart last year.
Catherine O'Hara Aka Kate McCallister
You know you're getting old when you re-watch Home Alone as an adult and you're like, "Catherine O'Hara has to deal with all these dang kids, she's the most sympathetic character!" I digress; what I'm saying is, I just really love Catherine O'Hara. She has had a phenomenal acting career that started long before Home Alone and hopefully, will continue for another 25 years. The now 61-year old actress has so much outstanding work in her arsenal, but her best roles (in my opinion, of course) are those in Christopher Guest's mockumentaries: she's appeared in the hilarious Best In Show, A Mighty Wind, Waiting For Guffman and For Your Consideration. In 2010, O'Hara was nominated for a Primetime Emmy Award for playing Aunt Ann in the USA Miniseries Temple Grandin starring Claire Danes.
John Heard Aka Peter McCallister
Oh, dear old dad! John Heard has been SUPER busy for the last 2 and half decades, averaging just about a movie a year--sometimes even more. The 70-year old actor is versatile as all get-out; he's been in lofty Shakespearean adaptations, like O with Julia Stiles to some "WTF" productions... he was in Sharknado, people. His most recent project was the TV series, The Lizzie Borden Chronicles.
No go rewatch Home Alone, and feel your holiday cheer mingling with the melancholy of the passing of time.
Images: Hughes Entertainment (2).