13 Surprising Facts About 'Home Alone'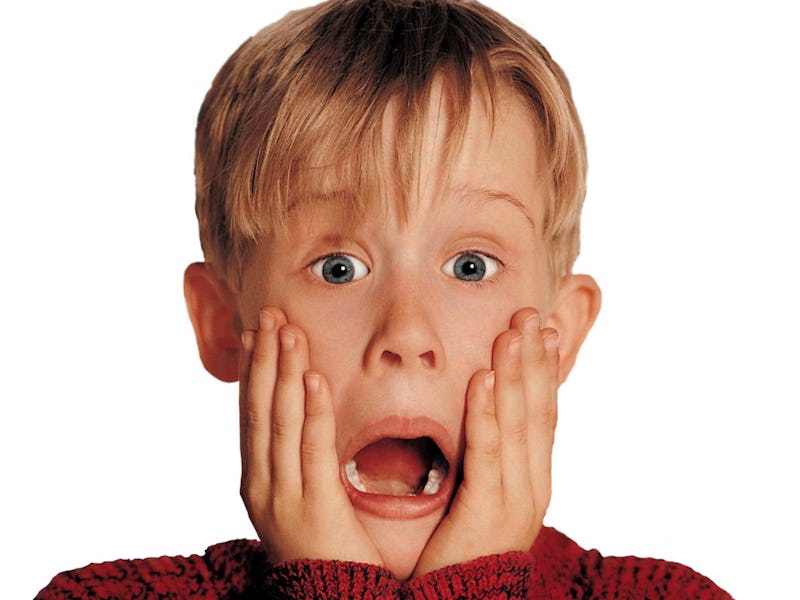 There are few movies quite as beloved by the masses as Home Alone. Kids love it because it fulfills the "what if?" fantasy of being left alone to your own devices for a week. Parents love it because it's a nice reminder that they will never be able to screw up quite as royally as Kevin McAllister's parents. (Seriously... how do you just "forget" one of your children before a huge family trip?) The movie is fun for the whole family, which is why it has stood the test of time — 25 years of time, to be specific. This year is the 25th anniversary of Home Alone, and therefore also the 25th year that Macaulay Culkin can't go to the grocery store without someone pointing at him, slapping their hands to their cheeks, and screaming.
You may adore Home Alone and drop everything to watch it when it comes on ABC Family (because you know it will, thank God) but you may be surprised to learn some of these fun facts about the iconic flick, no matter how many dozens of times you tuned into Kevin's misadventures. Interested in reliving the magic? You're in luck: Fathom Events is holding an "encore" presentation of Home Alone at theaters nationwide on Dec. 9, which means you have one more chance to stay home with Kevin on the big screen. Until then, here are 13 surprising facts about Home Alone that will make you want to watch it more than Kevin wanted to watch an R-rated movie:
1. The Iconic "Scream" Wasn't A Part Of The Script
According to director Chris Columbus' recent interview with Entertainment Weekly, Kevin's scream after he puts cologne on his face was a total accident, despite its resemblance to Edvard Munch painting "The Scream." The scream wasn't written that way in the script, but Culkin clearly had good instincts as it became one of the most famous shots in the film.
2. John Candy Improvised His Lines
According to the Entertainment Weekly interview with Columbus, the late Candy, who played the lead man in a traveling polka band, was only on set for one day and improvised all of his lines in the film.
3. People Really Believe That Elvis Presley Is An Extra In The Movie
This YouTube video insists that the bearded man in the background of this scene is the still-alive father of rock n' roll. It's not, but the video has over a million views.
4. Home Alone Was Nominated For Two Oscars
In 1991 it was nominated in the Best Original Song category for "Somewhere In My Memory" and for Best Original Score.
5. The "Ugly Girlfriend" Kevin Scoffs At Isn't A Girl
Home Alone actor Devin Ratray told Yahoo! that the photo of Buzz's not-very-cute "girlfriend" was actually the art director's son, who volunteered to dress up like a girl for the picture. Apparently the filmmakers thought making fun of a girl for being ugly was just too cruel.
6. Old Man Marley Played A Serial Killer In Another Movie
Old Man Marley was only a rumored killer in Home Alone — and, as it turned out, a pretty nice guy! — but actor Roberts Blossom really did play a serial killer in the 1974 horror film Deranged.
7. Hope Davis Has A Bit Role In The Film
The Wayward Pines actress plays a French ticket agent. It was her second film credit.
8. Angels With Filthy Souls Isn't A Real Movie
The footage was specifically created for the film, but it is a play on the 1941 film Angels With Dirty Faces.
9. John Hughes Always Wanted Culkin For The Part
Columbus told Entertainment Weekly that Hughes wanted Culkin for the role after working with him in Uncle Buck, but ultimately auditioned "hundreds" of other kids for the part. Culkin eventually won out because he felt like a "real" kid.
10. You Can Visit The Real Home Alone House
Well, sort of. According to MovieFone, the exterior of the house where the film shot is available for viewing in Wittenka, Illinois, but it is a private residence, so don't go knocking on the door asking if the McAllisters are home.
11. Michael Jackson Visited The Set Of Home Alone 2
According to Ratray's interview with Complex, Culkin introduced him to his pop star friend Jackson when he came to visit the set in New York. Ratray was making a behind-the-scenes video at the time, and interviewed Jackson. Shortly after Jackson's death, he gave the tape to Entertainment Tonight so they could pay tribute to the late singer.
12. Daniel Stern, a.k.a. Marv, Narrated The Wonder Years
The Home Alone burglar played the grown-up Kevin Arnold on the sitcom.
13. There's Another Culkin In The Movie
Kevin's cousin Fuller is actually played by Kieran Culkin, Macaulay's brother, who later appeared in movies like Scott Pilgrim vs. The World and Igby Goes Down.
Now slip into your comfiest snowflake pajamas, pop on the Home Alone DVD, and be grateful your parents always remembered to take you on your family vacations.
Images: 20th Century Fox; Giphy (7)