John Dickerson Wrote A Book About His Fierce Mom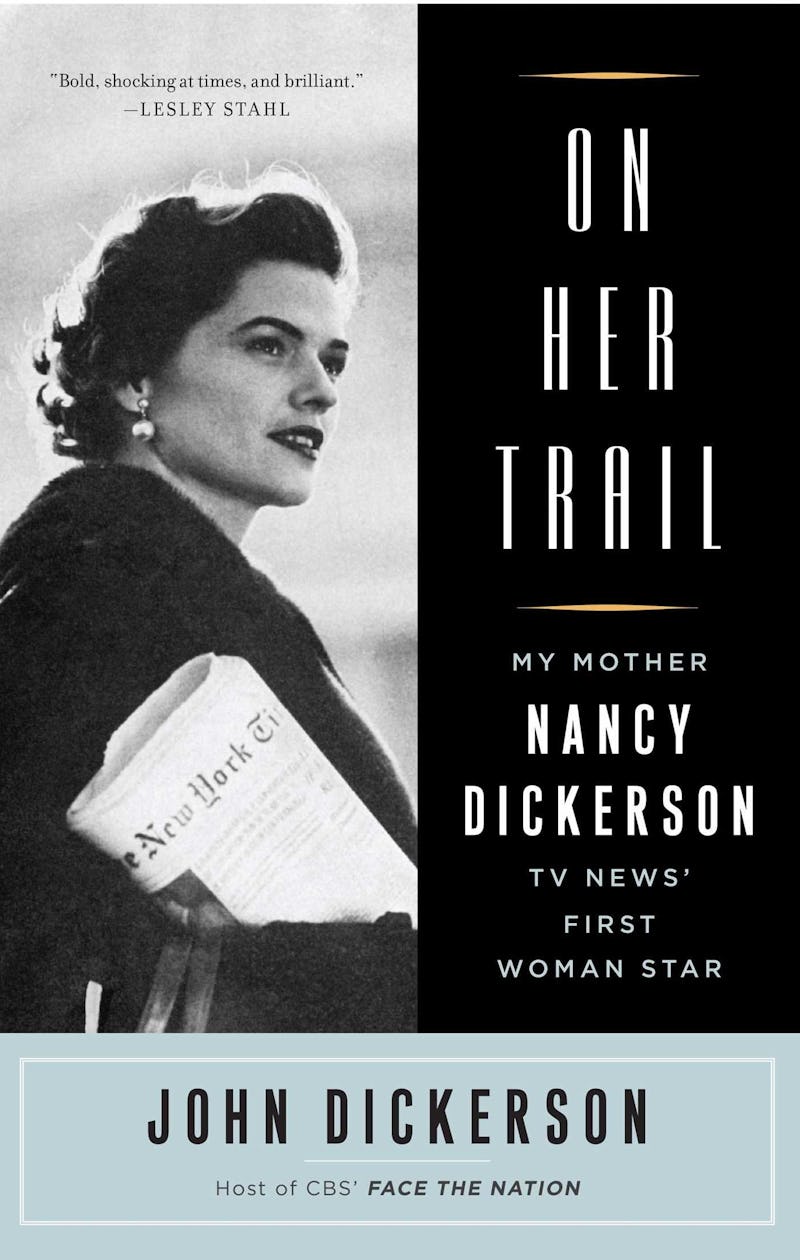 Like a lot of successful people, political journalist John Dickerson got it from his mama, Nancy. Dickerson, host of CBS' Face the Nation and moderator of Saturday's Democratic presidential debate owes at least part of his success to his mother. He explores her life in his book On Her Trail: My Mother, Nancy Dickerson, TV News' First Woman Star. As the title suggests, Nancy was the first female reporter at CBS and a political force in the 1960s and 70s. Feminists, political junkies, readers, writers, feminists, and history buffs alike should know the story of this amazing woman aka all-around shatterer of the glass ceiling.
Born in a Milwaukee suburb in 1927, Nancy moved to New York in 1951 to pursue journalism after a stint as a school teacher. In 1960, she became a correspondent for CBS, the first woman reporter ever hired at the network. She later moved to Washington, D.C., to work for NBC and eventually formed her own media company to produce independent political specials, one of which won a Peabody Award.
Other career highlights include her role as the only woman covering the 1960 presidential election and the March on Washington with Martin Luther King Jr. Later that year, CBS gave her her own radio show on political issues she thought would interest American women, titled "One Woman's Washington." The New York Times reports she grew tired of only reporting stories that related to women, though, and left after three years.
She married Wyatt Dickerson, a successful CEO, in 1962, and the two were one of the most glamorous couples on the D.C. party circuit until their divorce in 1983, according to NPR. She often spoke directly on the phone with Richard Nixon and Lyndon B. Johnson, who considered her a friend. The Reagans attended her parties, and in her memoir Among Those Present, Nancy revealed she had dated John F. Kennedy in the 1950s when he was a Massachusetts senator. "My social life always seems to revolve around business," she said, according to the New York Times.
Nancy did not always have the easiest relationship with her son. John writes in his memoir of her that Nancy was not an engaged parent, valued her career more than her children, and he was often frustrated with the little attention he and his siblings received from her. He writes, "By the time I was thirteen, I wasn't confused anymore. I was angry. I hated her: I thought she was a phony and a liar. Everyone still thought she was a big deal, but I thought she distinguished herself at home by being petty, rigid and clumsy."
After Nancy and Wyatt divorced, she wrote John a letter, explaining she loved him more than anyone in the world but that she needed to work hard to support herself. In his book, John was skeptical. "She worked because she loved to," he wrote. "That's why it was natural for her to write that she loved us more than 'anyone' in the world, but not 'anything.' She would have worked just as hard at her job had she been wading in bullion."
Dickerson was less prolific in the Reagan era, though she did interview three diplomatic giants in 1980 for PBS: Egyptian President Anwar el-Sadat, Israeli Prime Minister Menachem Begin, and Saudi Foreign Minister Prince Saud al-Faisal. They were some of the stories she was most proud of during her career, according to the Times.
After suffering a stroke, her health declined in 1996. Nancy died in October 1997, leaving an incredible career legacy and a complex personal story.
Image: Amazon