'Legend' Has A Surprising History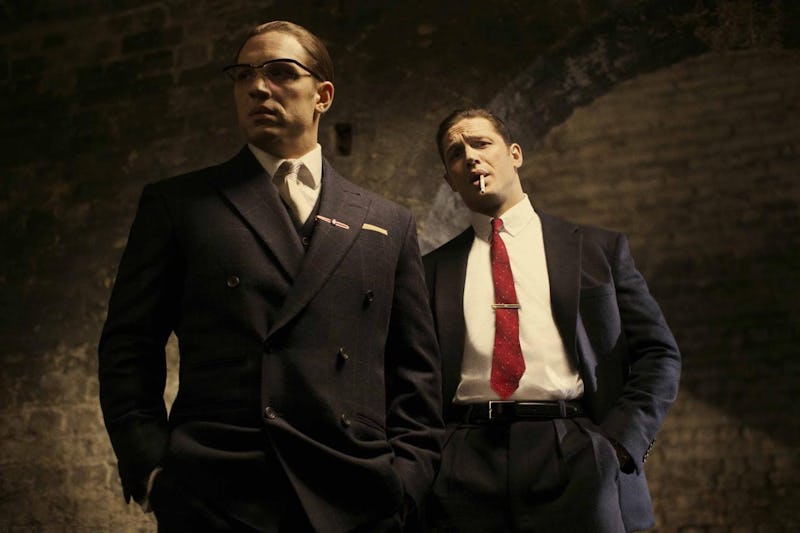 Allow me to sum up the new movie Legend for you in three words: British. Twin. Gangsters. If that description alone isn't enough to make you get to the theater, consider the fact that both twins are played by Tom Hardy. Sounds pretty fascinating, right? You might be wondering what screenwriter thought up such a unique combination of cinematic elements. Well, although the script was written by director Brian Helgeland, Legend is based on a book by John Pearson. The 1972 work was called The Profession of Violence, and it chronicled the rise and fall of two British mobster brothers named Reggie and Ronald Kray. Believe it or not, the Kray brothers were real people, and they actually commissioned Pearson to write the book for them.
Reggie and Ronald Kray reached out to the author in 1967, by which point they were already in prison for their crimes. Pearson had already written multiple biographies on other subjects, and the twins now wanted him to tell their story. The resulting work was The Profession of Violence, which is considered the most comprehensive profile of the twins ever written. It was upon Pearson's work that Helgeland based his screenplay, and so Legend was born.
It's a pretty remarkable series of events, but there have actually been many previous movies about brothers that were based on books — whether or not the root stories were factual. Here are a few films that were adapted from literary works about brothers with complicated relationships.
Black Mass
This recent film features Johnny Depp as Whitey Bulger, who was a real life figure in organized crime in Boston. The movie is based on the book Black Mass: Whitey Bulger, the FBI and a Devil's Deal by two former Boston Globe reporters named Dick Lehr and Gerard O'Neill.
What's Eating Gilbert Grape
Before Black Mass, Johnny Depp starred as the older brother of a developmentally disabled boy in What's Eating Gilbert Grape. Although not a true story, the movie was based on the book of the same name by Peter Hedges.
The Godfather
The iconic 1972 film was based on the 1969 novel by Mario Puzo about an Italian mob family in New York— and all the drama, politics, and violence therein.
Adaptation
Nicholas Cage played both Charlie and Donald Kaufman in this 2002 Spike Jonze metafilm, which satirized the adaptation process of Susan Orlean's nonfiction book The Orchid Thief.
While I can't speak to the historical accuracy of Legend, it follows the footsteps of many excellent prior book-to-film adaptations. And who can pass up the opportunity to see double of Tom Hardy?
Image: Universal Pictures