Is There Another Killer On 'Wicked City'?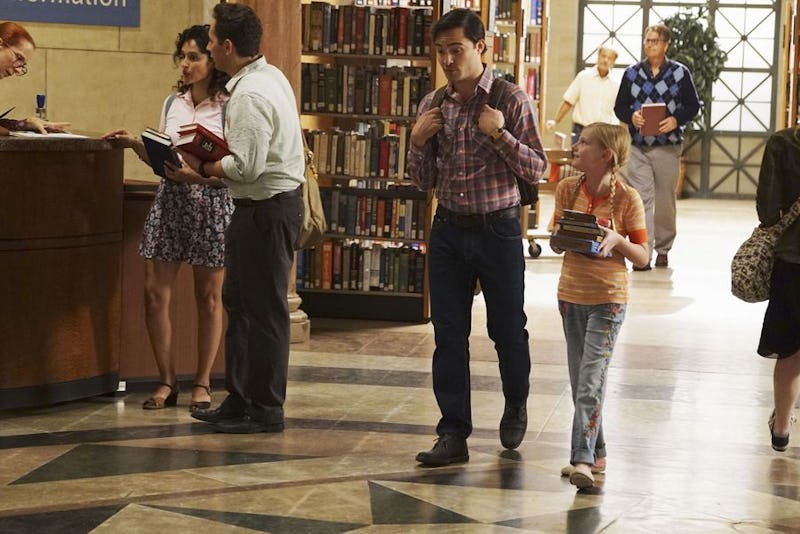 On Wicked City, Kent (Ed Westwick) has a lot of secrets: So far, viewers know that he's a serial killer, he enjoys babysitting, and he loves The Phantom of the Opera. But during Tuesday night's episode, Det. Jack Roth (Jeremy Sisto) could be on the verge of uncovering another discovery about the mysterious serial killer — could Kent be Cooper on Wicked City? This week, Roth learned that the body in the floor was the corpse of the a deceased librarian named Vera Bennett. She had a great love of books and, years ago, she even befriended a 12-year-old boy named Cooper.
She introduced Cooper to books and they bonded. But here's the thing about Cooper: According to Vera's fiance, the boy got super creepy and obsessive with her. As a teenager, Cooper would lurk outside their house. It was obvious that Cooper cared a great deal about Vera, but wasn't quite handling it well. Back to the Wicked City present: Roth said he could tell that Vera's body was taken care of very well and that her killer cared deeply for her. So could Cooper be an alias or a former life belonging to Kent? I think it's definitely possible, considering the evidence that viewers were given in this week's episode.
Kent still has Vera's copy of The Phantom of the Opera, so I'm guessing she probably introduced him to the book. We know that he's willing to kill those he loves — Kent was borderline obsessed with poor aspiring actress Mallory, but that didn't stop him from putting her head in a box on a library shelf and leaving her body in a river. And if Kent is Cooper, that means his bond with Vera was at a young age — and that could explain Kent's innocent, but creepy interest in children. Perhaps he wants to be a mentor, like Vera was for him.
But if Kent is Cooper, what happened to cause him to take on this new identity? I'm interested to find out.
Images: Eric McCandless (2)/ABC