10 Books To Read With Your Besties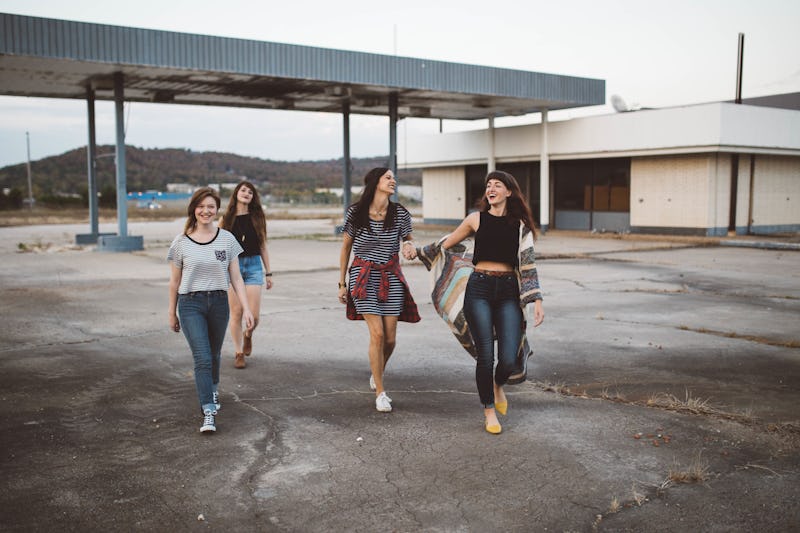 Some things are just better when shared with friends. You know what I'm talking about: brunch, long hikes in the woods, yoga class, extra-large pieces of chocolate cake — and of course, great books. Sure, joining a book club is one way to get your collaborative reading vibe on, but every once in a while a book comes into your life that you only feel like sharing with that one soul sister who you know is just totally going to get it. Aka: a book you should read with your best friend.
The BFF-friendly books on this list celebrate the wonderfully messy, living-and-breathing beast that is friendship, with all its highs and lows. The promises kept, and the trusts broken; the journeys taken together, and the ones that take you apart; and all the beautiful, complicated ways best friends save one another, and fail one another, and stick by each other through thick and thin. Sound like the kind of friend you know? Perfect. Then get ready to snuggle in (or Skype, if you're like me and your best gal pal moved across the country) and enjoy some books that'll truly make you appreciate the power of a good friend.
Here are 10 books that every woman should read with a friend, because besties who read together stay together.
1. Truth and Beauty by Ann Patchett
When Ann Patchett and the late Lucy Grealy met in college, and then followed one another to the Iowa Writers' Workshop, they had no idea how influential their friendship would be on not only their personal lives, but their writing life as well. Written after the devastating death of Lucy, Truth and Beauty tells the story of one unforgettable friendship, and what it means to love someone while losing them at the same time.
2. The Interestings by Meg Wolitzer
Meg Wolitzer's novel The Interestings begins at the ultimate locale for establishing epic friendships: summer camp. Jules, Ash, Goodman, Cathy, Johan, and Ethan all meet at a summer camp for young artists when they are teenagers. As adults, their lives after camp take unexpected twists and turns that their friends — and they themselves — would have never expected. This novel explores the complicated evolution lifelong friendships.
3. My Brilliant Friend by Elena Ferrante
Elena and Lila are best friends living in 1950s Naples, Italy — a city undergoing as much change and growth as these two young girls are. As the world Elena and Lila live in evolves, their friendship evolves as well. My Brilliant Friend explores how friendships are not only influenced by the people experiencing them, but by the world around them as well.
4. The Yonahlossee Riding Camp for Girls by Anton DiSclafani
The girls of Yonahlossee are far enough removed from the real world, high in the Blue Ridge Mountains, that the troubles that plague their families back home often take a backseat to their personal longings: boys, sex, popularity, gossip, and horses. Another camp-set read, The Yonahlossee Riding Camp for Girls explores myriad friendships — the ones we have that are genuine, the friends we cannot entirely trust, the friendships that have the capacity to destroy us, and the pivotal friendships we have with ourselves.
5. I Know This Much Is True by Wally Lamb
Sure, Dominick and Thomas Birdsey are identical twins rather than best friends, but their relationship still speaks volumes about the people we choose to have in our life, the people we let go, and those whose staying or leaving power will not be influenced by the people who love them, no matter how hard we might try. Filled with deep-seated confusions, resentments, misunderstandings, injustices, and unconditional love, I Know This Much Is True tells a story of two brothers who are doing their best to manage their relationship the only way they know how.
6. The Kite Runner by Khaled Hosseini
Growing up in Soviet-era Afghanistan, Amir and Hassan are best friends, in spite of the fact that Hassan is Amir's father's servant. When a horrifying act of violence is committed against Hassan, Amir fails to prevent it, and their friendship changes forever. The Kite Runner is a story about all the ways we fail our friends and ourselves, and the kind of friendships that haunt us for a lifetime.
7. She Matters: A Life in Friendships by Susanna Sonnenberg
A beautiful memoir of friendships, writer Susanna Sonnenberg's She Matters explores the myriad friendships a woman will experience in her lifetime: the ones that uplift and the ones that disappoint, the ones that leave you in awe of another and the ones you probably could have done better without, and all the glorious, sloppy friendships in between. You'll recognize yourself and some of your own friends in this book, I guarantee.
8. Paper Towns by John Green
Hands down, protagonist Quentin Jacobsen's best friend, Radar, is the unsung star of this novel. He is intelligent, quick-witted, well-spoken, he seems like the kind of teenager who is going to become something fabulous when he grows up, and I wish he was my friend in real life. Although much of the hype about Paper Towns focuses on Quentin's love interest, Margo Roth Spiegelman, at the end of the day this book is really about the lengths best friends will go in pursuit of another friend's joy.
9. Divine Secrets of the Ya-Ya Sisterhood by Rebecca Wells
A fight before a wedding and a childhood scrapbook, irreconcilable differences and out-of-context gossip, apologies, misunderstandings, and denied forgiveness — sound like some of the roller coaster rides you've experienced in your own friendships? Divine Secrets of the Ya-Ya Sisterhood explores all this and more, through a story of the irreplaceable relationships among friends, and the complicated friendships between mothers and daughters.
10. Friendship by Emily Gould
Best friends who couldn't seem more different from one another, Bev Tunney and Amy Schein are at a crucial moment in their lives: their 30th birthdays. Emily Gould's novel, Friendship , meets them at a juncture in their relationship — one that will either allow them to grow stronger, together, or that will push them apart forever. Funny and generous, this book is perfect for any friends who are learning what their girlhood relationship will look like as they become adults.
Image: Brooke Cagle/Unsplash