BaubleBar's New Tech Collection Is Completely Rad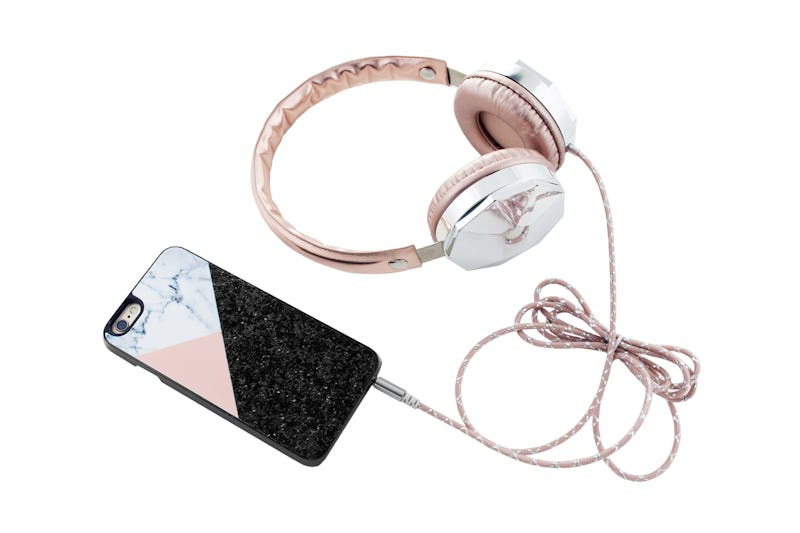 Watch out world — this jewelry retailer is venturing from sparkly gems to sleek tech accessories. BaubleBar is partnering with Target to launch an exclusive 26-piece collection, and lucky for us, the menu is packed full of stylish variety. From USB cables to selfie sticks, the line features beloved tech pieces with distinct BaubleBar flair. Got a naked iPhone? In need speakers for your next weekend soiree? Then you best race over to your nearest Target aisle and get shopping.
BaubleBar isn't afraid to explore beyond crystal bibs and teardrop earrings — in fact, this Target collaboration is not the first time they have tackled non-jewelry terrain. Previously, BaubleBar and FRENDS teamed up to create the glitziest headphone collection around — imagine studded evil eyes and crystal medallions as the chic alternative to classic white earbuds. And on the domestic front, BaubleBar and fashion blogger Julia Engel of Gal Meets Glam joined forces to produce a home decor collection that was to die for — I mean, rabbit ears display case? Add that to my room please!
With no doubt, BaubleBar's new tech line at Target demonstrates the company's versatility and eye for style. BaubleBar co-founders Amy Jain and Daniella Yacobovosky tell Bustle over email, "We are thrilled to launch in Target stores across the country this holiday season and provide customers with more ways to shop BaubleBar. Our partnership with Target also marks an exciting product milestone as we bring the beloved BaubleBar wink outside of the jewelry box with our first collection of trendy tech accessories."
Though the collection won't be in Target stores and online until Nov 29, but feel free to start prepping your to-buy lists now — I know I will be.
Here's what to expect from the collaboration.
1. Phone Cases
Though I'm not due for an upgrade until later this winter, I am 100% sure that these snazzy phone covers will be making the cut. All of the cases are blessed with that trademark BaubleBar glamour and range from geometric designs to trendy phrases. "Texting is my cardio" might be hitting it too close to home...
2. Headphones
Transform your morning commute into a runway-worthy production with the help of BaubleBar's stylish ear gear. These headphones come in both metallic gold and silver and are sure to amp your Spotify jams to the next level.
3. Selfie Stick
Don't be ashamed to whip out the selfie stick in public — especially one that's decked out in polka dots and gold tassels. With a classy design like this I wouldn't hesitate to take my selfie stick for a spin on vacations and weekend outings. Never have I been so grateful to say goodbye to the neon selfie sticks vendors attacked me with in Europe.
4. Speakers
BaubleBar's got your back when it comes to supplying the tunes — and in contemporary fashion too. These bluetooth speakers not only doubles as home decor, but will faithfully blast your party playlists in style.
5. USB Cables
If you're anything like me and guilty of misplacing or breaking those pesky USB charging cables, then look no further: BaubleBar has devised a chic USB cable that you will never want to forget in the back of the cab. It's too cute to lose, alright?
Want more fashion? Check out the video below, and be sure to subscribe to Bustle's YouTube page for more hacks and tricks!
Images: Courtesy BaubleBar