The One Holiday Dress You Need This Season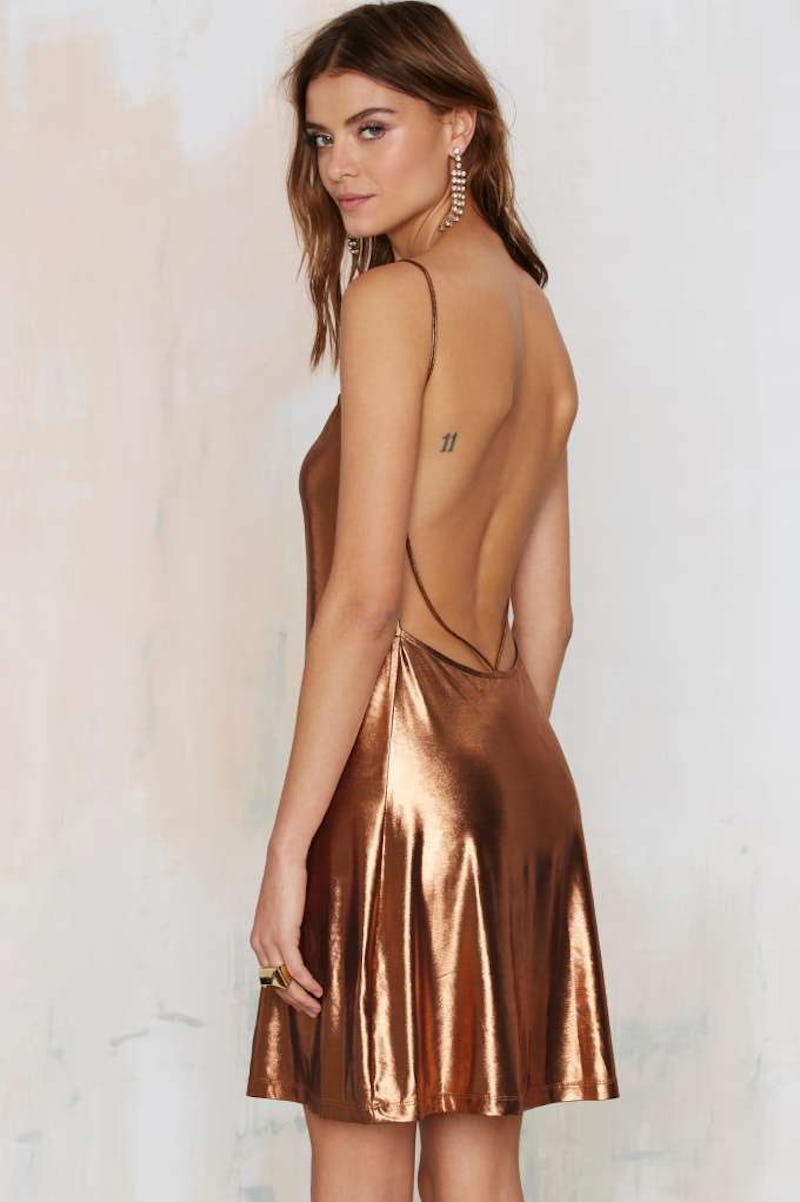 The countdown to the holidays has officially started, so there's a good chance you might be starting to think about what to wear to all those parties. While you can never go wrong with a black dress, and red dresses are somewhat expected, the one holiday dress you need this season is a gold dress. Nothing says party like some sparkle, right?
From Thanksgiving right up through New Year's, you'll probably be faced with several party invitations, but buying a dress for each one is seriously expensive (especially when you're already spending extra money on holiday gifts), so if you only plan to buy one dress, you need one that will seamlessly transition between every holiday. Enter the gold dress.
Gold is festive enough for the holiday season, but doesn't cater to one particular holiday (like red for Christmas, or blue for Hanukkah). It works just as well for Thanksgiving as it does for NYE, so it's pretty versatile. Gold also tends to have metallic/sparkle to it, which just ups the party feel, and since it's lighter in color, you can wear it year-round (meaning, you could recycle it come summertime — Greek goddess vibes, and such).
Gold can be formal, polished, sexy, elegant, and edgy, so it will fit in at literally any type of party. Here are seven gold dresses to shop this holiday season.
1. Embellished
Adrianna Papell; $179.40; nordstrom.com
Now THIS is a party dress.
2. Geometric
Vince Camuto; $188; nordstrom.com
This sheath dress would be perfect for a work or family party.
3. Lace
Fun One Like You Plus Size Dress; $169.99; modcloth.com
A lace overlay ups the romantic vibes.
4. Ombre
Maia; $118; nordstrom.com
If you don't want to go all gold, try an ombre version.
5. Slip Dress
Mercury Metallic Slip Dress; $58; nastygal.com
If you're looking for a slinky, sexy party dress, a slip dress is perfect.
6. Long Sleeved
Club L Plus Sequin Maxi; $117; asos.com
This dress is super elegant for those more formal parties.
7. A-Line
Alice + Olivia; $192; lastcall.com
Perfect for a holiday dinner party.
Images: Neiman Marcus Last Call; ASOS; Nordstrom; Nasty Gal; Mod Cloth