Your Last-Minute Holiday Gift Guide Is Here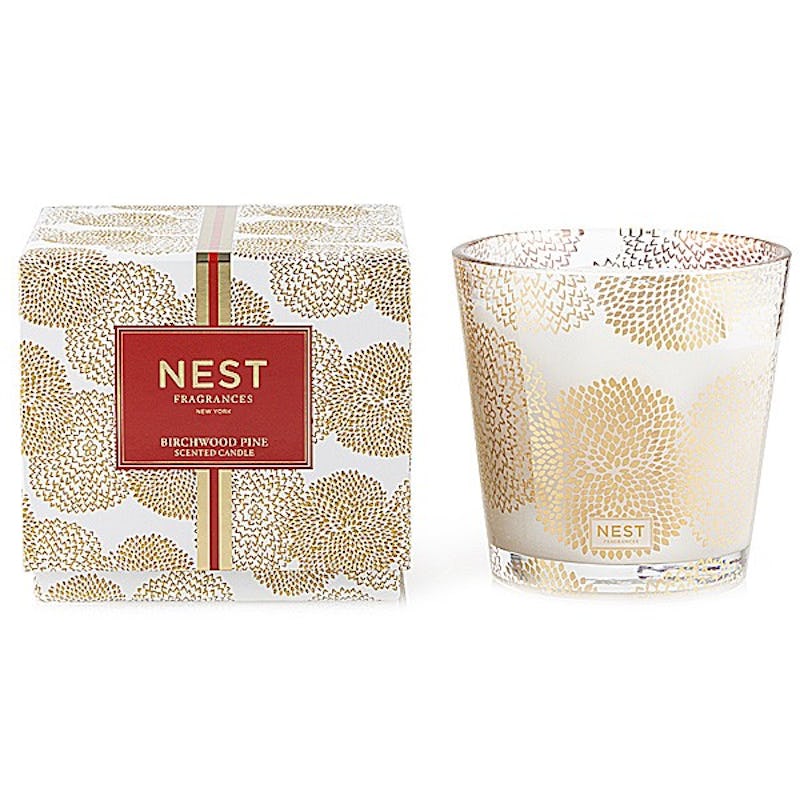 Between traveling, cooking, and coordinating, you've probably had zero time to shop for your loved ones this holiday season. Well, you're in luck, because I'm here to say, have no fear my time-crunched Yuletide shopping procrastinators, these fabulous last-minute holiday gift ideas are here to save the day. And unlike most last-minute gifts, these offerings are unique and thoughtful. So even if you do opt for express delivery on Dec. 23, it sure won't seem like it. From friends to coworkers to family members, these timeless gifts are the perfect solution for anyone short on time.
Looking to impress your boss without going over the top? Pop into your nearest Teavana for a beautifully gift wrapped infuser mug and loose leaf tea sampler. No time to surprise your significant other with a personalized token from the heart? Give the rewarding gift of travel with a hotels.com gift card, which can be used year-round at more than 150,000 hotels worldwide. In need of a last-minute hostess gift for the annual ugly Christmas sweater party? Click on over to wine-searcher.com for a Mulderbosch holiday rosé. And if you want to go the extra generous mile, head to fab.com for a modern wooden wine holder to boot.
Whether you're shopping online or in-store, these 21 last-minute gifts are sure to please anyone on your holiday list. And hey, no need to bring up that whole express delivery thing.
Hedgehog Kitchen Timer , $8, Amazon
This little guy puts the "kitsch" in kitchen timer. A great last-minute gift for the home cook with a sense of humor.
Hershey's KISSES Deluxe Chocolates Gift Box , $20, A mazon
What could be better than Hershey's KISSES? Extra large Hershey's KISSES filled with whole roasted hazelnuts, creamy chocolate filling, and delicate crisps — the perfect gift for any chocoholic. And the absolute best part? KISSES Deluxe are readily available at stores pretty much everywhere.
Teavana Dottie Red Infuser Mug , $15, Teavana
Is your boss a daily tea drinker? Then give the gift of convenience with Teavana's one-cup tea maker set, which includes a bright and cheery ceramic floral mug and a stainless steel infuser. The steeping lid even doubles as a coaster, so that afternoon cup of chamomile won't leave a trace of liquid on her desk.
Teavana Cheer and Revelry Collection Tea Sampler , $35, Teavana
And why not throw in a tea sampler with that infuser mug? Teavana's Cheer and Revelry Collection Sampler includes four two-ounce packets of soothing loose leaf tea: White Chocolate Peppermint Rooibos, ChocoCaramel Sea Salt Herbal, Chocolate Chai Black, and Gingerbread Black. And get this: Teavana even has holiday packaging and gift wrap available in-store. Last-minute gifting seriously can't get any better than that.
Nest Birchwood Pine Three-Wick Candle , $64, Amazon
Not only does Nest's three-wick birchwood pine candle smell like the warm holiday embrace of home, its sheer size allows it to burn year-round. The perfect last-minute gift for anyone who appreciates coming home to a good smell and a warm glow.
Smartphone Projector 2 , $31, Amazon
What do you get the tech geek who has everything? This smartphone projector. She'll be turning blank walls into cinematic adventures in no time.
Hotels.com Gift Card , $10-$2,000, Hotels.com
There truly is nothing better than the gift of travel. This year, indulge your globetrotting significant other with a Hotels.com gift card in any amount ranging from $10 to $2,000. Did I mention that the card has no expiration date, and can be used year-round at more than 150,000 hotels worldwide? Perhaps it's time to consider a room for two at the Austin, Texas-based chic boutique Hotel Van Zandt, pictured above.
Hooch Subscription , $50/for 6 Months, Hooch
Give the gift everyone wants to receive — a cocktail. Your favorite person can receive one free drink a day if you sign them up for Hooch, a private cocktail society with an impressive list of participating bars in cities like New York, Los Angeles, and San Francisco.
Mulderbosch Cabernet Sauvignon Rosé 2015, $14, Wine-Searcher
Thought rosés were solely reserved for summertime? Think again. The rich layers of strawberry and mineral in this 100 percent Cabernet Sauvignon rosé from South Africa serve as the perfect pairing to any holiday meal. Your hostess will surely be impressed.
Mugavu Wood Wine Holder , $35, Rose & Fitzgerald
Let's be honest — what good would a wine gift be without a stunning wine holder to boot? This hand carved, 100 percent Ugandian Mugavu wood wine holder will store that bottle of rosé with modern elegance.
Cuisinart Color Knife Set with Blade Guards (12-piece) , $35, Amazon
This colorfully coated stainless steel Cuisinart knife set is the perfect gift for the young home cook in need of kitchen essentials.
High Five Book Ends, $35, Amazon
Let the puns begin with these hand-y black resin bookends from Fab.com. A last-minute gift worthy of year-round high fives, indeed.
Electric Love Lariat Necklace , $70, Virginie Millefiori
Your loved one will surely light up the room with this gold-plated brass lightbulb and plug necklace designed by New York City-based artist Virginie Millefiori. And did I mention it's available for fast shipping?
Patika Cookie Club Subscription , $100/3 Months, Patika
Give the gift that keeps on giving — literally. With a Patika cookie club gift subscription, each month, members receive an impressive haul of small-batch, buttery European-style cookies and treats straight to their doorstep. And with this gift, you'll never once have to leave your own doorstep.
Brooklyn Brewery Sorachi Ace Beer Brewing Kit , $40.00, Brooklyn Brew Shop
What's the best gift for a beer lover? A home beer brewing kit, of course. This apartment-friendly Sorachi Ace brew kit includes everything you need to make a gallon of this classic saison at home.
Original Glossy Lucite Hairbanglez, $8, H airbanglez
Hairbanglez are bracelet bangles that store and conceal conspicuous hair ties. These super fun and affordable bangles make great last-minute stocking stuffers.
Cynar 70 Proof, $37, K & L Wine Merchants
What do you get the mixologist who has everything? The correct answer is Cynar 70. This Italian artichoke liqueur boasts notes of dark cocoa, bitter botanicals, earthy spice, and subtle sweetness. It's the go-to last-minute gift for that special at-home bartender in your life.
Box of 12 Macarons, $30, Macaron Parlour
You can't go wrong with a classic macaron gift box. Order a timeless selection of 12 sweet and savory flavors like dark chocolate, lemon, and hazelnut — or think outside the traditional macaron box and opt for uniquely unconventional Macaron Parlour signature flavors like candied bacon with maple cream cheese, caramel fleur de sel, and Cheetos. Yes, Cheetos.
Farm To People's Buzzed Bundle , $65, Farm To People
The ideal gift for your favorite coffee enthusiast, Farm To People's Buzzed Bundle includes spiked espresso marshmallow cookies, Nicaragua-roasted coffee beans, a Kona espresso brownie, chocolate-covered espresso beans, and dark chocolate infused with, what else... Stumptown coffee. Add a heartfelt gift message, and have it delivered straight to your java-lover's door.
Usquaebach 15-Year-Old Blended Malt Scotch Whiskey , $88, ReserveBa r
Want to impress your favorite Scotch enthusiast? Look no further than Usquaebach's 15-year-old Blended Malt Scotch Whiskey. Aged in oak and sherry casks, this fine Highland Scotch offers deep, complex notes of stout baking spices, caramel, and apricot.
Eco Garden Jar Cilantro, $30, Fab
What's the ideal last-minute housewarming gift for the on-the-go urban dweller? This self-watering cilantro herb kit from Modern Sprout.
Looking for more holiday cheer? Check out Bustle on YouTube.
Images: Farm To People ; Amazon; Teavana (2); Nest Fragrances; Fab (5); Hotels.com; Wine-Searcher; Gilt; Erin Kestenbaum, Brooklyn Brew Shop; H airbanglez; Campari; Macaron Parlour; GreaterGood; Usquaebach