The 25 Best Gifts For Travel Lovers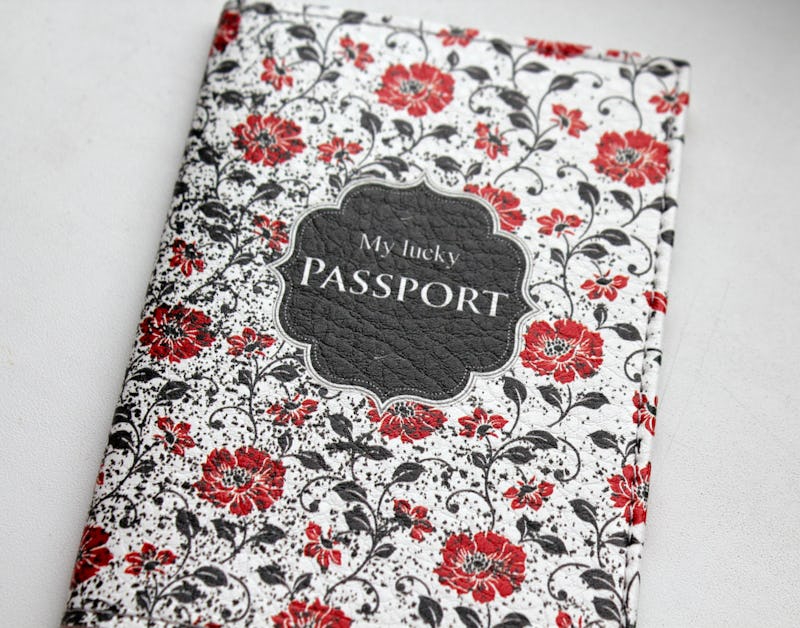 If you have a world traveler (or future world traveler) on your holiday gift list, you might be wondering what to get the people who have seen all and done all. Funnily enough, gift ideas for travelers are easy to come by. From the practical to the sentimental, your adventurous friends and family will be happy to utilize your gifts on their journeys.
My best friend is a Navy wife, so she's about to spend the next eight years traveling the globe — the lucky girl. She'll live in a handful of places in the next couple years, which can make it a bit difficult to buy things for her, since I've had to think about what she can pack up every few years to bring to her newest home. And that's when it hit me — why not get her things that will make her journeys either more comfortable or more memorable? A cute cover for her passport, a good pair of headphones, or a fun travel journal will get used over and over again. And, of course, you can always get your favorite traveler gifts to remind them of home.
Here are a few gift ideas to help inspire your friends' and family members' wanderlusts.
Scratch Travel Journal, $16, Amazon
This is not your average travel journal. This travel book is a planner, diary, and translator, among other things, and comes with pockets for storing documents and mementos and interactive maps.
CardNinja-Gold Polka Dot, $12, Amazon
Sometimes, you just want to carry your phone around and not worry about what to do with your wallet. The CardNinja attaches to your phone or phone case, and can store credit cards, cash, and hotel keys for light weight exploring.
Crossbody Power Purse, $69, Amazon
Not only is this crossbody bag chic and convenient, but it also charges your phone! It comes with a small battery that carries a full charge for your phone or other USB devices on the go.
BÖHM Wireless Bluetooth Headphones, $85, Amazon
Headphones are always a good gift, but especially for a traveler. They'll be happy for them on noisy plane, train, and car trips.
Leather Passport Cover, $29, Etsy
Your passport doesn't have to be standard! Dress that bad boy up with a cute passport cover.
The Original Znzi Travel Stuff Pillow, $40, Amazon
If your traveling pals do a lot of flying, this travel pillow would be a blessing. The pillow comes with six magnets and two suction cups, so you can arrange it to fit your sleeping style and travel method.
To Travel Is to Live Print, $19, Etsy
Adventuring is a way of life — no matter if it's within your own state or outside your own country. I think travelers always feel the most alive when they get to do what they love most.
Jet Set Kit, $25, Amazon
This little kit could be the difference between arriving in Europe looking refreshed and ready to go — or looking not so much. The Jet Set Kit includes a set of antiperspirant wipes, facial cleansing sheets, and mouth cleansing stripes, as well as a few screen cleaners. And the best part is that they're all TSA-friendly!
Neighborwoods Map Coasters, $36, Uncommongoods
Even world travelers have a home base. These cedar wood coasters can be made to highlight 15 different U.S. cities — including New York, Los Angeles, New Orleans, Dallas, and Baltimore.
Swept Away by Wanderlust, $40, Axelandash
A travel journal fit for every traveler. The Swept Away by Wanderlust book includes a ton of funny writing prompts, unique questions, and a bucket list section so that you'll never be bored on your adventures.
Blue Airplane Decor Reversible Throw Pillow Cover, $24, Amazon
Another vintage-inspired item, this airplane route pillow cover is both stylish and educational. Also, it's reversible!
12. Backpack
Mapmaker FYL Back Pack, $100, Amazon
I love the vintage feel of this backpack — like you're a 1940s archaeologist hell bent on discovery — and a good bag is always a travel must-have. Plus, it has a built-in phone charger and separate laptop compartment.
Catalyst Case for Apple Watch, $60, Amazon
If you spend a lot of time traveling to tropical destinations, you'll want something that will keep that fancy Apple Watch safe. These cases are waterproof, and they even protect against salt water erosion.
Eye Sleep Mask, $12, Etsy
Eye masks are great for travelers — you can use them to relax during your flight, or to block out the sun when you're trying to accumulate to the time difference.
Orbitkey-Black With Black Stitching Leather, $30, Amazon
Even though you won't need your keys in another country, that doesn't mean you don't need to take them with you.The Orbitkey keeps your keys in a slim leather ring, so they don't take up too much jingly room in your bag. You can also add a bottle opener and a flash drive for extra convenience.
No. 8 Traveler Personalized Leather Luggage Tag, $15, Etsy
You could do what I do and tie a giant, colored ribbon on your luggage to make sure it's yours — or you could be a bit more classy and have a personalized luggage tag.
Travel Stub Diary, $11, Amazon
I'm a huge saver of stubs when traveling — boarding passes, museum tickets, attraction slips, etc. — so this stub diary is my jam. It's basically scrapbooking without all the stickers and labels.
Statement Ring Eiffel Tower, $15, Etsy
Whether your traveling friend has been to Paris or not, this ring can either act as a remembrance of an awesome trip or a future goal. It's pretty and delicate, but definitely stands out.
Carry On Cocktail Kit- The Moscow Mule, $24, Amazon
I'm a nervous flyer, so I almost always have to have a cocktail. With this nifty little cocktail kit, all you need is the booze (duty-free, anyone?) to mix up two cocktails during your flight.
Ceramic Greek Coffee Cup, $13, Amazon
If you've ever been to New York — or watched any TV show set in NYC — you'll recognize this iconic coffee cup. This one you don't have to throw away, though.
Sterling Silver Compass Necklace, $36, Etsy
No matter where your friends or family roam, they'll always be able to find their way home with this necklace — figuratively, of course, since the compass isn't functional!
AquaVault® Outdoor Travel Safe & Lock Box, $40, Amazon
I definitely could have used this on my vacation to Hawaii. Instead of burying your keys and phone in your shoes or keeping a paranoid eye on your stuff while you swim, put everything in an AquaVault — it's much safer and easier to keep track of everything.
These cards are for the very adventurous adventurer — or the traveler who wants to be a bit more spontaneous. They'll help you avoid the standard sight-seeing trips to help build unique memories.
Anywhere Travel Guide, $11, Amazon
24. Mineral Water Spray
Feel first class AF with a couple bottles of Evian water spray. It's the perfect refresher for after a long flight, and your skin will definitely thank you.
Evian Mineral Water Spray Duo To Go, $14, Amazon
Initial wall decor is still trendy, but you can make it personal for the traveler in your life by adding a map. You can even customize the map location to fit your traveler's favorite place.
World Map Decor Initials, $15, Etsy