Kevin Watches A Classic Movie In 'Home Alone'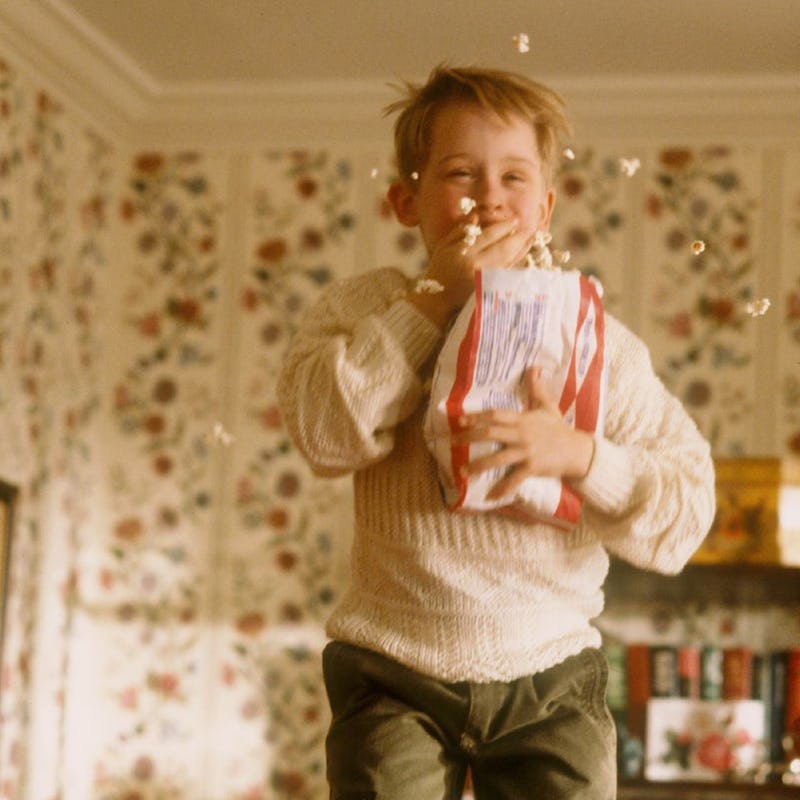 Every day gets us a little bit closer to Christmas, and you know what that means — it's time to binge on some holiday movies. Home Alone is always one in my rotation and it's celebrating its 25th anniversary. Can you believe it? And even in the movie, there's that famous and quotable movie-within-the-movie — so what is the movie Kevin is watching in Home Alone ? In the film, Kevin puts a tape into the VCR — so '90s — with a label that says Angels With Filthy Souls and the movie becomes so helpful as he scares off pizza boys and the robbers playing the infamous "filthy animals scene." But I had to break it to you — Angels With Filthy Souls only exists in the Home Alone universe.
What we know about Angels With Filthy Souls from Home Alone: Kevin keeps watching that one scene where Snakes tries to get money from gangster Johnny (Ralph Foody) and ends up on the other end of a machine gun instead. The fictional movie is based on 1939 classic movie Angels With Dirty Faces , starring James Cagney and Humphrey Bogart. While the whole plot of the fake movie is unclear, the real-life gangster film follows Cagney as a gangster Rocky Sullivan and Bogart as Frazier, the crooked lawyer he gets involved with. There's also a gang of kids known as the Dead End Kids who idolize Rocky, despite his criminal dealings. Could that be the reason the movie was picked to be fictionalized in Home Alone? If you need a quick refresher, Home Alone is the story of how 8-year-old Kevin McCallister is left at home alone while his whole family jets off to Paris. It's all ice cream sundaes and jumping on beds for Kevin for a little a bit, but he soon realizes that he must defend his family's home from two bumbling burglars (Joe Pesci and Daniel Stern). And you guessed it — hilarity ensues.
Now, I'm not saying that the burglars could ever recruit Kevin to a life of crime, but perhaps Home Alone is a statement of the opposite. As annoying his family finds him, Kevin doesn't always show the best moral judgment. He steals Buzz's stash of money early in the film and ruins a pizza dinner for his family. He even unintentionally shop-lifts a toothbrush from a drug store (he was scared of the shoveling neighbor!). But once Kevin overhears the burglars' plans to rob his house, the kid definitely steps up to defend the McCallister turf. Unlike the kids in Angels With Dirty Faces, Kevin doesn't idolize these criminals — he wants to defeat them.
And boy does he get rid of those fifthly animals.
Images: 20th Century Fox; Giphy