'The Office' Theme Song Was Almost Super Different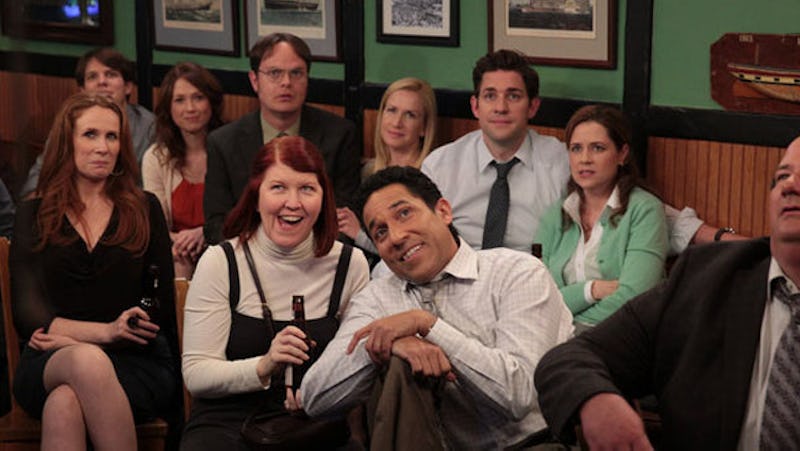 It's hard to believe that The Office has been off the air for more than two years already. It seems like just yesterday I was cracking up at Prison Mike and the Dementors and crying at Jim and Pam's wedding, showing just how much the NBC comedy worked its way into our daily lives. Just hearing the first few notes of the theme song brings back clear memories of the show's highs (and unfortunate later-season lows) and makes me miss it terribly. But what if The Office theme song had been different? According to Rainn Wilson, Dwight Schrute's real-life counterpart, there were a number of recognizable pop songs that almost got the honors of serving as the show's theme before Jay Ferguson's composition won out.
In his new memoir, The Bassoon King , Wilson revealed that The Kinks' "Better Things," Modest Mouse's "Float On," and Electric Light Orchestra's "Mr. Blue Sky" were all in the running to become The Office's theme song before Ferguson's song was decided upon. It's pretty fascinating to consider that the song we all associate with The Office could have been entirely different, but ultimately, I'm pretty glad that they went with an original track. However, if they had to go back and do it all again, I'd like to throw a few other tracks in the hat for consideration. After all, The Office has a particular energy that needs a song to match, and I've got plenty of suggestions.
"It's My Life" — No Doubt
Working at Dunder Mifflin wasn't the worst thing that could happen to you, but it's pretty safe to say it wasn't the best place to work. I love the idea of "It's My Life" serving as the theme song because it's got that rock edge to it and also, while it's more about relationships than life in general, the lyrics about commitment and taking control of your existence could easily be related to career.
"My Happy Ending" — Avril Lavigne
Unless you're Jim and Pam, you were never going to find your happy ending at Dunder Mifflin, but Avril Lavigne's hit could have worked, even if it is an unconventional choice for the theme song. Again, it's a song about love, but it could be about life and career if you stretch it a bit.
"Come On Eileen" — Dexy's Midnight Runners
I think "Come On Eileen" would have been a great theme song for The Office not because of the lyrics, really, but for the melody. It has the same high energy as the actual theme song and could have been perfect, even if it is a little cliche.
"Creep" — Radiohead
I know this is a strange choice, but hear me out. The only weirdo at Dunder Mifflin was Dwight, really (and sometimes Michael), but I like this track because of its potential for deadpan humor. Can you imagine listening to this at the beginning of every episode?
"Good Riddance (Time Of Your Life)" — Green Day
Another good choice, I think. Everyone who worked at Dunder Mifflin went through some crazy stuff over the years, and they'd probably look back at it as the best years of their lives, even if that had nothing to do with the work they were doing and everything to do with the people around them.
"Under Pressure" — Queen
I don't know what it is about "Under Pressure" that fits so perfectly with The Office, but it does. I don't have any other explanation for this one. It just would have been great.
"Mr. Jones" — Counting Crows
The Counting Crows were one of the best bands of the '90s and early 2000s, and I think they deserve more credit. I also used to have a huge crush on Adam Duritz (I know, I know), so that's literally my only reason for choosing them here.
"Livin' On A Prayer" — Bon Jovi
Some days were probably really tough to get through at the Dunder Mifflin offices, so they'd need prayers to get them through the day. Am I taking too big of a leap here? So what, it's my list! This is a great song, hands down.
"All The Small Things" — Blink 182
I don't even really like Blink 182, but again, it has a very similar sound to the actual theme song and I think could have fit in perfectly. Just in case anyone has a time machine and wants to go back and change The Office theme song, I'd recommend "All The Small Things" more than any of the others.
Image: NBC Universal