'Empire's New Soundtrack Is Getting Girl Power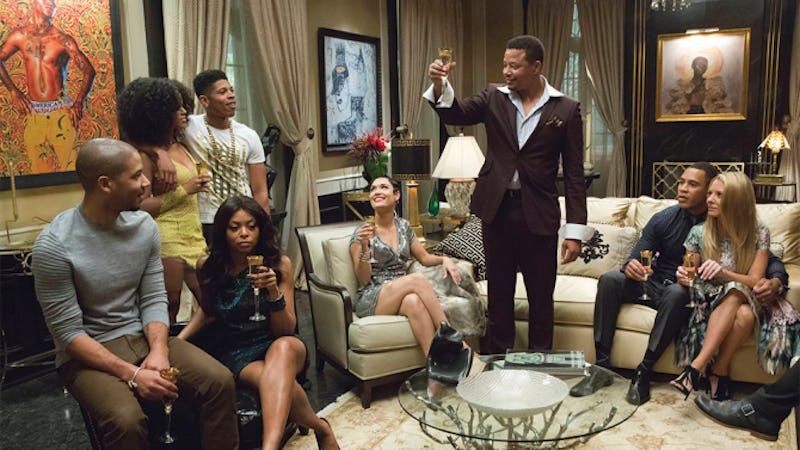 It's been eight long months since the first soundtrack to Empire came out. The Season 1 compilation was all fans had to take refuge with during the show's seemingly endless summer hiatus. After months of listening to "You're So Beautiful" and "No Doubt About It" on repeat, the mega-successful show finally came back to us in late September. If you're like me, then before the credits rolled on the season premiere, you were wondering when the next soundtrack would be released. Well, have no fear, little Lyons. We finally know that the Empire season 2 soundtrack release date is Nov. 20.
In addition to the release date, the album's track list was also revealed and it shows a lot more variety than the first album. The first soundtrack was primarily made up of tracks by Jussie Smollett and Yazz, which was awesome, but the show has grown a lot since then and this new album seems to reflect that. It will have 11 songs on the standard edition and 19 songs on the deluxe, and showcase a lot more of Serayah, which is exciting because our girl wasn't featured as prominently on the last album.
Sure, on the Season 1 soundtrack, Serayah was featured in Yazz's songs, but didn't have any tracks of her own. The singer has become a bonafide star since Empire first premiered and she even nabbed a role as Dilemma in Taylor Swift's "Bad Blood" video. If this girl made it into Swift's girl squad, it only makes sense that she has two full solo tracks on the album. Finally.
The soundtrack will also feature more tracks from Terrence Howard, who, despite playing a hip-hop legend on TV, didn't really do much musically during the first season. But forgive me if I'm still just a little more excited about Serayah's songs than I am about those Lucious Lyon tracks.
The Emmy-nominated show featured 44 original songs in its inaugural run, saw its first album hit No. 1 on the Billboard 200, and set the stage for even more new music in its sophomore season — a call producers are clearly answering. Shawn Holiday, senior VP of A&R for Columbia Records, told Billboard that Empire's songsters prepared four songs per episode, which would be come out to around 72 songs, total, for this season. Holiday also commented on the evolution of Serayah's sound, saying that they put her in sessions with hip-hop artist Swizz Beats to "give her some classic uptempo songs" — which just makes the wait for this album that much harder.
The show's musical success can largely be attributed to one its executive producers, Timbaland, and Season 2 additions Ne-Yo and J.R. Totem (Ne-Yo is one of the key collaborators working Jussie Smollett, while Timbaland is curating Yazz's sound). And with 19 songs out so far, fans have roughly 50 more tracks to look forward to before Season 2 is done. So, stay hyped, Empire fans, and keep your fingers crossed that means even more Serayah, because when it comes her, the limit does not exist.