Missy Elliott Is Back In This Epic New Music Video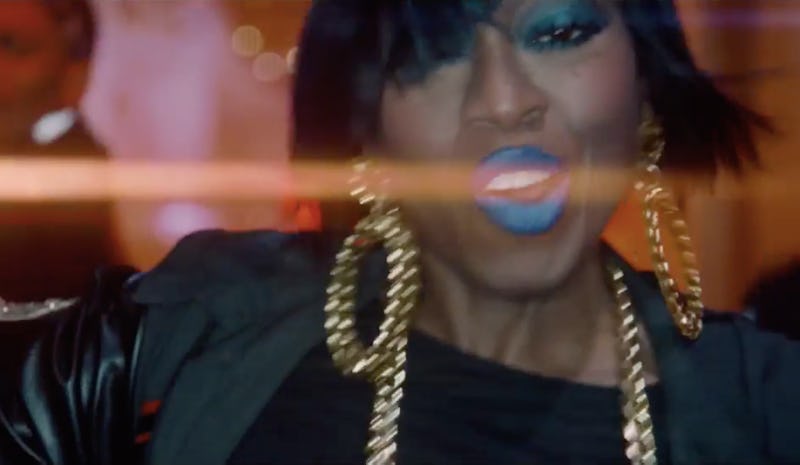 Guys. Guys. GUYS. Stop what you're doing and rush to YouTube, because Missy Elliott dropped the "WTF (Where They From)" music video for her new single with Pharrell, and it is every bit as good as we all dreamed that it would be. Elliott has been receiving buzz since she performed with Katy Perry at the 2015 Super Bowl, but that middling buzz is nothing compared to the epic majesty of a music video that she just delivered. It would be unfair to say that Elliott is back, since she never technically left, but, with this video, she is reminding old fans and new about what they loved about her. The song has everything you'd expect from the rapper — bawdy lyrics from a strong woman owning her sexuality and her life — and the music video has even more. Just look at that sparkling outfit she's rocking, and try to tell me she's not a queen.
Elliott has been teasing this collaboration on social media for weeks, but I was not prepared for this music video, you guys. It's a wild, neon ride from start to finish. (And, Drake, you could learn a little something from these dance moves that Elliott and her backup dancers are rocking in this music video. I'm just saying.) Whether you want to check it out for the dancing, want to check it out because you love Elliott, or want to check it out because you're curious to find out whether or not Elliott has still got it, you still need to check it out. This is probably all that people will be talking about musically on Thursday, and you don't want to be ignorant at the water cooler, now do you?
Watch the music video below, and I think you'll agree that she most certainly has still got it.
Image: AtlanticRecords/YouTube