The One Hair Tool You Need This Winter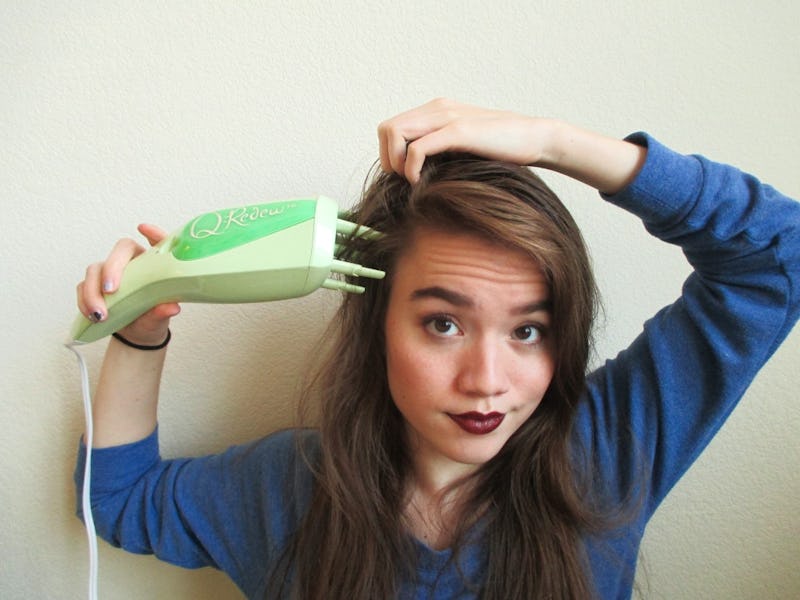 If your hair can't handle the cold and dry weather that winter brings, you might want to consider adding a hair steamer to your routine. Oh yes, a handheld hair steamer, called Q-Redew, now exists, and it's about to change everything for your parched strands. To see how it works, I put one to the test. Although the Q-Redew was made to help women with curly hair style and care for their locks, because it is supposed to help hydrate, detangle, reshape, revive, and add volume to hair, I had to see if it could work for us straight-haired ladies as well.
The Q-Redew has a small reservoir that can be filled with water. When the trigger on the handle is pressed, warm steam is released from the head. By targeting this steam on hair, it helps to add moisture back into strands while also giving them flexibility to be reshaped and restyled without hair feeling wet to the touch. To see how the Q-Redew handled my straight hair, I tested it two different ways. The first was on day-three hair to see how well it could revive my flat and greasy locks. The second was on day-one bedhead to see how well it could reshape my crazy baby hairs.
Reviving Day-Three Hair
I usually wash my hair every other day. When I woke up with this day-three hair, per usual, I was not feeling it, and had every intention to wash it even after using the Q-Redew. So I was quite surprised when I found that my hair had some added volume and a slightly less-greasy appearance. Did it feel like day-one hair? No. But it also no longer felt like I needed to wash my hair that day. So I waited until the morning of day four.
And sure, dry shampoo would give the same, or maybe better, results degreasing straight hair. But if you don't like the product-buildup associated with dry shampoo, or would prefer it came with some hydrating properties, the Q-Redew has you covered.
From left: Before Q-Redew, After Q-Redew
Reshaping Bedhead
I have no control over the right side of my head. Some days are better than others, but I almost always wake up with those baby hairs going every-which way. When I was younger, I used a straightener on these hairs everyday, but I forsook that option because of the damage it caused my hair. So for the past, like, six years, I would just try to push those hairs as flat against the side of my head as they would stay before venturing outside. What you're not seeing in the gif above, is my mouth going, "holy sh*t" as those baby hairs were so easily tamed by the Q-Redew.
Again, is it as effective as a hot tool? No, I don't think so. But it's also not causing any damage to the hair. In fact, it's actually helping the hair, so I'm calling this a win.
From left: Yes, I actually woke up like this; After Q-Redew
Conclusions
The Q-Redew is by no means the most compact hair tool I've ever used. But it's easily the one that's been the best for my hair. Not only is it like a hot tool and a dry shampoo in-one, but it also helps to moisturize and keep hair hydrated— perfect for use during the cold, dry winter months. And even though it will definitely help those with curly, wavy, and kinky hair; it's still great for use on straight hair as well.
Images: Miki Hayes