This 'Shark Tank' Product Fights Dirt With Dirt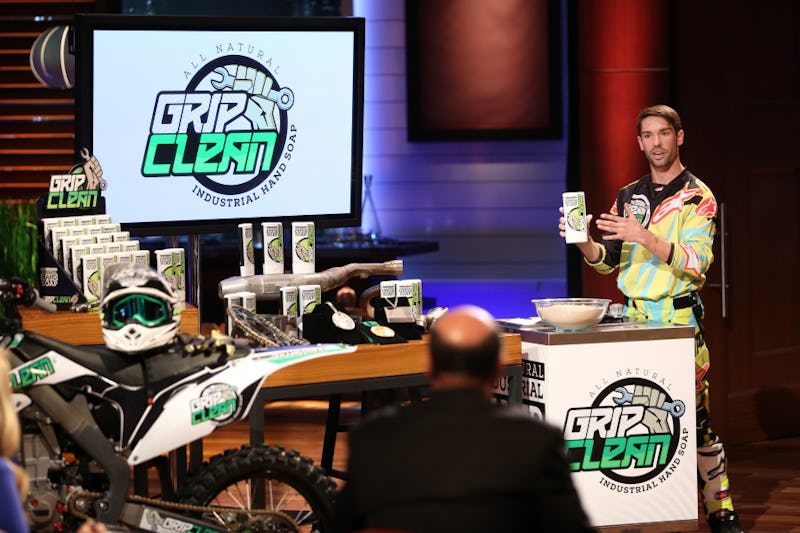 If you had never heard of Grip Clean, Shark Tank is about to change that. One of the products featured on this Friday's episode, Grip Clean was conceptualized and developed by three-time X Games medalist Bryce Hudson. It is an all natural industrial hand soap specially designed to fight grime and grease, without the harsh chemicals typically found in such solvents, and it was created for anyone who might be dabbling in mechanics and related fields. In other words? It's perfect for motocross athletes like Hudson and his peers, as well as anyone who might find themselves spending time tinkering with their vehicle of choice.
Boasting 100 percent biodegradability, Grip Clean uses a combination of vegetable and essential oils to gently clean hands, but it's the secret ingredient that really sets it apart from all the other industrial cleaners — dirt. Actual dirt. It may sound counterintuitive, but the dirt contained in the formula serves multiple purposes. It both gently exfoliates the skin, while also working to absorb the various greasy chemicals from your hands, as explained on the company's website. When you think about it, it works under a lot of the same principles of your favorite detoxifying clay mask — except instead of makeup build-up and sebum overproduction, it targets motor oil and grease.
Currently, you can purchase the soap on the Grip Clean website at $8.99 for a 14 oz bottle, it's actually pretty affordable. You can also purchase a larger, mounted dispenser, or a "shark bait" special, containing a few different items for $24.99.
Grip Clean is something of a niche product, but it's worth noting that it has been getting some notice and gaining traction as a product to watch. Earlier this year, the company ran a fully-funded Kickstarter campaign and raised over $10,000 to get production going, which demonstrates a certain level of consumer interest. Plus, it's received some positive press,having been featured in Transworld Motocross, where it passed with flying colors (the reviewer positively raved about it — in fact, only thing they had against it was its slightly off-putting brown hue, and its lack of a pump dispenser). Grip Clean also boasts some endorsements. According to its website, it's supported by USA's Subaru Rally Team, as well as professional freestyle motocross drivers Todd Potter and Jeremy Stenberg.
So, what do you think? Is it enough to capture the Sharks' interest? Hey, maybe race car enthusiast Robert Herjavec will be interested...
Images: Beth Dubber/ABC (2)