How To Dress For Christmas In Los Angeles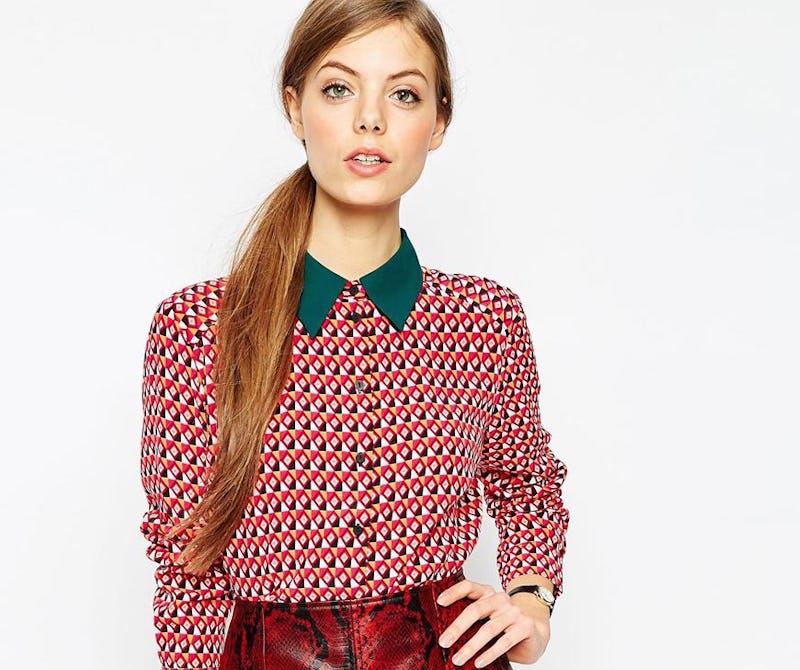 Finding holiday-appropriate clothing in sunny SoCal is no easy task. Unlike New York, things are still relatively toasty, so the main focus for how to dress for Christmas in Los Angeles is reaching for layerable pieces that will keep you warm by the water without drenching you in sweat in the valley. Luckily, plenty of designers have tackled this struggle.
I moved to Los Angeles from Dallas when I was a teenager and dang, what a weather surprise come Christmas time. Even though Texas rarely snows, it does still get pretty cold and I guess I just assumed Christmastime anywhere had to automatically mean giant coats and major mugs of hot cocoa. I quickly learned the error of my ways while walking through Silverlake coated in sweat, thanks to a stupid determination to wear a too-warm sweater.
My second Christmas in Los Angeles, I decided to embrace the sunshine and had a ton of fun finding pieces to mix and match through the holiday season that could be layered for the *cough cough* colder days, but just as easily be rocked as standalone items.
You might have to try a little harder to make it feel like Christmas if you're not originally from Los Angeles, but that doesn't make the season any less magical! Here's what you should wear:
1. Long Sleeve T-shirt
Made for layering, a long sleeve t-shirt definitely needs to be in your closet this season.
Lana Knit, $39, Brandy Melville
Light and breezy, but will keep you just warm enough for low '70s kind of day.
Geometric Contrast Collar Blouse, $65, ASOS
Who wouldn't love this festive collared blouse?!
2. Cardigan
If you're hitting up the beach at night, you'll still want something to keep you a little warmer!
Ugly Holiday Sweater, $34, Urban Outfitters
An ugly sweater is worth the sweat it may cause.
Drape Front Cardigan, $54.95, Lane Bryant
A kiss of cranberry red looks festive with any outfit.
3. Maxi Skirt
You can get away with boho maxis all season. Enjoy it!
Zoe Maxi Skirt, $83.25, Free People
Pair this romantic blue maxi with a black crop top for a low key holiday party.
Corin Maxi Skirt, $24, Brandy Melville
Or get sassy in the sunshine with this thigh slit maxi.
4. Cropped Moto Jacket
Hitting up holiday parties? A cropped moto says chic, but won't leave you too hot.
Moto Zip Crop, $88, Nasty Gal
Biker chic just went sleek AF.
Faux Shearling Crop Moto Jacket, $109.90, Steve Madden
This faux for a chilly date night drive up to Pt. Dume.
5. Sleeved Dress
Again, sleeves are a good idea, but you don't have to cover up too much so let your legs soak in that December sunshine.
Velvet Deep V Skater, $58, American Apparel
I'm kind of tempted to book a flight to LAX solely to rock this deep V.
Rib Knit Tea Dress, $51, Michel Studio
If your Christmas is a black tie affair, it's hard to beat a classic black cable knit.
6. Slip-Ons
You could wear boots, but they're overkill. Plus, slip-on are way easier to shake sand out of.
Knit Classics, $59, Toms
These shoes are festive, but won't make you too hot!
Slip-on, $45, Van's
The ground may not be white as snow, but your shoes can be!
7. Jewelry
Unlike the thick scarves you might want to reach for in New York, jewelry is the best holiday accessory option for LA since it won't weigh you down.
Christmas Light Earrings, $22, Etsy
Stand out more than any reindeer with these adorable earrings.
Miniature Snow Globe Ring, $20.31, Etsy
I like, don't even have words for how amazing this is.
Images: Courtesy of Brands