Meet The Guy Giving 'The Good Dinosaur' Its Roar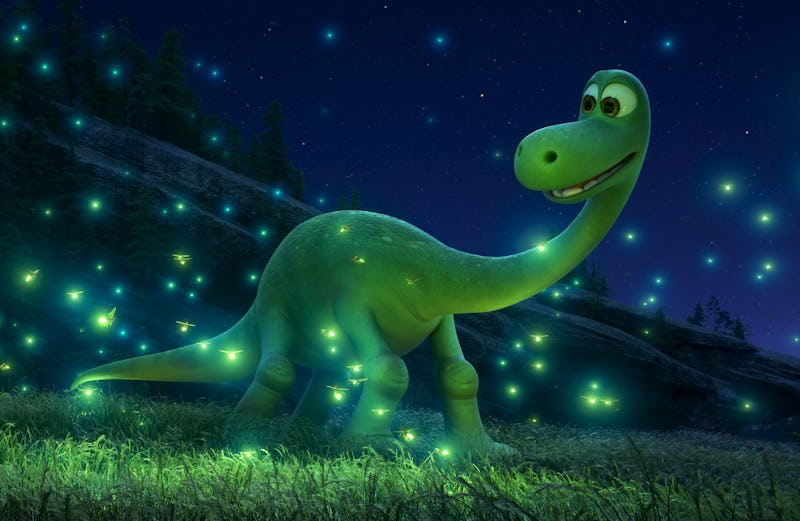 Dinosaurs aren't exactly portrayed as the most cuddly and adorable creatures in movies, but leave it to the geniuses at Pixar to create one that will melt the coldest of hearts (mine included). In The Good Dinosaur, we are introduced to Arlo (even the name is cute!), a apatosaurus living in a hypothetical world where the giant asteroid never hit Earth and the dinosaurs never became extinct. Arlo is probably the most lovable dinosaur you will ever see on the big screen. He is the epitome of a precious Pixar character — right down to the voice. But who voices Arlo in The Good Dinosaur ? That boyish voice actually belongs to child actor Raymond Ochoa.
14-year-old Ochoa is joined by a star-studded cast of voices including Jeffrey Wright as Arlo's Poppa and Frances McDormand as his Momma, as well as the voice talents of Steve Zahn, Anna Paquin and Sam Elliott. But it's Ochoa's child-like voice that gives the story its child-like wonderment and deep emotion — and it also helps that there are some really heavy moments in the movie. C'mon, what did you expect? This wouldn't be a Pixar movie unless you shed a couple of tears to balance out all the joy that comes after.
And as for what those heartbreaking moments are? I'll just get right to it (minor, early-on spoilers). Arlo loses his family in the movie, and after his loss, he ends up far from home and meets Spot, a feral human boy (a "caveboy," if you will). He is in a similar situation and the two end up going on an adventure through that wilderness that helps both of them grow and cope with tragedy. The Good Dinosaur is a "boy and his dog" coming of age story, but in this case, the boy is a dinosaur and the dog is a human child.
Ochoa has the big job of voicing the main character. Even though he is a child actor, he has quite a lot of experience under his belt. He has a number of impressive credits on TV shows and movies, and his turn as Arlo in The Good Dinosaur is quickly making him a buzzworthy name in Hollywood. Here are other facts that you should know about the young actor.
His First TV Job Was With A Huge Department Store
At the age of four, Ochoa and his two older brothers were in a national commercial for JCPenney.
He Has Motion-Capture Acting Experience
Ochoa starred opposite Jim Carrey, Robin Wright and Gary Oldman in Robert Zemeckis in the motion-capture movie Disney's A Christmas Carol. He was not only doing that type of acting before it was cool, but became the youngest actor ever to perform in a motion-capture technology feature film.
He's In A Boy Band
It seems like this boy is a triple threat. The actor is also a singer with his three older brothers in a boy band appropriately named The Ochoa Boyz. Check out their YouTube page for their extensive collection of music videos.
It looks like The Good Dinosaur might very well be the thing that makes Ryan Ochoa a household name.
Image: Walt Disney Pictures; Giphy