9 Book And Wine Pairings For A Book Club Meeting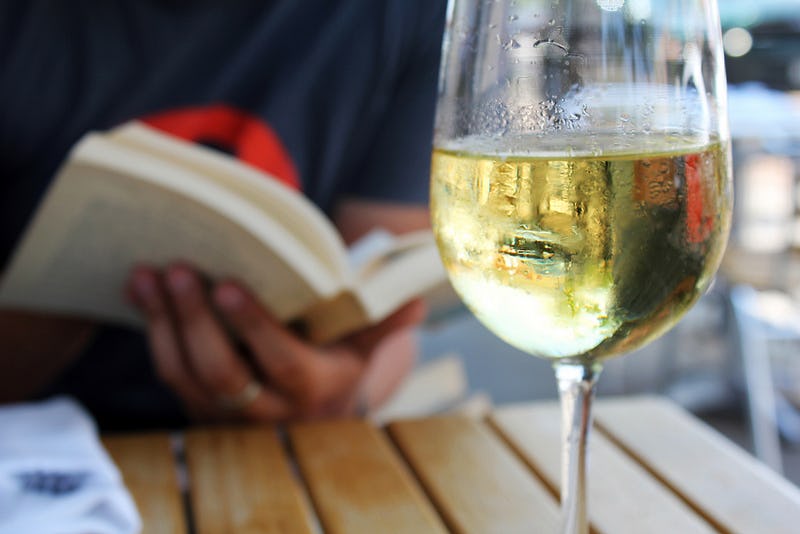 What's better than a good book? A good book paired with the perfect glass of wine, of course. (Aren't you just imagining relaxing with your book and wine while taking a bubble bath.) And there's no better time to combine books and wine than with your book club.
Now, to be perfectly honest, I'm the sort of heathen who doesn't really pay attention to strict wine-and-food pairings. I've definitely paired white wine with steak before. But pairing books and booze just makes sense: some books have that light, bubbly feel to them, some books are dry and bold, and some books are more of an acquired taste. All books, however, are best consumed with cheese.
Maybe you want to drink your glass of Merlot alone while absorbed in a hefty tome—or maybe you want to drink mimosas over brunch while discussing your favorite new celebrity tell-all. Either way, books and wine are the perfect way to start a boozy book club. If you've been trying to coax your friends into reading your favorite book for years, this is your chance to lure them in with a glass of Chardonnay. And who knows, maybe you'll expand to a full menu of alcohol-and-literature combos (how about a James Bond book and a martini? Or Anna Karenina and a bottle of vodka?) There's no wrong way to go about your book-wine pairing, but here are a few to get you started.
The Wine: Merlot, to bring out the distinguished depth and character
Iris Chase looks back on her sister's mysterious death, more than 50 years ago — but does she know more than she's letting on? Margaret Atwood's mystery unfolds through Iris's memoirs, as well as a novel within a novel, and a third story buried within that second novel. That third story is the strange tale of the Blind Assassin. This is the perfect page-turner for a dark and stormy night. It's filled with mystery, complexity, and a twisted look at high society life.
The Wine: Chardonnay, to accentuate the light tone and delicious, fun flavors
Mindy Kaling has a sparkling personality, and her first book is the perfect mix of witty and honest. She shares stories from her humble beginnings as a chubby middle-schooler, her days as a struggling artist in New York, and her life as a sitcom writer in Hollywood. Everyone can benefit from her opinions on rom-coms and Irish Goodbyes, and her instructions on how not to get murdered. You'll read her book way too quickly, and then have to immediately start on her second book Why Not Me? .
The Wine: Pinot Noir, for something delicate, dark and seductive
Shadow has just been released from prison after three long years, and all he wants is to go home to his loving wife. Unfortunately for Shadow, his wife has been killed in a horrific accident, so instead of going home, he'll have to get involved in a sprawling, secret war of gods and monsters. Neil Gaiman is, as always, brilliant when it comes to patching together mythology and pop culture into one strange, horrifying, and somehow still beautiful novel.
The Wine: Riesling, for the levity and dry humor
Yes, it's a play, and yes, it's a Shakespeare, but don't let that stop you — Much Ado is probably the bard's wittiest comedy, and it's so fun to read. It's got everything a good comedy should have: insults, eavesdropping, pranks, death threats, and more than one wedding. OK, so you might need to consult the occasional footnote, but you'll fall in love with the bickering Beatrice and Benedick anyway.
The Wine: Sauvignon Blanc, to match Sedaris' crisp, elegant, and somewhat acidic sense of humor
Never read David Sedaris on public transportation. You will laugh so hard that you snort whatever you're drinking right out your nose, and people will stare. In this book of essays, Sedaris explores the oddities of his own family, his list of deal-breakers for potential boyfriends, and the trials of learning French from a teacher who told him that "every day spent with you is like having a cesarean section."
6. Blankets by Craig Thompson
The Wine: Mulled Wine, perfect for a sweet and warm and chilly book, all at once
A graphic novel to be read in the dead of winter, while wrapped in a (you guessed it) blanket, preferably while desperately missing your long-distance lover. Craig Thompson writes and draws an autobiographical story of sibling rivalry, religious disenchantment, and youthful romance, all swaddled up in the bleak, gorgeous landscape of a Wisconsin winter.
The Wine: Pinot Grigio, for something light and floral
Wolf-children attend reform school. A Minotaur and his wife go west in a covered wagon. Kids at a sleep-disorder sleep-away camp solve a murder mystery. Karen Russell's debut book includes 10 such short stories, each unique and fantastical and touching in its own right. Her writing is deceptively easy and fun to read, but the ideas behind each tale will stick with you for days after.
The Wine: Cabernet Sauvignon, for a bold, stately drink to put you in the mood for a royal mystery
Inspector Alan Grant is trapped in his hospital bed without a mystery to solve. So, naturally, he invents a mystery. He starts with a portrait of Richard III and uncovers an elaborate, royal cover-up years in the making — all without leaving bed. Josephine Tey's mystery is the perfect read for any history buff or puzzle-lover. She'll make you question all of your historical assumptions.
The Wine: Champagne, because Jay Gatsby would want you to
If you've never read The Great Gatsby, it really is worth the hype. And if you have read The Great Gatsby, why not read it while drinking Champagne? Jay Gatsby would most certainly approve. (Just try not to think about the decadent downside of the American Dream while you drink it.)
The Wine: Sparkling Rose, to bring out the bubbly sense of fun
Thursday Next is just an ordinary literary detective with a time-travelling father and a pet dodo bird, when she realizes that someone is kidnapping fictional characters right out of their books. After Jane Eyre gets snatched, Thursday must jump into the fictional world and set things right. Jasper Fforde is a master of the absurd, and his genre-bending novel is a must-read for any literature addict.
Images: Quinn Dombrowski/Flickr, Giphy