Get To Know Duke Williams Before He Leaves 'RHOA'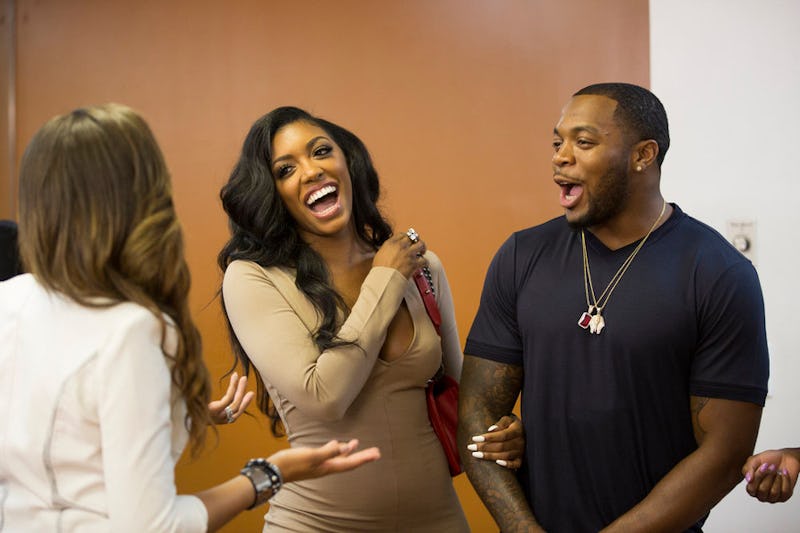 The Real Housewives Of Atlanta had it's big premiere Nov. 8, and as always, it brought big drama. One of the most notable parts of the premiere was the introduction of Porsha Williams' boyfriend, Duke Williams. Or should I say ex-boyfriend? While RHOA is only just introducing him, Porsha and Duke have broken up since the season was filmed. Ah, romance can be fleeting. Still, if Duke will be hanging around Porsha for a while longer on the Bravo reality series, fans should get to know him a little better.
At only 24 years old, he is playing for the NFL. This may be a little surprising for some, especially when you consider how he was introduced to Real Housewives of Atlanta viewers. The season premiere showed him being showered with champagne and almost fawned over obsessively by Porsha. There's nothing wrong with that, he just didn't seem to be someone who also had a successful career of his own. It turns out, he and Porsha have early success in common. Here's what else you should know about Duke before we see the evolution, and eventual downfall, of their relationship play out on RHOA this season.
He's An NFL Player
Duke is a safety for the Buffalo Bills. He was drafted in the fourth round in 2013 and according to my research, that is a good thing! Football!
He Was In A Twitter Feud
In July, porn star Mia Khalifa claimed on Twitter that Duke was obsessively messaging her, and posted screenshots of their direct messages. In the tweet above, Duke claimed that Khalifa didn't share their entire conversation, and that he was just inviting her to a party. His relationship with Porsha was made public a few days later.
He Had Quite The High School Career
Duke attended high school in Reno, Nevada, where is was quite the football star. He had the honor of being named the Northern Nevada Player of the Year when he was a senior, according to his University of Nevada bio. He also found success in college football before entering the NFL.
He's A Dog Lover
Duke has the cutest dog in the galaxy and really seems to love him to pieces. I just hope we get to see Lotus on RHOA before Duke and Porsha call it quits.
Image: Mark Hill/Bravo