The One Holiday Hairstyle To Wear This Winter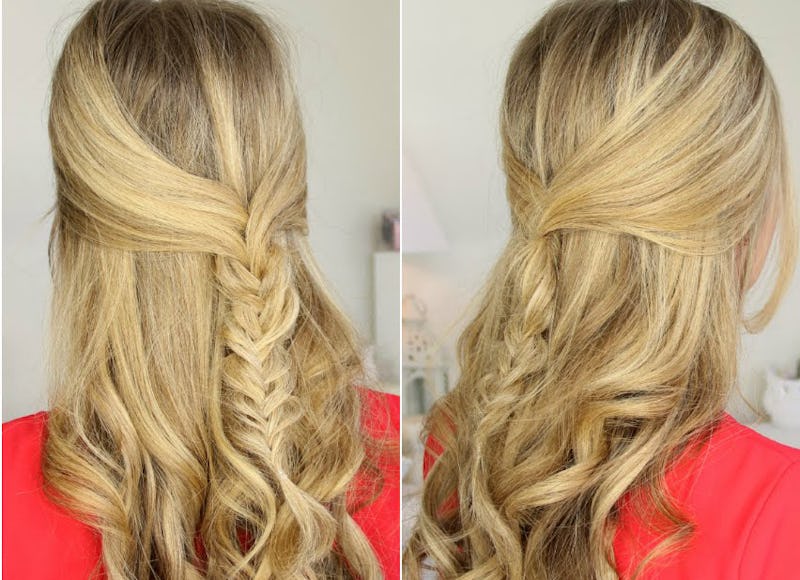 The holidays are coming, bringing with them parties, dinners, and plenty of events worth dressing up for, but in addition to shopping for a party dress and finding the perfect shade of red lipstick, there's also something else you need to think about — your hairstyle. If you're like me and consider yourself the furthest thing from a hair magician, then trying complicated styles can be intimidating. Don't let it be! All you need to master is one holiday hairstyle that you can wear throughout the whole season. It's time to learn how to do a fishtail braid, ladies.
I'm slightly obsessed with fishtails, and while they're insanely cute on an everyday basis, they're even more perfect for the holidays. ICYMI — braids are super trendy now, but a regular braid can feel a little basic, and getting all fancy with crown braids and such is sometimes just a little too complicated. So I like a fishtail; it's easy to do on yourself, and it can suit every style imaginable. Glamorous, bohemian, elegant, edgy, romantic — it works with just about anything, making it easy to wear over and over again with different outfits. Plus, you can switch it up easy enough so it looks different every time by making it looser or tighter, more tousled or more polished, doing a half fishtail, two fish tails, etc.
Blake Lively is the quintessential example of a boho, romantic-style fishtail, which is perfect if you're iffy on how to do a fishtail because the messier, the better!
Maria Menounos's loose fish tail is super glam, thanks to her voluminous, brushed back roots.
Kendall's sleek fish tail is chic and polished.
To learn how to do a fishtail for the holiday season, follow these tutorials.
Long Hair
If you have long hair, this tutorial will guide you through how to create a cascading fishtail braid.
Short Hair
If you don't have as much hair to work with, a french fish tail can make your braid appear long.
Natural Hair
This tutorial will teach you everything you need to know about doing a fishtail on natural hair.
Half Fish Tail
Want to leave some hair down? Try a half-up version.
Image: MissySue/YouTube