5 Thanksgiving Toast Ideas For 2015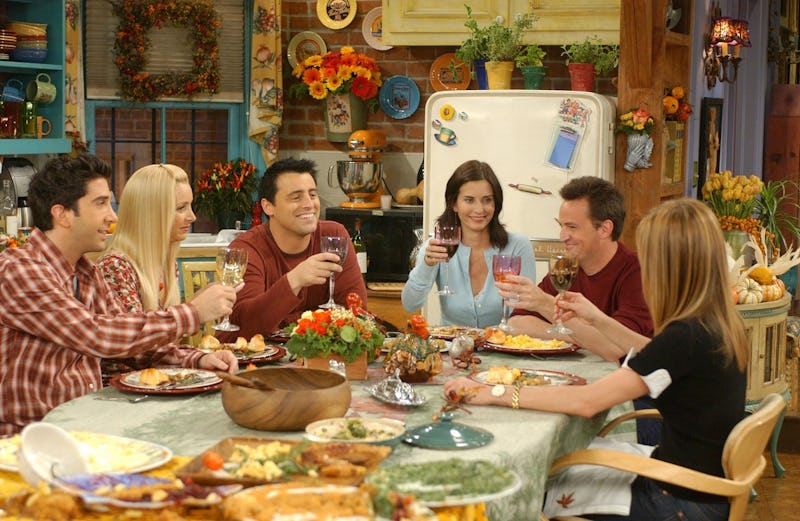 The carving of the turkey for Thanksgiving dinner is traditionally kicked off with a toast — a speech or a blessing that acts as an expression of thanks for the many returns of the year. Some families recite prayers, others give everyone at the table an opportunity to express what they are most thankful for, but if you need a little help with Thanksgiving toast ideas that capture your warm, fuzzy holiday gratitude, there are plenty of places to look for inspiration.
The very first Thanksgiving, celebrated almost four centuries ago in 1621, was a celebration of the first successful fall harvest in the New World. That's right, folks — Thanksgiving has quite literally been about getting your chow on for the past 394 years. The first Thanksgiving was also a celebration of cooperation. Without Squanto and the other ancestors of the modern day Wampanoag Nation, the harvest and subsequent feast would've left quite a bit to be desired. Thanksgiving without corn (and dozens of other vegetables and grain) just doesn't sound much like Thanksgiving, does it?
So, whether you look to movies or song, poetry, or even sports, you'll find plenty of material with which to kick off the Turkey Day meal. Here are five ideas for your toast, so that you can give adequate thanks this Thanksgiving.
1. A Silly Poem
May your stuffing be tasty, may your turkey be plump, May your potatoes & gravy have nary a lump, May your yams be delicious, may your pies take the prize, May your Thanksgiving dinner stay off of your thighs.
— C.J. Beaman
This excerpt from C.J. Beaman's "Twas The Night Of Thanksgiving" is perfect for kicking off the biggest feast of the calendar year.
2. An Inspirational Sports Speech
Remember how I mentioned that the first Thanksgiving was a celebration of cooperation? This rousing speech from D2: The Mighty Ducks is similarly positioned, and will get everyone at the table in the mood to dominate the bird.
3. A Quote From TV's Most Accomplished Speechmaker
Maybe gratitude has nothing to do with joy. Maybe being grateful means recognizing what you have for what it is; appreciating small victories; admiring the struggle it takes simply to be human. Maybe we're thankful for the familiar things we know. And maybe we're thankful for the things we'll never know. At the end of the day, the fact that we have the courage to still be standing is reason enough to celebrate.
— Dr. Meredith Grey, Grey's Anatomy
This speech comes from the 2005 episode "Thanks For The Memories," the Thanksgiving episode in which Meredith and Derek *spoiler alert* break up for the first of around six dozen times. They have as many breakups as there are movies in the Land Before Time franchise. At any rate, this speech about gratitude and celebrating the little things fits nicely into Thanksgiving.
4. Lyrics From A Thankful Song
With the lyrics, "Freedom in stride, love, peace of mind. We just wanna give Gratitude," this classic and funky tune from Earth, Wind, and Fire could inspire the world's funkiest Thanksgiving toast.
5. The "Love Actually Is All Around" Speech
And, last but not least, we have my personal vote for most memorable Thanksgiving speech — the narration from the opening scene of Love Actually. Give thanks for your friends and family, and ring in Christmastime with this sweet speech.
For more Thanksgiving ideas, check out Bustle on YouTube.
Image: NBC