ASOS Is Releasing An Affordable Bridal Collection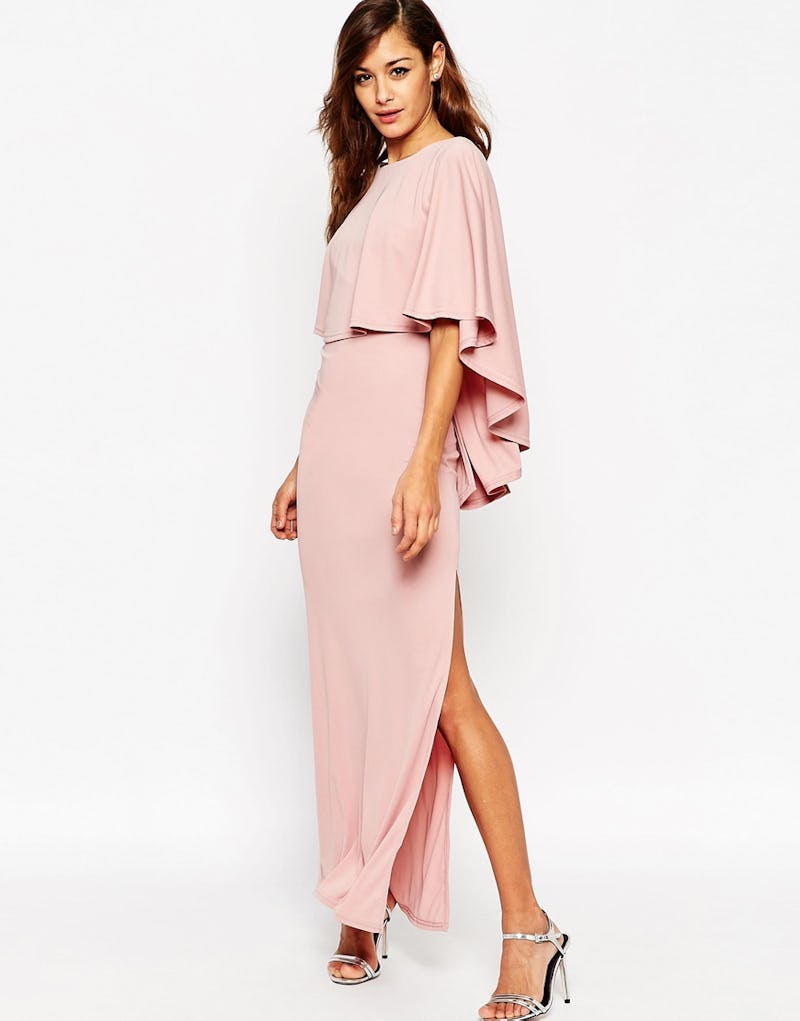 Oh, weddings — "I Do's," flowers, crisp white table cloths, teary-eyed speeches, and of course, booze. It's no surprise that they rack up a pretty hefty price tag, but luckily, ASOS is launching an affordable bridal collection. Did the wedding Gods finally get our message of "help me, I'm poor?" Seems like it!
I'm actually in the process of helping my sister plan her dream wedding, and it's astonishing how much dough they require. The venue itself is enough to make my student loan look modest. Factor in the flowers (which are so sneakily expensive), rings, decorative rentals, catering, and more, and you're looking at a huge investment. And usually with the big day, you're going to want a gown you're going to remember forever.
Vogue UK reported that ASOS made this announcement at their Spring/Summer 2016 press preview on Thursday. The collection will officially launch online in April 2016. So for those of you planning for your summer/fall weddings, this collection is coming just in time. According to Vogue UK, the collection is "something of a bridal greatest hits, the collection comprises a range of silhouettes, including short, skater [dresses], strapless Grecian [styles], and more traditional high-neck, long-sleeved styles." Swoon. And, prices will be around $380, according to Who What Wear. Swooning even more.
Oh, hi.
But for those of you with weddings rolling around sooner than the spring, don't fret — There are some amazing, wallet-friendly options for you, too! Check them out, below.
1. This Backless Stunner
J.Crew Brianna Gown, $450, jcrew.com
Is anything more elegant than an exposed back? I don't think so. Hello, gorgeous.
2. This Lace Number
Amour Lace Wedding Dress By Kiyonna, $324, lanebryant.com
Long sleeved lace dresses are a dream. And with a beautiful v neckline like this? Sold.
3. Off-The-Shoulder
Rachel Zoe Elle Empire Petal Gown, $695, shopbop.com
It is on the pricier side, but you'll be able to re-wear this to so many different occasions.
4. For The Lover Of Cut Outs
Halston Heritage Back Cutout Gown, $495, shopbop.com
*Eye heart emoji* This one's for the bride's that got a bit of edge, and isn't afraid to show it off.
5. For Mermaid Lovers
Trumpet Plus Size Wedding Dress, $399, davidsbridal.com
I'm all about a mermaid-style gown, and this strapless beauty is 10/10
6. For Satin Lovers
Ann Taylor Petite Duchess Satin Strapless Wedding Dress, $550, anntaylor.com
This classic silhouette is gorgeous with a statement necklace like the model is rocking.
7. Layer It Up
Iva Crepe Maxi, $298, bhld.com
I'm obsessed with open backs — can you tell?
Finding the perfect dress for your day doesn't always have to cost you a fortune, and these gowns are just a sliver of the options that are out there. BRB while I add these to my (not-so) secret Pinterest board!
images: Courtesy of Brands