'The Preacher's Sin' Has A Familiar Scandal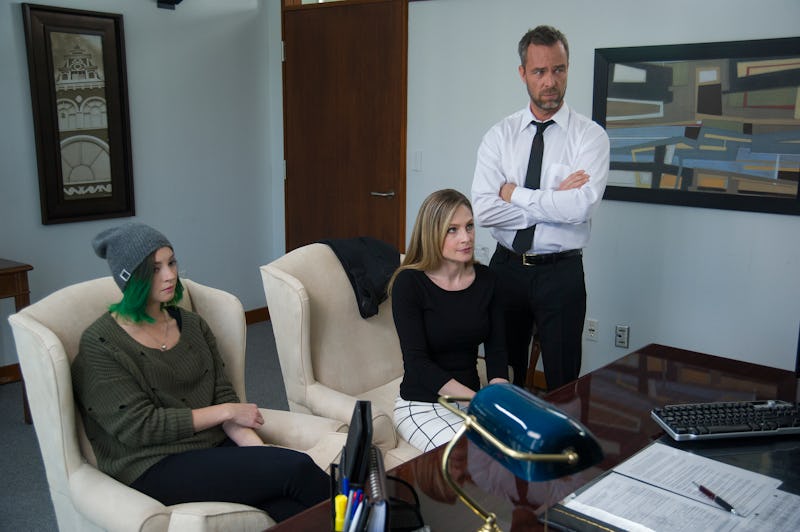 We can always count on Lifetime to make movies about shocking, scandalous news stories. The network's upcoming Nov. 14 film The Preacher's Sin has it all — teen rebellion, an adulterous preacher, and a secret child — all of which culminate in a tragic occurrence that could be either an accident or something far more sinister. As a result, the high-profile preacher is faced with a serious moral dilemma. Since Lifetime's movies are often influenced by the headlines, I immediately wondered if The Preacher's Sin is based on a true story.
Here's the full synopsis:
Evan Tanner is a successful preacher with a popular talk radio show "Family in the Forefront" and an upcoming book tour. However, the happily married father has a family that is far from perfect. After the death of his sister-in-law, he and his wife took in their rebellious 17-year-old niece Jamie who is spiraling out of control. Under threats from his ruthless boss Bill, Evan is doing everything he can to keep up the façade of the perfect preacher. But when a son from an extramarital affair shows up, his world begins to implode and Bill is willing to go to any length to protect his investment. Evan- now caught between his family, his career, and his conscience- is faced with a decision that could have tragic consequences.
Although The Preacher's Sin doesn't appear to be based on a specific true story, there's always plenty of press when religious leaders are discovered to have secret lives that conflict with their teachings. In 2001, it was huge news when Reverend Jesse Jackson admitted to an extramarital relationship that resulted in a child, as reported by ABC. This June, The Washington Post reported that Pastor Tullian Tchividjian had resigned from his position at Coral Ridge Presbyterian when an extramarital affair was exposed, which he admitted to. The story grabbed headlines because Tchividjian is the grandson of famed Baptist minister Billy Graham and was viewed as a "rising star" in the evangelical community. His resignation followed on the heels of the resignations of three other prominent Florida megachurch pastors — all due to affairs.
In a significantly more tragic story, New Orleans Baptist pastor and professor John Gibson committed suicide in September after his name was leaked as part of the Ashley Madison hack, as reported by the Huffington Post. His wife, Christi Gibson, spoke to CNNMoney and said of the note he left for his family, "He talked about depression. He talked about having his name on there, and he said he was just very, very sorry." She also gave this somber statement, "These were real people with real families, real pain and real loss... Don't underestimate the power of love. Nothing is worth the loss of a father and a husband and a friend."
Although we hear these stories in the news and it's easy to judge those who don't "practice what they preach," it looks like The Preacher's Sin will explore the struggle experienced by the spouses and children of shamed religious leaders. Their personal pain becomes public knowledge, and as evidenced by Gibson's words, they continue to deal with the fallout for long after their story has faded from the headlines.
Image: Reel One Entertainment