What To Wear To Your Office Holiday Party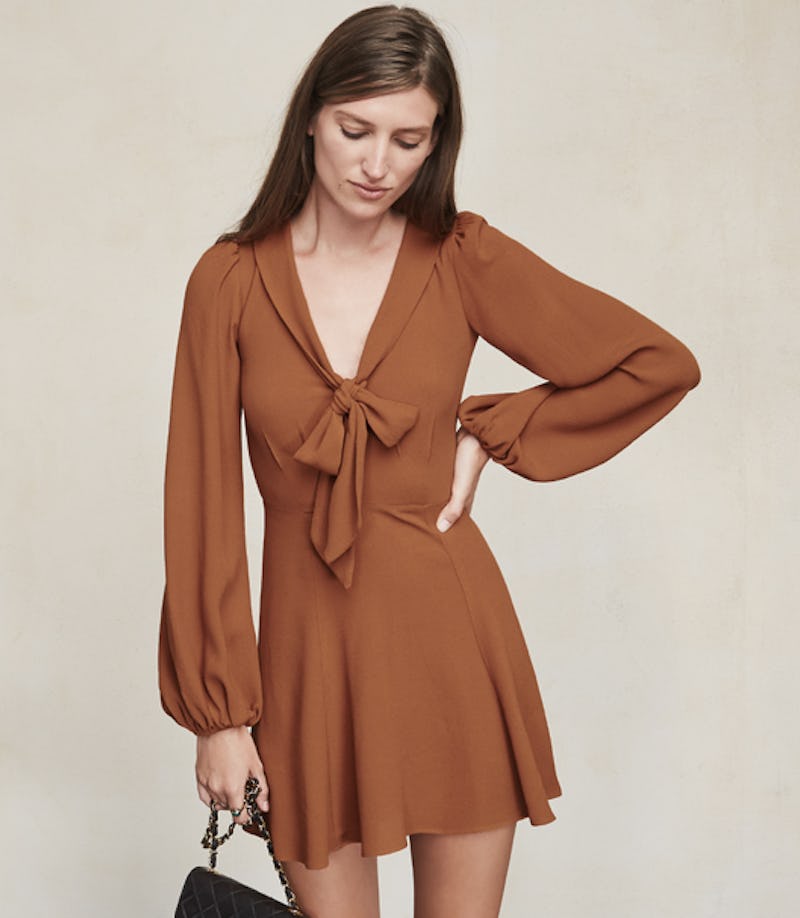 With Thanksgiving around the corner, the one work event everyone looks forward to is almost at our feet: The holiday party. I'm talking free food, free booze, and most importantly, time to chill with your favorite coworkers. But what to wear to your office holiday party is where it gets tricky. What's it look like to let loose too much? As much fun as it is to party with our work peers, it's also important to keep it appropriate.
While most office environments don't exactly scream "girls night out," some companies already have a pretty relaxed dress code. I'm talking ripped denim, tees, and tennis shoes. But since it is a special occasion, dressing up even just a little bit shows that you've got respect for your company and coworkers. Plus, let's face it, cocktails and hors d'oeuvres isn't the best situation for yoga pants and a sweater (no shade, I wear this to work sometimes).
Plus, the best part of office holiday parties are the fun photo booths! Props included! So why not come with your A-game with an appropriate, yet standout look? It's basically the perfect excuse to test out that holiday dress that you're not sure about wearing to your family party just yet. Below, find some picks that are equally coworker-friendly and stylish.
1. The Tuxedo Dress
Jordan Tuxedo Dress, $68, Nasty Gal
You're going to want to wear something underneath this tuxedo dress (maybe a nice satin tank, or a sleek black turtleneck), but this paired with those over-the-knee boots are pretty much perfection.
2. The Sweater Dress
Wilfred Free Patricia Dress, $50, Aritzia
Love, love, love a sweater dress. First of all, this has a turtleneck, one of this season's biggest trends. And, it happens to be really warm. No doubt, you'll be the coziest person at the party.
3. A Standout Jumpsuit
Club Monaco Daralis Jumpsuit, $289, Club Monaco
Could I be more obsessed with this jumpsuit? No. Styled with a cool belt and your toughest moto jacket, you'll be the best-dressed chick at this party.
4. A Fringe Skirt (Duh)
ASOS CURVE A-Line Skirt In Suede With Fringing, $134, ASOS
Fringe is huge right now, and what better place to show off this playful skirt than a party?
5. Faux Leather
Faux Leather And Ponte Mix Dress, $111, Eloquii
Nothing says badass quite like a faux leather dress, and this one's no exception. Eat it up.
6. Yes, Shorts
Velvet Stud Jacket And Shorts, $230, Topshop
And if you happen to be in a colder state, throw on tights, of course! Love a good matching jacket and shorts set. Plus, with the studded details, you'll definitely shine.
7. Some Color, Too!
Reformation Rosetta Dress, $218, The Reformation
Why not add a festive color? This gorgeous rust hue is everything. Plus, the bell sleeves are so darn cute.
8. Faux Leather Pants
BLANKNYC Faux Leather Crop Trousers, $98, Nordstrom
You'll definitely stay cozy and warm in these faux leather pants while also making a pretty bold statement.
8. Pull A Kim K
Metallic Ribbed Longline Midi Skirt Navy, $34, Missguided
The holiday party is probably the one time you can show off a little more skin than usual, so why not take advantage! Plus, a long sleeved top makes it a little less flashy.
This holiday season, you'll definitely find me in one of these ensembles at my office party. By the bar. Flagging down the server with the pigs in a blanket.
Images: Courtesy of brands