'With Bob and David' Brings 'Mr. Show' Into 2015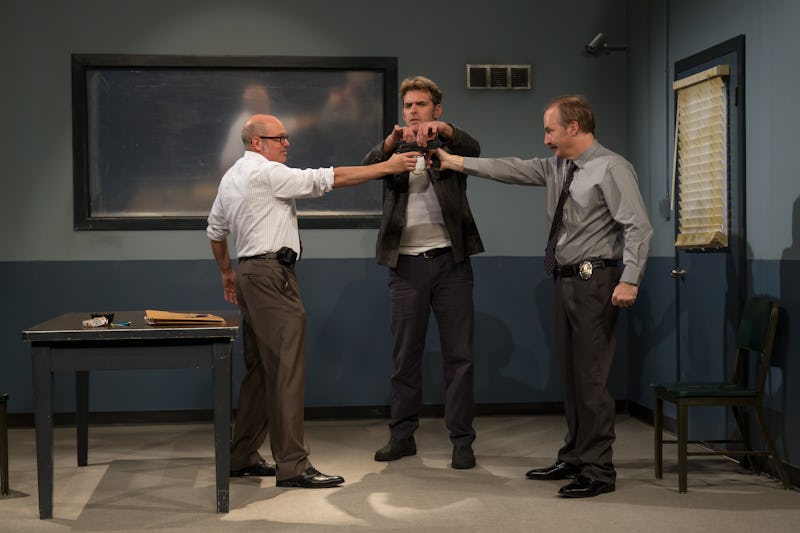 If you're a fan of Mr. Show, I'm guessing you didn't actually watch the episodes as they aired, irregularly over four seasons between 1995 and 1998 on HBO. In the 20 years since it first began, though, the series has become something of comedy legend, with sketches circulating on DVD, taped off TV, and in poor-quality YouTube clips. (Mr. Show is not available for streaming.) Now, the two stars, Bob Odenkirk and David Cross, are back a series that's not quite a continuation, not quite a sequel, and not quite a spinoff, which posted four, half-hour episodes to Netflix simultaneously on Nov. 13. So, does With Bob and David live up to Mr. Show?
The good news is, yes it does. Even though Odenkirk has moved on to less broad comedies like Better Call Saul — which is barely a comedy to me, that's how dark the humor is — and Cross has moved on to apparently making spices, the two haven't skipped a comedy beat. The show definitely feels like something new and fresh for 2015, not a re-hash of old sketches from the '90s. The two stars got into a real time machine (or is that a real-time machine, where they age in real time?) and brought their comic sensibility to the present.
The sketches don't necessarily touch on the news of today, but they're definitely influenced by it. In the first half of the season alone, there are digs at movies about slavery made by white people, meta-jokes about being on Netflix, questions about the fear surrounding whether or not you can even say "pictures of the Prophet Mohammad" on television, and a really cutting parody of the Prilosec commercials that star Larry the Cable Guy. ("Now I can eat like a f*cking idiot with no repercussions!")
Of course, in true Mr. Show fashion, these aren't spoofs of real movies, incidents, or even people — even the Larry the Cable Guy thing isn't really an imitation of him, per se — and they come in between, say, long sketches about much sillier topics, like how the poster of Albert Einstein sticking out his tongue came to be.
If there's one thing that still sadly needs updating, though, it's the show's cast. I realize this is a four-episode comedy series put on by Odenkirk, Cross, and their friends with whoever was available when they could film. But the sketches are largely devoid of women — the ones that do appear often have the straight-man roles — and rarely feature people of color. Sure, it's mostly the same five dudes in most of the sketches, comedians known to Mr. Show fans like Paul F. Tompkins and Jay Johnston. But that's the one area of With Bob and David that is, sadly, still stuck in the '90s.
Images: Saeed Adyani/Netflix (3)