9 Easy Braiding Tutorials That Anyone Can Master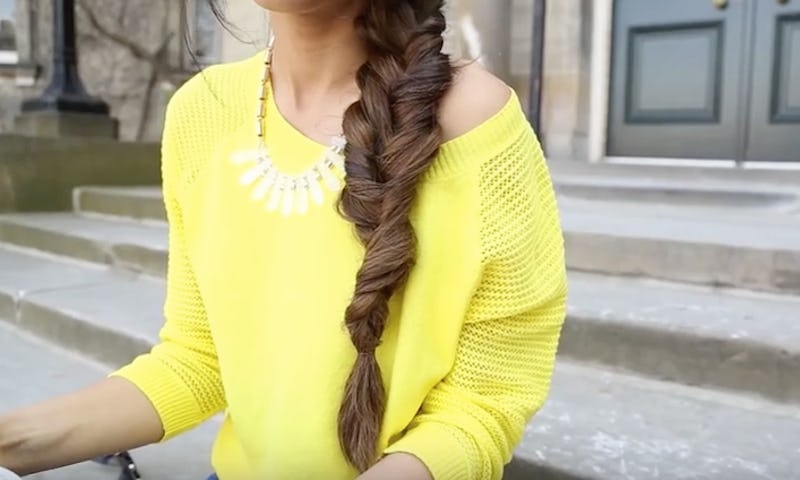 Don't get stuck into a hairstyle rut. Learn to style your hair in easy braids that anyone can master. No matter what your skill level, there are a few braids out there that anyone can recreate. You don't need to be a master stylist to follow these step-by-step tutorials. As a braiding newbie, I know just how confusing it can be to figure out how to braid your hair. From the intricate loops to the criss-crossing spirals, hair braiding is actually really intimidating. However, it's time to banish your braiding fears.
When it comes to learning new braids, it's all about patience. It sounds cliché, but practice really does make perfect with these twisted hairstyles. So, go ahead and get to braiding in your downtime. Netflix and braiding, anyone? Also, an added tip to smooth out the individual pieces before continuing with the style. You can do this with either your fingers or a boar bristle brush, if you're feeling fancy. Another helpful step is to add texture to your hair before you begin braiding. Spritz your hair with a bit of hairspray to add grip and texture. This will make braiding your hair that much more simple, which as a braiding newbie is everything I need. Change up your daily hairstyles by incorporating some cool braids. Here are a few simple-to-do braids that anyone can master.
1. Basic French Braid
Let's start with the basics. French braiding is the basis of my braiding hairstyles. This video by Luxy Hair is great for both beginners and those looking to polish their technique.
2. Easy Dutch Braid
Think of dutch braiding as french braiding in reverse. Trust me, it's super simple.
3. Pulled Dutch Braid
It's so sleek and so simple. This pulled dutch braid is simply gorgeous.
4. Everyday Fishtail Braid
Cool girls, rejoice! This awesome fishtail braid is super simple to do.
5. Twisted Side Braid
A braid that requires almost zero skill? Yes, please!
6. Large Mermaid Braid
While this braid may seem complicated at first, it's completely easy once you try to recreate it. Just use a little patience, and steady hands to complete this mermaid-inspired braid.
7. Braided Fringe
I adore this hairstyle for days when my hair is looking less than perfect. It's totally easy to braid my bands, and then throw the rest into a ponytail.
8. Looped Braid
While the video may seem confusing, CinthiaTruong does an amazing job at showing off the technique.
9. Waterfall Braid
Don't be scared by this intricate seeming braid. Once you start playing with your hair, the tutorial is so easy to follow.
Don't be intimated by braids any longer! These tutorials are perfect for beginners and braid aficionados alike. So, go ahead, and get braiding.
Images: Luxy Hair/YouTube