Decorating Hacks You Can Make Yourself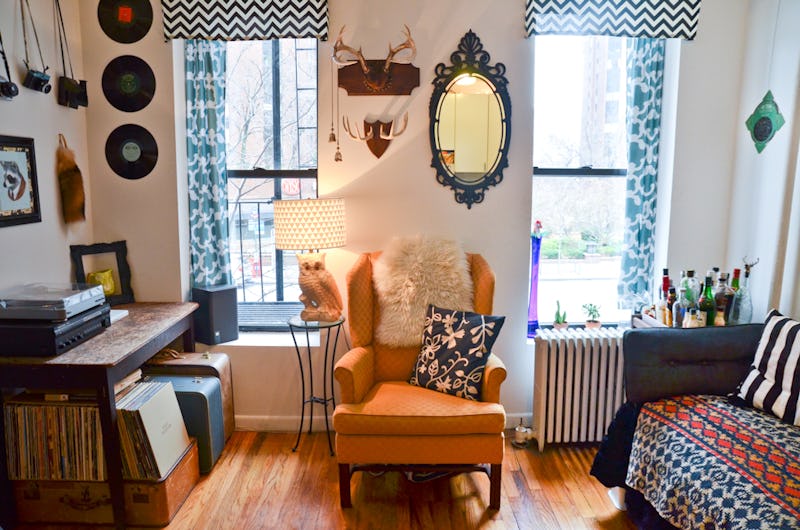 Feeling like our homes are "ours" is super important, but not all of us have the money to decorate our houses and apartments like the perfectly designed spaces we see in catalogues. It's why knowing some solid DIY home decor tricks are key for those of us living on limited budgets who still want to totally love our home decorating.
In an article for Health, Feng Shui expert and author Jamie Barrett said that your home furnishings can definitely affect your personal energy. A room's design and decor can make you feel drained or frazzled, or conversely, can help you feel calm or cheerful. So as frivolous as it may seem, home decorating is actually kind of important.
My own bedroom was initially pretty small and simple, but as soon as I reorganized some of the furniture, painted the walls a calming lilac, and added a few easy DIY wall decorations, it became a cozy safe haven where I literally love spending time. Not only that, but my roommate's mom is kind of a DIY maven, and a single weekend visit transformed our common space from dull and barren to completely homey in a matter of hours — and none of the changes were too hard on our wallets; so I'm a firm believer in cheap and creative solutions to decorating dilemmas.
If you're moving into a new space and are looking for some cool decorating tips, or are just on the hunt for some ways to accent the space you already have, here are nine super creative home decorating ideas that should definitely help inspire you.
1. Create A Gallery Wall With Cheap Frames
Home decor author and blogger Laura Putnam recommended using your wall space, or "gallery walls" in a piece on her site about simple ways to decorate your home. "Gallery walls have become very popular over the last few years. The great thing about them is that pretty much every single one of them is different," Putnam said. Just gather picture frames in various shapes and sizes and arrange art and personal photos on one central wall space. And don't be afraid to paint your frames if you want them to match.
2. Use Mirrors
In a piece for Real Simple, interior designer Michael Garvey recommended using mirrors as an incredibly simple decorating tool. He suggested putting a small table up against a mirror, and then placing a plant with big branches or flowers on the table on the mirror side. This will instantly make the plant look twice as large and will also help open up a small room by creating the illusion of a larger space.
West Elm Peruvian Handmade Mirrors, $34.00, West Elm
3. Stick-On Wall Paper For A Super Cool Accent Wall
Stick-on wall paper is an amazingly cheap alternative to traditional wall paper and gives you a ton more pattern variety than simply painting. You can find stick-on wallpaper in retro florals, faux hard wood, or even brick.
Devine Color Peel and Stick Wallpaper Reclaimed Wood Pattern, $29.99, Target.com
4. Candle It Up
Candles are another amazingly cheap and easy way to add a personal and cozy decorating touch. Place a candle in an old mason jar for a rustic look, or put them up against a few small mirrors for an amplified glow.
5. Wine Bottle Lighting
Wine bottle lamps take a little leg work, but if you have a power drill and some patience it is well worth it. You're also sure to get a ton of compliments from guests on this completely unique accent piece.
6. Paint Is Your Friend!
On the lifestyle blog Living Well, Spending Less, lifestyle blogger and home decor expert Ashley Ann Campbell said, "Whether it is spray paint, porch paint, craft paint or wall paint – nothing can provide an instant makeover and facelift like paint." If you don't want to repaint a whole room you can opt for just an accent wall, or even get creative and paint patterns using store-bought stencils or a stencil of your own design. Also, don't be afraid to paint doors too!
7. Use A Cool Tray For Random Objects
This is crazy simple. Just use a thrift-store or vintage tray as an accent piece for any tables in your home. You can use it to either hold other decorations, like a small vase of flowers or candles, or just as a place for odds and ends, like keys and remote controls. And if you're really ambitious, you can decorate it with stencils of your choosing.
Glass Serving Tray, $23.99, Wayfair.com
8. Make Hanging Mason Jar Lights
The Sorry Girls have a super simple tutorial on their YouTube channel to walk you through how to make a DIY hanging mason jar light of your very own. These are super unique and will give your space an incredibly cozy feel.
9. Use Plants And Dried Flowers
Flowers are just about the simplest way possible to decorate your space and breathe some fresh life into it. I personally love using old mason jars or wine bottles for this instead of store-bought vases. It just adds that extra little something. And for an added touch, you can spray your jars or vases with metallic paint.
A home full of great accent pieces doesn't have to break the bank. There are a ton of ways to make your space look amazing with decorations you can make yourself for super low cost; just make sure you have the basic supplies and a few hours, and you're set!
Images: Stacie, Travis Isaacs, magdalena, Jolante van Hemert, Andy Melton/Flickr