Is This Who Billie Lourd Is In 'Star Wars'?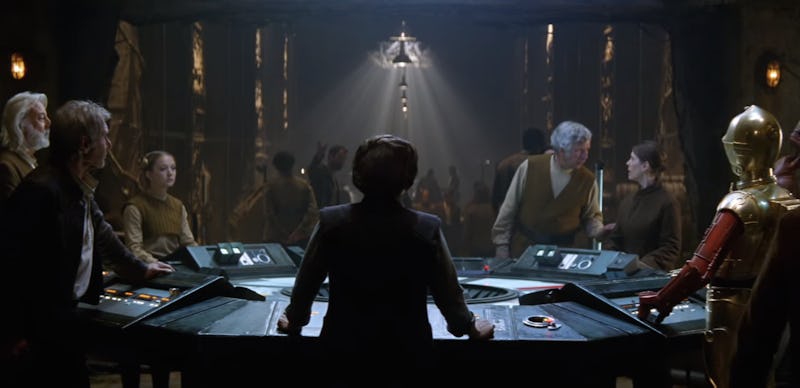 After tons of speculation about who Carrie Fisher's daughter, Billie Lourd (you may know her better as the ear muff clad Chanel #3 on Scream Queens) would play in the highly anticipated Star Wars: Episode VII — The Force Awakens, we might finally be a little bit closer to having an answer. Since it was announced back in June 2014 that Lourd would appear in Star Wars: Episode VII — The Force Awakens , many a fan's initial assumption was that, naturally, she would be playing a young Princess Leia's or her daughter. But, Lourd squashed those rumors last summer, bluntly telling Interview magazine "I'm not Princess Leia's daughter."
Since then, Lourd's role, like much of the film, has been a mystery. Very little has been confirmed about the film. We know who is in it (or at least we think we do) and that it comes out on Dec. 18 — but other than that, it's anyone's guess.
However, things got a just a tiny bit clearer on Thursday, when a new 60 second TV spot for the film was released. Don't get me wrong, the trailer was still hella vague, but it looks like there may have been a quick glimpse of Lourd in the new footage. Near the end of the preview, (at the 0:48 second mark, if you want to get really specific) in a crowded shot that includes Harrison Ford and Fisher, is a blonde girl in the corner who looks strikingly like Lourd.
Here's that shot blown up for you, pointed out by The Daily Dot's Eric Geller.
Here's a look at Lourd in Scream Queens, for comparison:
While it hasn't been confirmed (and it probably won't be until the film is actually in theaters, because this project is shrouded in secrecy) all signs indicate that this could be our first look at Lourd in The Force Awakens.
The movie marks the actress's big screen debut — the 23-year-old just graduated from New York University last year, and she booked The Force Awakens and Scream Queens soon after. As she told Interview Magazine back in July: "This is the first job I've ever had — right into the fire."
With roles in Star Wars and Scream Queens under her belt already, it seems like Lourd's venture into the family business is off to an amazing start.