8 Life-Changing Bra Hacks For Women With Big Boobs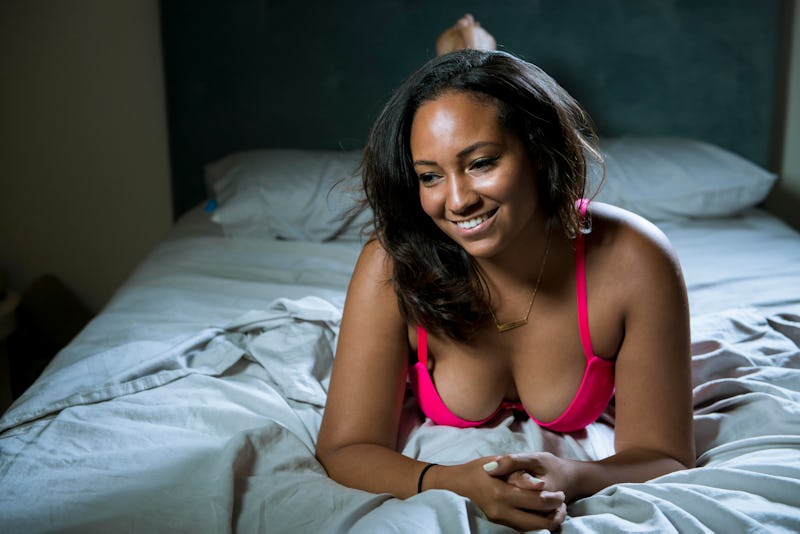 I think it's safe to say that bras are annoying for every woman. But when you've got big boobs, the struggle is so much more real. Sigh no more, though, my fellow chesty ladies: here are eight bra hacks for big boobs that just might change your life (or at least your undergarment routine.)
Finding a bra is an incredible pain as it is, but finding the perfect fit in a large size is like playing the hardest game ever on challenge mode. Many of us have a tendency to settle when it comes to choosing a bra: We've strapped on, like, 24 of them, have seen enough of our shirtless bods under dressing room lighting, and for the love of God, someone please just feed us already because we're hungry and give up on bras.
I've chosen more than one bra out of exhaustion and exasperation, which hasn't really done me any favors. But hey, high-quality bras in DD sizes and higher aren't cheap, so we live with it.
Even if bra shopping is the worst part of your year, or putting on a bra is the worst part of your day, you don't have to resign yourself to brassiere purgatory. Here are 8 tips to help you out.
Lean Forward When You're Putting Your Bra On
BiggerBras.com brought this piece of advice into my life, and I swear I'll do this every day from now on. When you're putting on your bra, slip the straps over your arms and lean forward so your breasts fall into the cups, then hook it on — it gives you a way better fit than just strapping it on over them.
Use The "Scoop and Swoop" Method
Once you've put your bra on, you've gotta position your girls. Use your opposite hand to "scoop" up your breast and "bring it forward into the cup," says BiggerBras.com, then repeat on the other side.
Add Support To A Strapless Bra
Strapless bras can be a major hassle for well-endowed ladies. Add support by fastening a convertible bra strap underneath the cups (shown at 0:29 in the video.) Genius.
Backless Strapless Bra In Sizes A-DDD, $36, Nordstrom
If you are going to venture into sticky boob territory, I highly recommend shelling out a little more for one that's made for larger cup sizes, rather than trying a cheaper, smaller pair. Spoken from experience, it's worth it.
Sew Cheap Bra Cups Into Backless Dresses
Fashion blogger Skunkboy blew everyone's minds with this backless dress hack: instead of using sticky boobs, sew cheap bra cups into your dress.
Fix Poking Underwires With Moleskin
Got an underwire poking out of your bra? The worst. If you're not ready to give it up quite yet, cover the wire with moleskin (or a panty liner) for a temporary fix.
Maidenform Silicone Bra Strap Pads, $9, Amazon
Even though larger bras tend to have thicker straps already, they still have an annoying tendency to dig in when you've been wearing them for a while. Pop a couple of silicone strap pads in your bag when you've got a long day — you'll thank me later.
Know Your Actual Size
This seems intuitive, but you'd be surprised at how many people don't really know their bra size (I'm only, like, 80 percent sure of mine.) Wearing a well-fitted bra can make a huge difference in how your clothes fit, how you carry yourself, and obviously, your comfort level. Check out the video for signs that the band or cups of your bra are ill-fitting (or, they fit splendidly. Woo hoo!)
Images: Andrew Zaeh/Bustle; Courtesy of brands; vouchercodespro, codingovernews/Twitter