Will We Ever See Graham Again On 'OUAT'?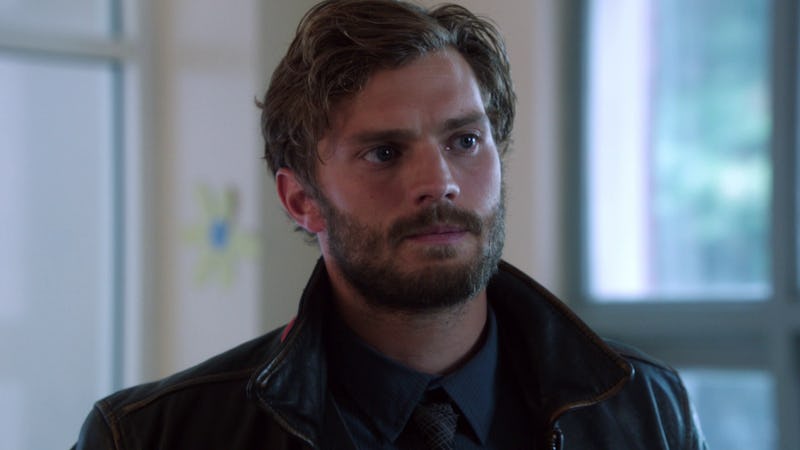 It's hard to believe that there have almost been 100 episodes of Once Upon A Time. Sure, we're swiftly moving through the first half of Season 5, but it seems like just yesterday that Mayor Mills was trying to poison Henry's birth mother with a tainted apple turnover that put their son in a coma that only True Love's Kiss could awaken. (Ah, memories!) But indeed, the 100th episode milestone will serve as the premiere of Season 5B, due to premiere sometime in March after that interminable winter hiatus all Oncers have grown used to, even if we totally hate it (and we definitely do). Plenty of characters from the past are coming back for the occasion, many of them long dead, including Regina's mother Cora and supervillain (and Rumple's dad) Peter Pan. But is it possible that we could end up seeing Graham and Jefferson in Once's 100th episode? You probably shouldn't get your hopes up.
Graham, played by Jamie Dornan, and Jefferson, played by Sebastian Stan, haven't been seen in several seasons, which makes sense, given how well their careers are going in Hollywood. It's not that fans wouldn't welcome them back with open arms, even on a temporary basis, it's just that according to executive producer Eddy Kitsis, Dornan and Stan are so busy that getting them to Vancouver to shoot an appearance is close to impossible. "You know, I would not hold your breathe for either of those characters. Unfortunately, those two [actors] are very hard to pin down," Kitsis explained. The truth hurts, doesn't it?
As we all probably remember, Graham had his heart crushed by Regina early on in Season 1 when he deigned to be interested in Emma. Yikes! (Also, recalling that made me vaguely miss the Evil Queen, I have to admit.) As for Jefferson, the Mad Hatter hasn't been seen since early on in Season 2, when he was finally reunited with his daughter Grace and they walked off into the sunset together. Theoretically, he could still be around somewhere, but our chances of seeing him again — at least anytime soon — are still pretty slim to none.
Of course, with so many other familiar faces returning for the 100th episode, it won't be too hard to forgive Graham and Jefferson's absence. We'll be plenty distracted with all the other drama going on, I'm sure — it just would have been nice to have two more familiar faces on board.
Images: ABC