Colbert Addresses Paris Attacks In Emotional Clip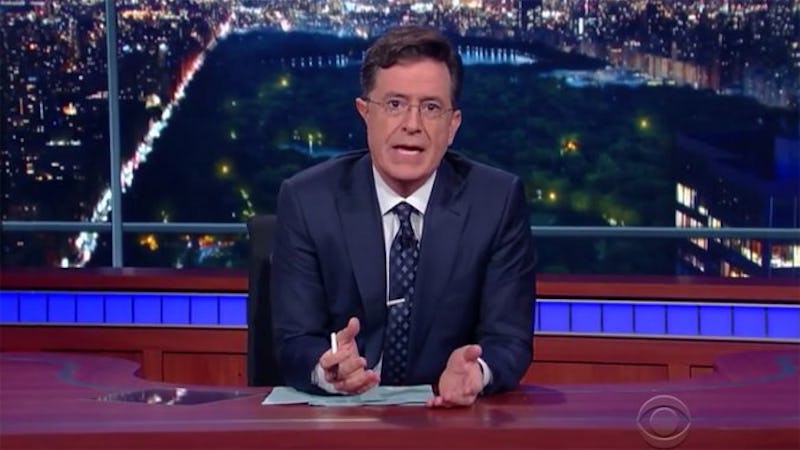 Friday night's The Late Show with Stephen Colbert was halfway through taping when news of the horrifying terrorist attacks in Paris broke. The attacks left at least 120 dead, and the tragedy has since shaken the country, and the world, to its core. When the news became known, according to Vulture, Colbert stopped the taping of The Late Show to break the details to an unsuspecting crowd. He proceeded to carry on with the show, but recorded a special ending segment, where he discussed the recent tragedy with "a heavy heart" to The Late Show's audience.
"Folks, we end tonight's show with a heavy heart because we taped all of tonight's show, and then we found out about the horrific attacks in Paris today," Colbert tells the crowd. "I know not much is known right now. We do know there have been many deaths and the crisis is still ongoing." While news of the attacks had just been released, Colbert wasn't able to give much more information than that.
He continued to show his condolences for the city, and mentions a call for justice. "President Hollande declared a state of emergency and President Obama has promised that the United States will do whatever it takes to bring those terrorists to justice. We add our thoughts and prayers to everyone in Paris."
Members of the audience took to Twitter to speak about Colbert's show that night. One even admitted that it was "surreal" to hear such devastating news during the filming of what's usually a light-hearted experience:
This same user also remembered him pausing the show to inform audiences of the attacks, and re-recording the intro (this time without any of his usual jokes):
After addressing the attacks, Colbert appeared visibly shaken, as visible in the clip. "And now, we'll see you on Monday," Colbert concluded, noticeably holding back tears. "Goodnight."
Watch Colbert's segment below.
Image: CBS