Make This Pecan Pie if You're Sick Of Pumpkin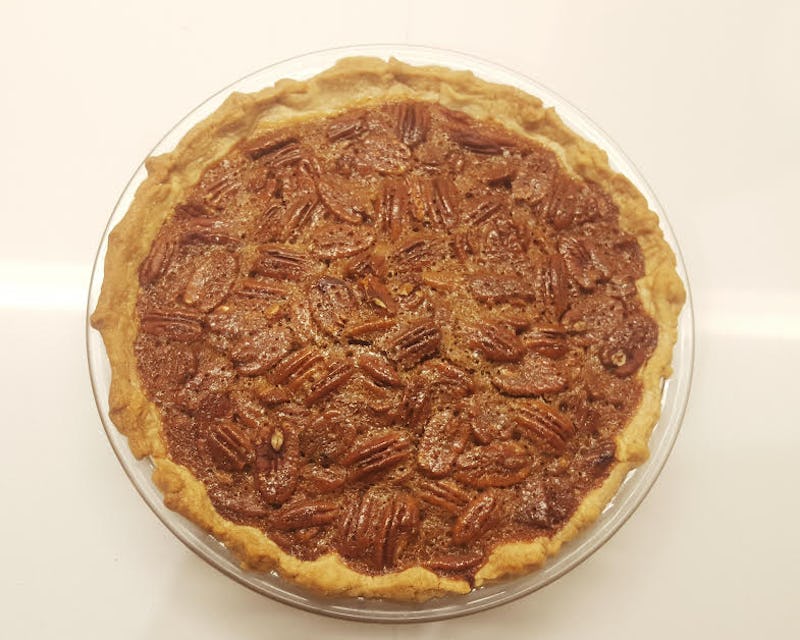 I used to live in Atlanta, and the one thing I miss about living there above everything else is the rich, soulful, buttery, sweet, and filling food of the South. And if there is one thing I can look forward to this Thanksgiving that satisfies my longing, it's a perfect, easy pecan pie recipe. (And sweet tea, but that's another story.) At my Thanksgiving table, you not only get pumpkin pie, but a decadent pecan pie made with a flaky pie dough, a sweet custard filling, and candied pecans. With this recipe in hand, you won't need to travel across the Mason-Dixon line for a good pecan pie.
The origins of pecan pie are relatively unknown. Some people claim the pie originated in Alabama, others appropriate the invention to the producer of Karo syrup, and some cite French settlers adding pecans to their pies when they settled in New Orleans. The variations of this holiday classic are just as diverse. From chocolate-covered crusts to bourbon-spiked and molasses fillings, you are sure to find your go-to pecan pie recipe. In this recipe, I spiked my custard filling with bourbon, but it is just as delicious without.
To make this recipe even simpler, I used a pre-made refrigerated pie crust. Pillsbury, Whole Foods, and Trader Joe's all make good varieties. If you'd like to make your own pie crust, which is highly rewarding but time-consuming, The New York Times has a step-by-step tutorial for making an all-butter pie crust. Regardless of whether you make your own crust or buy one, you're definitely in for a treat.
Pecan Pie
Serves six
Ingredients:
One refrigerated pie crust
5 tablespoons of unsalted butter
1 cup of brown sugar (light or dark)
3/4 cup of light corn syrup
1 teaspoon of vanilla extract
1 tablespoon of bourbon (optional)
3 eggs, beaten
1/2 teaspoon of salt
2 cups of pecan halves
Directions:
Pre-heat the oven to 375 degrees.
Unroll one unbaked pie crust over a nine-inch pie plate, making sure the plate is covered evenly. Trim off any excess dough hanging from the edge of the plate, and crimp the edges. Prick the bottom and the sides of the pie with the tines of a fork, and refrigerate for 30 minutes.
In a medium saucepan over medium-high heat, melt the butter and stir in the brown sugar.
Whisk until combined, and take off the heat. Add in the corn syrup, vanilla extract, bourbon, and salt. Slowly add in the whisked egg, stirring while you incorporate it into the filling.
Take the crust out of the refrigerator, and add the pecans on top of the crust. Pour the filling over the pecans.
Bake for 50 minutes, or until the filling jiggles slightly in the middle. Cool for at least an hour before serving.
For more Thanksgiving ideas, check out Bustle on YouTube.
Images: Taylor Henriquez (9)