The 7 Best Warm Weather Destinations, In Case You're a Millionaire with Unlimited Vacation Days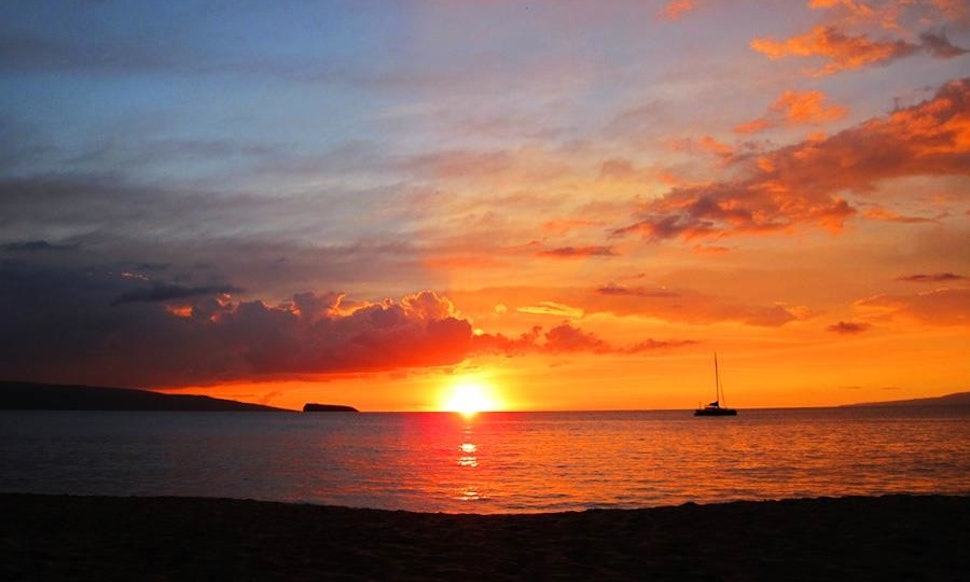 It has been miserably cold lately, and I think it's time to warm things up by getting on a freaking plane already, or at least daydreaming about it. So, I'm rounding up the seven most beach-bum worthy travel destinations of the moment like money is no object. Depending on your travel style, you might want a remote paradise or a strip of sand that's closer to the action, but whatever you choose, start packing because things are about to heat up.
Paia, Maui
Anywhere in Hawaii is a beach bum's paradise but I picked Maui because I discovered this firsthand. Paia is home to several beaches and many hitchhikers — most are young travelers short on cash and some are bonafide hippies. People are friendly and there are tons of locally owned shops and restaurants nearby. Baldwin Beach Park is a quiet retreat during the weekdays.
Image: Visit Maui/Facebook
Volivoli Beach, Fiji
A trip to Fiji might put a dent in your bank account for the rest of the year but it's worth the splurge if you can swing it/are super loaded. Similar to Tahiti, Fiji caters to a more upscale clientele, but you don't need to be rich to enjoy the white sand and clear water. Volivoli Beach has a stunning view of the Viti Levu's mountains and is one of the more affordable areas.
Image: Fiji/Facebook
Bora Bora, Tahiti
A trip to Bora Bora can be as active or as relaxed as you wish. The beaches are beyond gorgeous and if you stay at a resort it will feel even more private. For something more active, take a parasailing excursion or sign up for a Jeep safari ride that takes you through small villages and scenic lookout points. Or…just keep bumming around with cocktail in hand.
Image: Bora Bora/Facebook
South Beach, Miami
South Beach is sort of the go-to winter escape for New Yorkers so if you're on the east coast (and even if you're not) consider this a smart option. Compared to other big cities, prices in Miami aren't too bad and when you've had enough of the beach you can cool down with a tropical drink at one of the restaurants on Ocean Drive. Although slightly touristy, Española Way is my favorite area for tapas.
Image: Visit Miami/Facebook
Reñaca, Valparaiso, Chile
Valparaiso is my all-time favorite city, partly because the ubiquitous street art makes it like an outdoor museum. It's relatively quiet in winter but come summertime, Reñaca is swarming with people. Try a new water sport like surfing, sailing, or windsurfing, and spend your evenings exploring the local bar scene. There are also some great hiking trails here.
Image: Reñaca Beach Hostel/Facebook
Banana Beach, Tel Aviv, Israel
It only took about two minutes for me to fall in love with Tel Aviv. It's quite a cosmopolitan city and the beaches are one of the reasons I'm eager to return. Banana Beach is one of several beaches located near Jaffa and has become a popular hippie hangout as of late. Rent a surfboard, stop by the cafe for a snack, or participate in free sporting events. After sunset, you can usually find a drum circle comprised of young locals.
Image: Tel Aviv Beach/Facebook
Venice Beach, California
Venice Beach has a little bit of everything and that's what makes it so fascinating. Much like the Italian city of the same name, Venice is known for it's canals and artists. A stroll along the nearly three-mile-long pedestrian promenade takes you past circus-like performers, fortune tellers and vendors selling everything from ice-cream to handmade crafts. The scene here is super laid-back and you could literally spend your entire day soaking up the sun.
Image: Denise Cross Photography/Flickr