1D Pay Respects To Paris On 'The X Factor UK'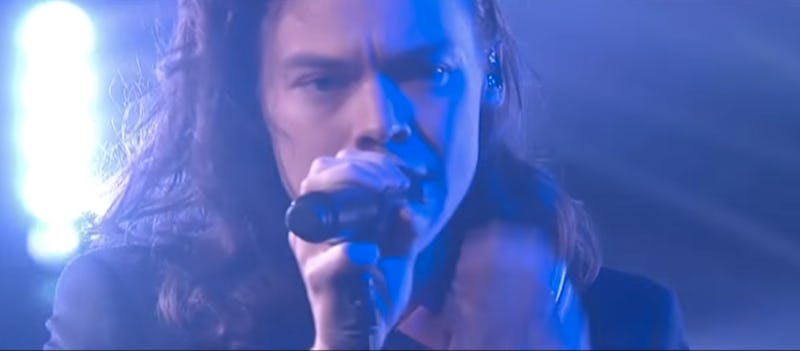 Just because One Direction has released their final album before their upcoming hiatus doesn't mean that they're not going to do any promotion for it whatsoever. That might be enough to assuage some of the confusion you feel when I tell you that One Direction performed "Perfect" live on The X Factor UK on Sunday night. If you thought the band would be up to their ears in tropical vacation and family visits by now, considering it's been three whole days since they released Made In The A.M., well, you'd be wrong. The X Factor UK is just one of the many promotional stops on shows that One Direction will be making instead of going on an actual tour for this particular album. And, once they're done with all these stops, they will hiatus away. Thus, this performance merits a mention, not just because it's newsworthy for that alone, but because One Direction paid tribute to the Paris victims during the show and you might have missed it.
The "Perfect" performance came before the eliminations, and it was every bit as amazing as you would expect any One Direction performance to be. However, if you narrow your eyes and lean in close, you'll see that the boys are each wearing ribbons around their wrists. These tricolor ribbons contain the three colors of the French flag, and the boys had been wearing them since Saturday at least. (The ribbons were spotted on their wrists at the concert that they held on Saturday, during which they also held a moment of silence for the lives lost.)
Honestly, something like that is a truly humbling experience. As impossible as it might seem during times of tragedy, life, by necessity, goes on. However, that doesn't mean that you ever forget — either about the tragedy itself or about all of the lives lost. For One Direction to be showing solidarity with the victims even as they cycle through gig after gig is a nice reminder to anyone watching them that there is always more than one way to help after the Paris attacks, and to show solidarity with the families of the victims. And, in the meantime, One Direction is still here, still performing, and still giving us plenty of time to say goodbye to them before they start their hiatus for real.
Check out the performance below.
Image: beanyman62/YouTube