Scheana & Mike Shay Reveal Their Status Online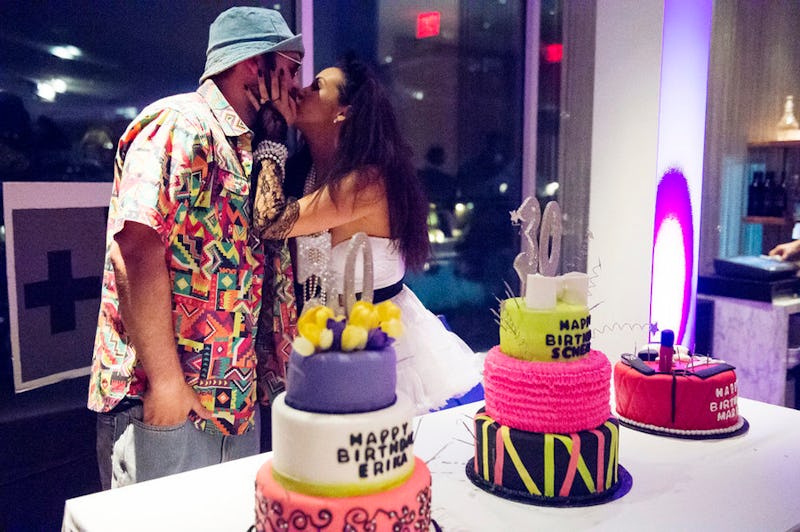 When Bravo viewers first heard of Scheana Marie, it was because of her fling with Eddie Cibrian, then-husband of Real Housewives Of Beverly Hills star Brandi Glanville. It wasn't the best introduction, but now viewers have gotten to know her much better as one of the stars of Vanderpump Rules. I was so happy that Scheana's love life seemed to be more stable on Vanderpump Rules… until now. Have Scheana and Mike Shay broken up?
Scheana and Mike are totally the cutest, and watching everything from their courtship to their massive wedding was a lot of fun for a hopeless romantic like me. At the end of Vanderpump Rules' third season, Scheana married her best friend and life looked good. There wasn't a dry eye in the house, even though Tom Schwartz gave Katie a ring on a string. But now, right at the beginning of Vanderpump Rules' fourth season, rumors are swirling that Scheana and Mike are headed to — or may have already visited — Splitsville. The preview reel for Season 4 shows Scheana saying that Mike has "been drinking so much" and Tom Sandoval weepily worrying about Mike. These issues are a little heavier than Vanderpump Rules usually gets into, and the stress of them has me concerned about the couple.
Because I just can't handle another celebrity breakup, I decided to do my own sleuthing to see if Vanderpump Rules' golden couple has headed off to reality show heaven. Luckily for me and all other Shay fans out there, it seems as though Mike and Scheana are actually still together. Here's why.
Scheana & Mike Had Coordinating Halloween Costumes
This may seem sort of trivial, but if a couple has a bad, painful breakup (especially if they're going through a divorce), they're sure as hell not coordinating costumes for Halloween. Scheana and Mike went as three different iterations of Jasmine and Jafar from Disney's Aladdin. Not to mention that you don't dress up in coordinating costumes with someone if you don't love them. That's a true litmus test of a relationship's stability.
They Have Been Traveling Together
A trip to Chicago, a visit to Disneyland, a night out on the town — Scheana and Mike, according to Scheana's Instagram, have had many an outing in the past few months, showing that they're still moving together and traveling as a couple. Just because you don't see Mike in all of their pics isn't especially telling — after all, who is the person who is snapping the pics of Scheana? It's Mike, duh.
And Celebrating Together
From their own anniversary to the premiere party for Vanderpump Rules, Scheana and Mike have been putting their own little celebratory twist in their lives. Would a couple that was not together be so happy (or seem at least) to be together? I don't think so.
From where I'm standing, Scheana and Mike are definitely still together. It could be that Mike is hanging back out of most of the social media action because he is focused on other parts of his life. He may just need privacy, and just because Mike seeks a little peace and quiet doesn't mean he and his wife have split.
Images: Nicole Weingart/Bravo