The Best TV Characters To Celebrate Your Fourth of July With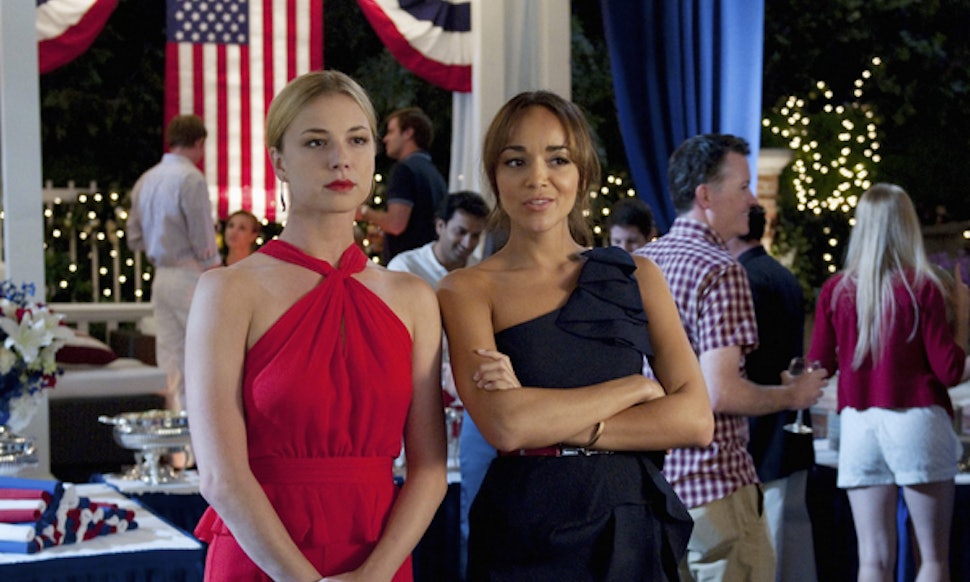 Ahh, the Fourth of July. It's the perfect day to hit the beach, barbecue some wings, watch some fireworks, and eat way too many of red-white-and-blue desserts (unless that's just me). And while there are so many great Independence Day celebrations to attend, we're a little mad that we can't celebrate the Fourth with some of our favorite TV characters. Had we been trapped in a TV universe, this is how we'd like to celebrate our Fourth of July. Image: ABC
TV Characters Celebrate Independence Day
Ahh, the Fourth of July. It's the perfect day to hit the beach, barbecue some wings, watch some fireworks, and eat way too many of red-white-and-blue desserts (unless that's just me). And while there are so many great Independence Day celebrations to attend, we're a little mad that we can't celebrate the Fourth with some of our favorite TV characters. Had we been trapped in a TV universe, this is how we'd like to celebrate our Fourth of July. Image: ABC
'Pretty Little Liars': Attend a fireworks show
You can't have a great Fourth of July without fireworks, right? Luckily, the girls of Pretty Little Liars are always down to host a the fireworks show... just ask Jenna! (Err, maybe not). Just remember to wear your protective goggles, because this celebration could get kind of... rowdy. Image: ABC Family
'Hannibal': Attend a BBQ at Hannibal Lectors' Place
You're hungry, but firing up your grill is a huge pain. Luckily, you've got your dear friend Hannibal Lector, who happens to be an awesome chef and is always happy to have his friends for dinner. Image: NBC
'Revenge': Hang out in the Hamptons
There is nothing better than having rich friends — except maybe rich friends who throw raging Fourth of July parties at their beach front mansions in the Hamptons. Don your most fabulous red dress, your cutest white-and-blue accessories and hit the town. It might be smart to be on your toes during this party though — rich friends like the Graysons have a tendency to make a few enemies. Image: ABC
'The Vampire Diaries': Hit a traditional Mystic Falls bash
If the Hamptons were a bit stuffy for your taste, you can always swing by Mystic Falls to see what the supernatural teens are doing this Independence Day. More likely than not, they are at one of the town's (many) traditional celebrations. Perhaps one that involves debutantes or historical reenactments. If that sounds like the worst thing ever, all you need to do is find Damon at the Mystic Grill for some much-needed boozing.
'New Girl': Play a game of "True American"
There is no game that is more American or patriotic that "True American." Do we know the exact rules of this game? Not really, but there's a ton of drinking and pillow-hopping involved, so there's that. Plus, it was a game of "True American" that lead to THE kiss between Nick and Jess. After all, nothing says "land of the free and home of the brave" like macking on your hot roommate.
'Girls': Watch some fireworks... on TV
Look, being an almost-grown-up is exhausting, okay? And the truth is, sometimes the only thing that you want to do after a long day of beach parties and BBQs is hang out with your best buds on a couch in their Brooklyn apartment and eat AmeriCone Dream straight from the carton. Hannah understands this, and her couch is always open as long as you provide said ice cream. Image: HBO