The Foolproof Way To Cover Dark Circles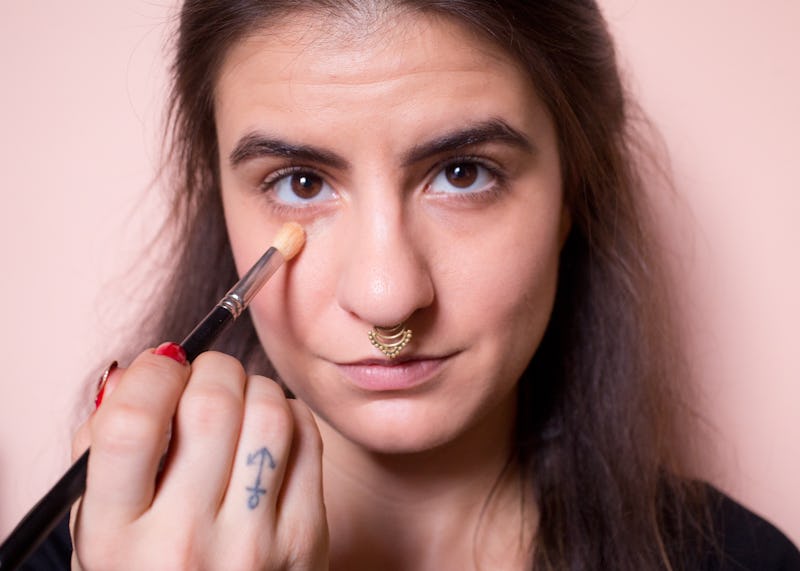 These days, the temptation to over-strobe in attempts to cover dark under eye circles is very real. Many contour/highlight tutorials overextend the cheekbone highlight right up to the lower lash line. Though this can look beautiful in photos, it simply doesn't read as natural in daytime and indoor lighting. We just can't all get up to the Kardashian/Jenner makeup echelon without sacrificing much. Sure, you can learn, but wouldn't you rather something a bit more simple (and less time consuming)?
Even if you are skilled enough to pull off those hardcore looks, it's impractical for daily use, not to mention overkill for a casual situation. There ain't nothing wrong with being great at doing your makeup but there is a better way to cover dark circles that everyone can pull off. Combining some excellent techniques like cooking and the triangle method with a hint of color theory gets things perfected in minutes. I pray at the ByTerry altar for this task, as it's creator Terry de Gunzburg is the artist who helped YSL develop their cult-status product: Touche Eclat, the first under eye world champ. It's good to note that you can get a similar effect with cheaper products, but they take a bit more finesse and tend to come in fewer shades. Feel free to make this yours by working with similar products you already have on hand!
YSL Touche Eclat Radiant Touch, $42, Sephora
ByTerry Touche Veloutee Highlighting Concealer , $60, Dermstore; Shiffa Rejuvenating Eye Remedy , $126, Skinstore; Hynt Lumiere Radiance Boosting Powder , $89, aha
The main complaint people have about the appearance of under eyes is a purplish tint, as the skin is very thin in this area and is also subject to inflammation and edema. That creates a recipe for disaster that affects the color, clarity, and sometimes very shape of this area. This is exactly why you need to first (and always) treat the under eye area with a highly effective eye cream. This can be as cheap as straight castor oil (which works great but tends to repel makeup) or as bulletproof as Shiffa Rejuvenating Eye Remedy, which contains numerous botanical extracts, carotenoids, and spirulina, so it's very nutrient dense.
After you have treated your eyes and allowed the cream to absorb fully, take a concealer pen one to two shades darker than your skintone and draw a triangle from the corner of each eye meeting at the top of the cheek bone. Choose a shade that uses undertones opposite of your under eye area; if it's a bit more blue violet, like me, you'd need a golden orange undertone, which I like from ByTerry's Touche Veloutee Highlighting Concealer in #4 Sienna or Maybelline Dream Lumi Touch Highlighting Concealer in Honey 360. The color might look a bit strange at first, but trust me.
Maybelline Dream Lumi Touch Highlighting Concealer, $6, Amazon
Allow the makeup to cook without powder while you apply the rest of your face. Cooking the makeup brings it to your body temp before blending and makes for flawless coverage when all is said and done. Use this lag time to also buff any foundation you're using into the edges of your triangles so they are undetectable from the rest of your makeup.
Go about your business while the eye area bakes to a perfect temperature.
Once you're mostly done with all your makeup except mascara, use your finger or a damp beautyblender to lightly blend inside the triangle. In the case of Touche Velotee, it barely needs any blending, but does need to be set with powder for longevity.
Use this light shimmer powder to get a perfect finish.
Instead of allowing powder to cook with the makeup, apply it lightly with a fluffy eyeshadow brush after blending to set the makeup. Powder before can cake and interfere with formulas that aren't meant to crease, but when dusted on fully set and blended concealer, it seriously helps to make it all last.
You can do this over foundation if you want to, but I find that this works no matter what you're doing with the rest of your face! I often will pull a bit of foundation over the eye area before completing the rest of the steps if I need extra coverage. If things start to break down in the middle of the day, I roll the DHC Beauty Lift Eye Care Essence Roll-On and re-blend to freshen up my look.
DHC Beauty Lift Eye Care Essence Roll-On, $34, DHC
Even if you want a minimal makeup look, you can use this technique as long as you blend well into areas with no makeup. Now that you know how to look put together in mere minutes, you can get ready more effectively with exactly as much supporting cast as you deem necessary.
Photos: Maria Penaloza